Planning Worship Services on a White Board
At Valley View Church, we use a whiteboard to help us plan our worship services. We try to always plan 6-8 weeks out. So each week we simply erase the Sunday that's just past and start another Sunday that's 8 weeks out. Also, we plan as a team as often as possible. Using a white board is a great way to quickly see where we are and what we still need to do as we sit down to plan together each week.
WHAT OUR WHITE BOARD TYPICALLY LOOKS LIKE…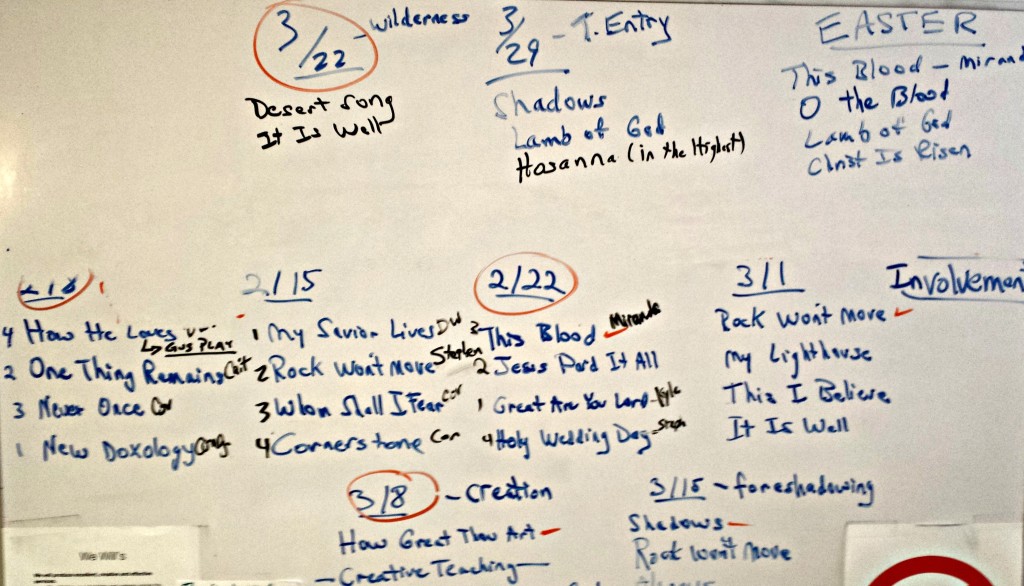 WORTH NOTING…
We don't try to put everything on the board–just the songs and other major elements (like videos).
The dates with orange circles are days the worship choir is singing.
The words beside some of the dates (like "creation" and "foreshadowing") are sermon themes for those days.
Some songs have a person's name beside them for who we would like to lead that song.
The Sundays which are 1 to 2 weeks out are "set in stone." We try not to make any more changes to those services. We place them in Planning Center Online and share with our band, singers and tech people who are needed for those services, so they can prepare.
Services that are still 3 weeks out and beyond are a "work in progress," which we continue to talk through and tweak as needed during our weekly planning meetings.
Find this helpful? Have more questions? Download the FREE Worship Ministry Manual by Dwayne Moore for a full explanation of how we choose songs and plan services.