How to Change Your Worship Ministry Culture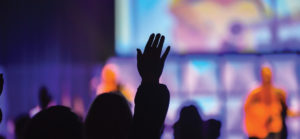 The following is a transcript from this week's Worship Q&A Podcast. Please

go here to subscribe

to our weekly podcast for worship leaders and pastors.
Dwayne Moore: Hi everyone. Welcome to the Worship Q&A podcast. I'm Dwayne Moore. We try to answer questions that worship leaders are asking. Today our guest is a dear friend of mine and also a part of our staff at Next Level Worship International. His name is Jordan Hutton, and he will be talking to us today about culture change on our worship teams.
Before he joins us I want to put a shameless plug in for an event we have coming up in October of this year. It's called the ReIMAGINE Worship Intensive. We've done these several times in different cities.
This year we will be in Louisville, Kentucky. You want to go to our Web site to nextlevelworship.com/reimagine and check out this five day event that I promise you will impact your ministry perhaps more than anything you've ever been a part of has. We say that because that's what we've heard from so many people who have come to these intensives in the past. We don't sit in a classroom all day. No. We get out and we go to different churches. We talk to different worship leaders. We also walk through a process of evaluation of our own ministries. It's very customized just for you so you can focus on your team and get alone with God and pull away and hear what the Lord may be saying to you about how you can adjust your ministry for the next months and years to come. So I can't build this up enough. This is one of the most incredible events that we offer at Next Level Worship. Please go to our Web site and check that out.
Now I want to introduce to you Jordan Hutton. We love Jordan. He is a worship pastor in Scottsburg, Indiana. He's doing a great job there. He is also our missions director and a lead team member at Next Level Worship. He's prepping right now for our August mission trip. It's a big job as we take a whole team of people and we go in for a full week and we train over 100 worship leaders from multiple countries. And so that is what Jordan is working on right now. So he's a busy guy. Between his church work and this he stays very busy. Jordan not only helps us with missions he's also an encourager in our coaching program and from time to time he's a guest in our classes. So Jordan welcome.
Jordan Hutton: Hey Dwayne, it's great to be here with you today as well. Just looking forward to sharing a little bit today. And it was great to be in the coaching class last week. Really really cool to see so many different people from different places all joining together online and I'll kind of plug it for you real quick if that's OK. I would love to invite anyone that's interested in having some one on one coaching, some group coaching together where we can learn from each other. Definitely check out what an NLW is doing. This coaching network is really neat. And I got to see it last week and I got to see it before as well being a guest speaker before. And it's just a really really powerful thing and encouraging thing and I know that it will build you up and send you out to go and serve your church as a more equipped leader in a better place to serve with all of your heart, to love God with all of your heart and to love others. So definitely check out that coaching experience. And if you're interested in that I'm sure Dwayne can hook you up.
Dwayne: Oh thanks man. I appreciate that.
Jordan: So I wanted to take just a snippet of that coaching class. We talked for quite a long time. So one of the things that I thought might be impactful to share and it's just the thing that I've been trying to do in my own ministry and my own church and that's to build culture change and we talked extensively about it like I said. But I wanted to just highlight three things that I think are important and things that I can do every week to build culture change within my church and really within my worship team and really figure out where we're going as a team and as a church and how we're going to accomplish that. And so there are three things that come to mind when I think about how can I build culture change.
Cast Vision to Key Leaders
The first is that I've got to do is cast vision to individuals and that's only going to happen as I build relationships with individuals.
Dwayne: That sounds good. Well how do you cast vision among your team?
Jordan: So I cast vision to individuals. That happens lunches, breakfast at Burger King. That happens over meetings where we get to talk. Sometimes it just happens through friendship. As I build a relationship with the team that I'm working with and really get to know them and begin to love them and to serve them and to just realize that we're all doing this together. As that relationship forms and build and you know that I've only been at my church for about six months so that's a process that I'm trying to do a lot right now, as I build those relationships I can cast vision to individuals. And I think as individuals pick up where we're going it's really important to the overall corporate vision and that's what I'll say next.
Cast Vision Corporately
The second thing is not just talking to individuals but I've got to cast vision corporately. And so one of the things I'm doing right now is I try to send out a weekly e-mail, really simple message and I send it to my whole group once a week and it just has some things in it. So maybe it has some prayer requests because I want to build a culture of team members that really genuinely care for one another and support each other and so I can throw out some prayer requests for some people in our team that have some needs. I can throw out some ideas of where we're going this coming weekend in our Sunday service. I can throw some things to be praying for for our church. But these e-mails once a week just help us have this team unity and help us understand that we're not just looking 10 years ahead but we're really weekly daily working this out and what are some things we can do this week. So I try to send an email once a week.
So the second thing that I'm doing this summer as a group corporately with my team is to do a Bible study together. So we're using the book Pure Praise and it's a nine week study. It's going to take us just this summer to get through. And so we just started that this week actually so we've been ramping up for that and getting ready for it. This week we start a Pure Praise Bible study and we have small groups that are going to begin next week and they'll be talking about week one, next week. And so that's helping build this culture of change because I feel like we have to have a foundation of God's word before we can really go anywhere. And so we have to really understand what worship even is in the first place. And we have to do that as a team. So there may be individuals that feel really confident in that and there may be individuals that don't. But as a team we've got to come together and really study God's word and figure out why we do what we do. And so I think corporately it's important for us to do things together. A couple of ways that I'm doing that are e-mails, Bible studies, and things that we can all do as a team, as a group.
Pray for Your Team
The third thing that I have to do every week and really every day to build a culture change in my ministry and my church is to pray. And that sounds kind of like a church word and it is but it's so important. It's so important. We have to be praying for our team. We have to be praying for God's vision. It would be so easy for me to come in–I've been here for six months–and try to go my own directions and do what I think would be cool. But I've got to really pray for God's leading and every step's got to be directed by him. So I've got to be praying for my team. I've got to be praying for God's vision. It's something that I've got to do every day.
Those are just some things that I'm doing right now to try to build culture change. And you know depending on where you're at and what your culture is right now and where you want to go I just encourage you to figure out some steps that you can do with individuals. Figure out some steps that you can take with your entire team as a group and begin praying now for God's vision, begin praying for individuals on your team daily, asking that God would just bring us together, asking that God would open up hearts, that we'd be receptive and that together we would go where he wants us to go and that we would make the biggest impact we can as a team and as a worship ministry in our church and in our community.
And I believe that God can do that through us, that worship is so important and vital in people's lives. And we have to understand it and we have to see God with all that we have. And it's going to lead us to a place where we can love others, serve people with all that we have. And I'm excited about the fruit of that and seeing that in our ministry now and where we're going, looking forward to that.
Dwayne: Those are some excellent points and things we can all do to help change culture in and on our worship teams. Whether we've been in our church for six months like Jordan has or maybe six years, what Jordan has shared with us today especially the part about praying for our team that applies and can make a huge difference in any team going forward. Jordan before we close out our time today I would like you to tell us about an idea you shared with our coaching class a couple of weeks ago. In fact it's resonated so much that in my coaching calls with our individual students I've had a couple of them say I really liked what Jordan said about the mentoring pairs. Would you tell us about that?
Jordan: Yeah I can definitely talk about that. Here at the end of the summer my team will have finished Pure Praise so now in the future moving forward when a person comes and wants to be a part of the worship team Pure Praise is going to be a part of that process. And so I will pair the new person with a person that's on the current team that's already been through Pure Praise and I'll ask them to do that together. And my hope with that is that it will build some great relationship, that it would help this new person feel invested and involved in the ministry and understand some of these basic ideas about what worship is and why we do what we do. And it's also an awesome opportunity for current team members to invest into somebody else and to have someone that they are actively mentoring and pouring into.
Dwayne: Great, love that idea. So Jordan would you pray now over our listeners? Pray that the Lord will grant them wisdom and encouragement.
Jordan: Yeah I would love to pray for the listeners today and the blog readers. So why don't we take a moment here and let's do that together. Father we thank you so much for what we have in you. Thank you for the many ministries that you've allowed us to be a part of. Lord for each and every person that may be listening to this today or reading this blog today, Father, we pray a blessing on their lives that you will do something that was said here today to encourage something that was said here today to teach. I know Lord that this process has taught me so much and we just thank you for the way that you lead us as we seek your will, your vision for our ministries and for our churches and we acknowledge that we need you Lord, we acknowledge that without you we have nothing. And that every step's got to be your step. And so we surrender to you. We want to walk with you. And Lord would you show us the way forward and help us to accomplish it daily and weekly. Thank you Lord for the way that you use us and work in us. We love you so much and we praise you and in Jesus' name we pray. Amen.
---
Our Worship Leader Intensive is like nothing you've done before! Go here for information about the ReIMAGINE Intensive in Louisville in October. Scholarships are available.
Podcast: Play in new window | Download | Embed