by John Martin
In the mid 1960's Burt Bacharach composed the music to songwriter Hal David's lyrics: "What the world needs now is love, sweet love. It's the only thing that there's just too little of. What the world needs now is love, sweet love. No not just for some, but for everyone." These words are still true today. Looking at the evening news will show you that our nation, so divided, needs some love, sweet love now more than ever before. We need an earth-shattering, heart-changing kind of love. We desperately need the never-failing love of God!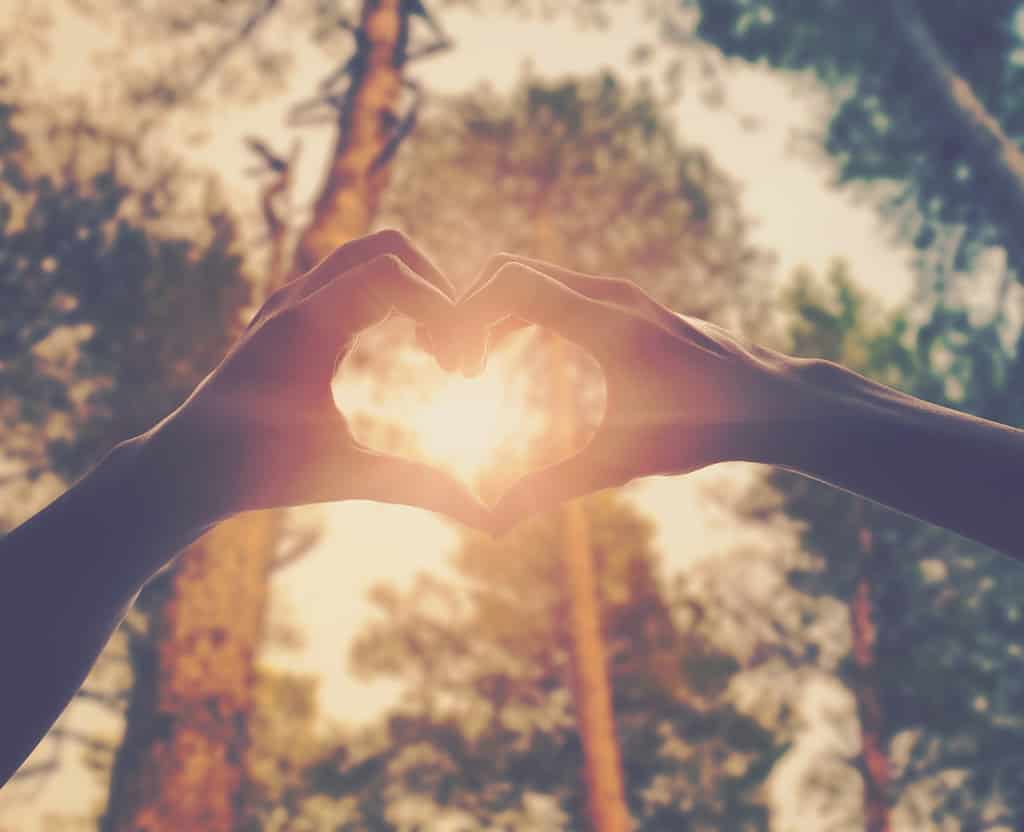 God loves me. There are no truer words that can offer comfort to the human heart than the simple statement, "God loves me." It can bring hope to the hopeless, it can be a shining ray of sunlight in the darkest of storms, and it can give peace to those in pain. And the great thing is that absolutely nothing can separate us from the love of God! Look at how Paul describes this in Romans 8:35-39 (ESV):
Who shall separate us from the love of Christ? Shall tribulation, or distress, or persecution, or famine, or nakedness, or danger, or sword? As it is written, "For your sake we are being killed all the day long; we are regarded as sheep to be slaughtered." No, in all these things we are more than conquerors through him who loved us. For I am sure that neither death nor life, nor angels nor rulers, nor things present nor things to come, nor powers, nor height nor depth, nor anything else in all creation, will be able to separate us from the love of God in Christ Jesus our Lord.
We are living in dangerous times. This world is in distress and people are being killed in the streets of our cities. Corrupt governments rule over helpless people and all of creation seems to be in an upheaval as morals decay and we grow angrier and more bitter. Diseases and famine are at all-time highs and things are growing worse rather than getting better. But one thing is clear; God loves me and nothing nor no one can separate me from the love of God!
I am so very thankful that I accepted God's love for me as a young boy. I realized that I was a sinner in need of a savior and that in spite of my sin, God loved me so much that he sent Jesus Christ to die in my place and pay the price for my sins. I want you to know that regardless of who you are or what you have done, God loves you too. You may think that is impossible, but it is not. God loves you. Singer and songwriter Don Francisco wrote a song entitled, "I Don't Care Where You've Been Sleeping". I have always loved this song and whenever I hear the chorus, I know God is saying these same words to everyone who will listen, believe, and trust him:
"I don't care where you've been sleeping, I don't care who's made your bed. I've already gave my life to set you free; there's no sin you could imagine that is stronger than my love, and it's all yours if you'll come home again to me."
Please know that God loves you. It does not matter the color of your skin. It does not matter if you are a peaceful protestor or a looter/rioter with an agenda to steal and incite violence. It does not matter what country you were born in or if you are rich or poor. The only thing that matters is that God loves you and gave himself for you and no one can take that away from you – if you will only trust him!
We not only need the love God has for us, but we must also have a love for God and a love for others. In Matthew 22:36-40, Jesus shared this message (ESV):
"Teacher, which is the great commandment in the Law?" And he said to him, "You shall love the Lord your God with all your heart and with all your soul and with all your mind. This is the great and first commandment. And a second is like it: You shall love your neighbor as yourself. On these two commandments depend all the Law and the Prophets."
The first commandment is to love God with all our heart, soul, and mind. Saying, "I love you Lord" is simple and I am quick to do that. But that is not enough. The commandment is not that we say we love God, but that we love him with all our hearts, soul, and mind. How do we do that?
When we love God with all our heart it means that we make him our greatest treasure and that we value our relationship with him over everything else. Matthew 6:21 teaches, For where your treasure is, there your heart will be also (ESV). Many times, we think about this verse incorrectly and I have often heard it misquoted. Many people think that the Bible says, "where a person's heart is, there will their treasure be also"; but that's not what God said at all. It is the opposite! The treasure does not follow our heart; but rather, our heart follows our treasure—whether it be God, a career, a family, or a large accumulation of wealth in the bank. If we genuinely want to love God, then we must treasure him! We value him above all else.
What does it mean to love God with my soul? The Meriam-Webster Dictionary defines soul as:
the immaterial essence, animating principle, or actuating cause of an individual life
the spiritual principle embodied in human beings, all rational and spiritual beings, or the universe
a person's total self
To love God with our soul simply means that we love God with all that we are. Our will (attitudes and intentions), our emotions, our thoughts and feelings, and our bodies. Every fiber of our existence is focused on loving God! Psalm 103:1, Bless the Lord, O my soul, and all that is within me, bless his holy name! (ESV – emphasis is mine)
Then we are instructed to love God with our mind. Whoever said that following God meant that we were to become non-thinking, non-reasoning zombies? On the contrary, God wants us to think and reason. He wants us to love him with our reason and intellect! Loving God with our mind means that we study the bible, we think about what it says and we engage in meaningful conversations (with God and with other Believers) that help us to grow in our faith and knowledge of who God is.
To sum all this up please allow me to say that when it comes to loving God we are to love him with our heart (he is our treasure and we value him above all), we love him with our hands (he guides our tasks and all that we do) and we love him with our heads (he is in our thoughts and we long to learn more about him). This world needs to show some love, sweet love to our loving God!
Finally, we need to love one another. The second commandment that Jesus gave in Matthew 22 is that we love our neighbor as ourselves. While this is a difficult goal (especially in these trying times) it is not impossible! In Luke 6:27-38 (ESV), Jesus gives us some practical guidance on how to love others:
"But I say to you who hear, Love your enemies, do good to those who hate you, bless those who curse you, pray for those who abuse you. To one who strikes you on the cheek, offer the other also, and from one who takes away your cloak do not withhold your tunic either. Give to everyone who begs from you, and from one who takes away your goods do not demand them back. And as you wish that others would do to you, do so to them. "If you love those who love you, what benefit is that to you? For even sinners love those who love them. And if you do good to those who do good to you, what benefit is that to you? For even sinners do the same. And if you lend to those from whom you expect to receive, what credit is that to you? Even sinners lend to sinners, to get back the same amount. But love your enemies, and do good, and lend, expecting nothing in return, and your reward will be great, and you will be sons of the Most High, for he is kind to the ungrateful and the evil. Be merciful, even as your Father is merciful. "Judge not, and you will not be judged; condemn not, and you will not be condemned; forgive, and you will be forgiven; give, and it will be given to you. Good measure, pressed down, shaken together, running over, will be put into your lap. For with the measure you use it will be measured back to you."
There is so much packed into these verses and the space of this article will not allow me to adequately unpack all of it, but let's try to cover a few main points.
First, we are to love people. Not simply love the people we love and who love us, but also the unlovable. Those who hate us, those who are different, those who shout and curse and throw things. Those who are corrupt and unkind. We are instructed to love people good and bad, friends and enemies.
But secondly, like with God, it is not enough to simply say, "I love you" to people, we must show them love (here is where Jesus gets practical). How do we love our neighbors as ourselves?
Show mercy. Do not be judgmental and condemning. Forgive.
Pause and think about that for just a moment… the way we show people love is by showing them mercy and forgiving them just like God has shown us mercy and forgiven us. Its not complicated. It is actually remarkably simple, unfortunately it is also ridiculously hard.
Love EVERYONE by showing them mercy and forgiveness.
If you are white, then you do not understand what it is to be black. If you are black you do not understand what it is to be white. If you are American, you do not understand the plight of the Mexican and if you are Mexican you do not understand the concerns of the American. It is our differences that divide us. It is our lack of understanding that angers us and it is our lack of love that makes us enemies.
Please, if you have read this far bear with me a little longer. There are many things that are different about the people in this world; race, culture, and religion are just a few. But what is it that unites us, what do we ALL have in common?
We all make mistakes; we all stand in need of mercy and forgiveness and we all need love. Think about the current state of our world. What would the evening news look like if instead of condemnation and judgement we all showed mercy and forgiveness? I hear the cries for change, and I agree. Not only do I agree, I lend my voice to support the cause for equality and justice for all. But change will not come if there is condemnation, judgement, anger, and bitterness. But what change would we see if we showed mercy and forgiveness? In other words, love.
"What the world needs now is love, sweet love. It's the only thing that there's just too little of. What the world needs now is love, sweet love. No not just for some, but for everyone." We need to recognize God's love for us, show our love for God, and share God's love with one another.