By John Martin
We are living in unprecedented times. It seems as if trouble abounds and people are struggling with worry and fear. Many entertainment venues are closed or greatly restricted in their offerings and many churches have followed suit by either limiting the number of people who can gather, hosting online services only, or sadly shutting down all together. It is a difficult season for the church.
In my current role as the Director of Missions for NLW International I would not begin to attempt to advise anyone on what they should do concerning opening their church and holding in-person worship services. I understand that each congregation and every individual must do what they feel is best for their specific circumstances.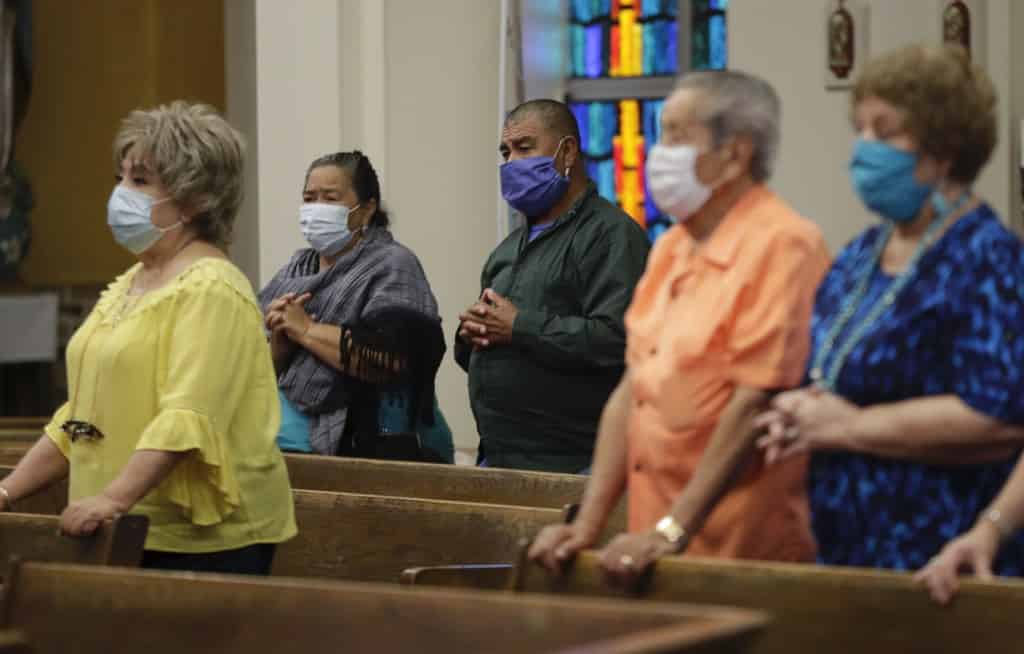 As a pastor and an American, however, I have many reservations and am deeply concerned when government entities begin to dictate what a church can and cannot do concerning the worship of God. And while I want to be careful and do my part to help halt the spread of COVID-19, I also want to gather as the body of Christ and corporately offer praise to God! I personally say open the churches and let all who will and all who want to come – COME! Come and let us join together to celebrate the grace, goodness, and glory of our God!
Before going any further please allow me to make one thing perfectly clear. This article is not about politics or governmental interference. It is not about our constitutional rights nor is it about adhering to safety precautions during the pandemic. This article is simply about going to church and why we as Christians should rejoice at the opportunity to got to church and worship together. This is simply a reminder of why going to church should make us glad.
In Psalm 122 David begins with this thought: I was glad when they said to me, "Let us go to the house of the Lord!" – Psalm 122:1 ESV
Psalm 122 is called a Song of Degrees. It is one of a group of psalms that were sung by Jewish pilgrims as they made their way to Jerusalem to observe the mandatory feasts given in the Law. These psalms were to be sung as the worshippers made their way to the holy place to worship. These psalms ascend the heights of the glory and majesty of God and were designed to glorify the Lord and help prepare the hearts of the saints of God for worship. Today I want us to look at this psalm to help remind us of why we should be glad to go to church.
First let us examine the PURPOSE FOR GOING TO CHURCH.
In Psalm 122 David gives two reasons for his gladness in going to church and they are revealed in verse four. The psalmist tells us that the tribes go up to Jerusalem as "decreed for Israel (some translations use the word testimony)" and "to give thanks to the Name of the Lord".
The decree or testimony that verse four is referring to is the command for Israel to gather at the tabernacle, and later the temple, for the three great feasts. By traveling to Jerusalem, the Jewish pilgrims were honoring God's Word to them or in other words they were heeding the Word of God! When we gather corporately as the Body of Christ, then God's Word should be front and center. The Bible must be the focal point of our worship services. Therefore, one of the purposes for going to church is to hear God's precepts and as we investigate God's Word it should fill our hearts with joy and gladness.
But verse four also tells us that we go to "give thanks". One of the greatest blessings in being able to gather corporately as the Body of Christ is we get to sing our praises to God! While the Word of God should be the focal point of our corporate gatherings, we also gather to herald his praise. We sing and testify of the grace and goodness of God. What a joy it is to gather and sing with one another. How encouraging it is to gather and pray for one another and to hear someone share about how God has touched their lives!
One of the reasons that King David was so excited to go into God's house and gather with the other worshippers was because he knew that he would hear God's precepts and that he could join with his fellow God-followers and herald the praise of God! That is the purpose for going to church, pandemic or no pandemic.
Next, let us look at the PEOPLE WHO GO TO CHURCH.
David was not going to church alone; nor was he connecting virtually from some secure location. David said, "Let US go…" David found gladness in the purpose for going to church be he also found gladness in the people he would meet there.
Again, in verse four, David writes, "…to which the tribes go up, the tribes of the Lord…" David knew two things about the people he would see in church: He knew they were a people united in their fellowship and united by their family.
The ancient Jews were a people connected by blood. They were a family. When they came together for worship, it was a family affair. It was a time to renew acquaintances, catch up on family news and meet the new members of the family. It was like a family reunion every time they gathered.
The church is to function in a similar manner. When we come together, the family is coming home. All the redeemed are united by the precious blood of Jesus. When we come together for a meeting, whether it is to worship, to fellowship, or just to pray we should take the opportunity to strengthen the family bonds. That is one reason why churches should offer so many opportunities for fellowship. It is important to a healthy family-spirit in the church. The church that does not fellowship together lacks unity!
Imagine a family that never shared a meal or got to know one another; that would be a dysfunctional family, at best. It would be a family with serious problems at worse. We need to ensure that our church family closely resembles the church of the book of Acts. They were a church that enjoyed one another's company.
If you are an "at-risk" individual, then I understand your caution and all I can do is urge you to do what you feel is right and proper. But I must move beyond my fears and return to fellowshipping with my family in the House of God. We are a people of fellowship and we are a family!
Lastly, we will see the PERSON WHO IS GLORIFIED AT CHURCH.
Four times in this Psalm David mentions the "Lord". He was at the heart of all they did. Every moment and event of life revolved around the Lord and His worship. He was the centerpiece of everything.
When David calls God "the Lord", he is using the most common name for God in the Bible. The word used here is "Yahweh" of "Jehovah". This name for God appears over 6,800 hundred times in the Old Testament. It identifies God as the eternal, self-existent One.
This name also identifies God as the covenant-keeping One. He is a God Who makes covenants with His people and He never breaks faith. He is a God Who keeps every promise He makes. He keeps every soul He saves. This name identifies Him as a God Who is worthy of all our praise and worship.
In the final analysis He is the reason we come to church. If it were not for Him, I would not even care about His Word, His worship, or even about you. He saved me, He keeps me, He blesses me, and I want to praise Him, serve Him, worship Him, and get together with others who feel about Him just like I do!
David was glad to be going to the House of the Lord because he knew that in doing so, God would be glorified!
I do not know about you, but I feel it is time to get back to church and I am glad to do so. I am glad to go to church because I know the purpose for going, I know and love the people of God and ultimately, I know and trust that God will be glorified!
Let us go to church.