Worship Leader Spotlight – Michele Johnston
Worship Pastor at Encounter Church in Milan, Pennsylvania
By Savannah Cone
A leap of faith is what landed Michele Johnston in the role of worship pastor at Encounter Church seven years ago."My husband and I have always had a passion to serve on the worship team in church, but I never would have imagined being a leader in this area," she said. Now, her thriving worship ministry includes teaching her team and congregation what it means to worship meaningfully – and leading by example.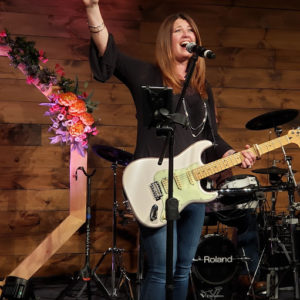 Teaching Meaningful Worship
Michele believes that teaching both her team and congregation about worshiping with the heart is crucial to their walk with the Lord. She encourages her team to learn and understand the back story of a new song by providing them access to worhsiptogether.com prior to rehearsal. This resource not only helps her team to understand the lyrical content, but also helps her to separate scriptural songs from non-scriptural songs. In addition to this resource, Michele's team reads a devotional book together focusing on their spiritual growth regularly. She strives to be respectful of her team's rehearsal time, communicating about this devotion primarily through email. Michele believes that heartfelt worship cannot happen apart from prayer. At each rehearsal she routinely asks for prayer requests and takes a moment to pray with her team.
Modeling Meaningful Worship
Michele doesn't stop at teaching her team and congregation about meaningful worship, but she also models it. She believes that "leaders have to go first," as an example to their team and congregation. This can be as simple as raising a hand, kneeling, or simply being in the moment. Since modeling sacrificial worship from the platform, Michele has seen her congregation's engagement in worship increase astronomically.
In order for her team to model heartfelt worship, she prepares them musically ahead of time so they can be focused on leading in worship on Sundays. Worshiptutorials.com has been a tremendous resource she utilizes on a regular basis. She is able to purchase different sounds, access reviews on various new technology, use guitar tutorials, and more. This resource has given her musicians the opportunity to refine their craft and bring excellence to the Sunday morning experience.
Pray with Michele
Michele has been praying for years that God would revive her congregation's heartfelt worship. Just recently, she has begun to see a dramatic shift in their outward expression of praise and worship. Join Michele in praying that her church of broken hearts would be vulnerable as they worship in community.
Michele Johnston is the Worship Pastor at Encounter Church in Milan, Pennsylvania. She has been part of the worship ministry in various churches for more than 20 years and is currently celebrating her seventh year serving with Encounter Church.