Worship Leader Spotlight – Martin Bowman
Worship Pastor at Crossroads Church in Temecula, California
By Savannah Cone
This seasoned worship pastor in Temecula California has struck a sweet formula for any worship ministry to replicate. Martin's 18 years of full-time worship leadership has seasoned him with much knowledge to establish connection, drive development, and encourage duplication among his team. Martin began serving with Crossroads Church in the heart of the pandemic and ever since has served Crossroads Church with his whole heart.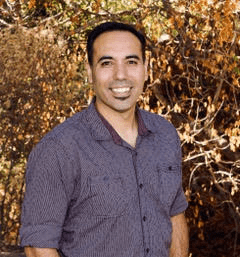 The Three D's
Disciple, develop, duplicate is Martin's mantra. "If you don't know who Jesus is, being on the worship team will make for a very strange situation." Martin believes each member of a worship team should first and foremost be a disciple of Jesus Christ. Secondarily, he believes every team member should have the opportunity to develop and refine their skills both as a musician and a disciple. Lastly, discipleship and development ultimately lead his team members to duplicate these same principles to others on the team and in the congregation.
Practical Discipleship
"It is important for me to know how each person is doing spiritually." Martin's position is to be a pastor to the worship team, therefore he wants to be intentionally involved in each team member's life as time allows. Martin is assertive in reaching out on a regular basis asking questions such as:
How are you enjoying the current teaching series?
Are you enjoying your life group?
How is serving in your other ministry area going?
How is your personal time with the Lord going?
How can I be praying for you?
Martin says, "almost everyone receives these questions well because it shows them I care." He is sure to establish before they begin serving on the worship team that he will be checking in on them from time to time. This allows for an open dialogue from the beginning for team members to express concerns, celebrate praises, and build unity. "Taking the time to disciple individuals provides the most return," says Martin.
"Dealing with people who have a variety of musical skills can be a blessing and a challenge."
"Dealing with people who have a variety of musical skills can be a blessing and a challenge." Martin has musicians on his team who barely know how to read music or understand chord structure, but because he is aware of their skill level he can more closely be of help. In most cases, Martin will stretch a new musician's repertoire of notes/chords/progressions by giving them a song he plans to use in about 6 weeks. Martin checks on them frequently and feels that most budding musicians enjoy the challenge. "The hard part of development is challenging the experienced and well-skilled musician." Martin has found the best way to challenge an already experienced musician is to pair them with someone who is on a different skill level than themselves. In doing this, he is elevating an experienced musician and developing them as a leader.
Imitate and Duplicate
"Whatever you do on the team, how are you involved in developing someone else to replace you?" is a question he brings to the table for his team. Martin believes in order to grow and recruit, people currently serving have to be ambassadors of training up the next generation of musicians and worshippers. He encourages each of his team members to influence and train others in their area of expertise.
Martin Bowman is the Worship Pastor at Crossroads Church in Temecula, California. He received a Bachelor of Arts in Pastoral Leadership from Southern California College and a Master of Divinity in Leadership Studies from Vanguard University. Martin currently lives in southern California with his wife and two sons.