By John Martin
The past couple of weeks have been devastating for our nation. Life has been lost and many of our cities are in chaos as peaceful protests turn violent and rioting occurs. I am not typically an overly emotional person, but I have wept as my heart breaks over the state of our country. All that is happening, as horrible as it is, is not the problem but rather the symptoms of a disease that has ravaged us. These are symptoms of a cancer that is aggressively growing and, if left unchecked, will ultimately destroy us. What is this cancer that is eating away the very foundation of civilization? The simple answer is sin.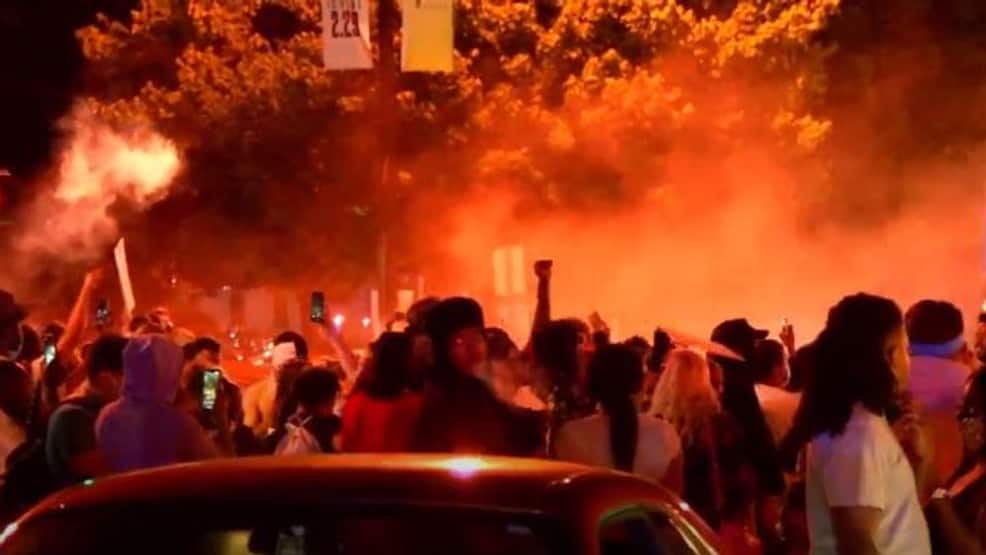 Someone posted on Facebook the following quote (unfortunately I am not able to give credit to the author as I do not know where this post originated): "The problem is sin, not skin. The answer is grace, not race. Jesus died for ALL and our nation needs Jesus!" I believe what we've seen unfold in the streets of our cities is a result of a…
Lack of parenting (for guidance).
Lack of pledging (for patriotism).
Lack of praying (for values).
Lack of planning (for action).
Parenting
Before the first government was ever formed, before the first church was ever established, God created and ordained the family. Over the years the value of family, the commitment of a husband and wife to each other, the responsibility of parents to guide their children have become lost to many. Pope John XXIII said, "The family is the first essential cell of human society." I agree, the family is the building block for society and because we have allowed families to disintegrate, we are now beginning to see the very foundation of our nation crumble and fall. The re-establishment of the family as the foundational building block of society is imperative.   A return to the days when a man and woman would make a covenant with one another before God to love and cherish each other for life needs to happen. The days of absentee parents (both father and mother) must end and parents must again begin to invest time in their children – leading and guiding them to be moral and responsible citizens. The family is a shining example of our glorious past, but it must also be the guiding light that lights the path and guides us into the future. Alex Haley, the author of Roots: The Saga of an American Family, stated, "In every conceivable manner, the family is link to our past, bridge to our future." Let us once again heed the words of wisdom from Proverbs 22:6, Train up a child in the way he should go; even when he is old, he will not depart from it.
Pledging
The current version of our pledge was adopted by congress on June 14, 1954 and it reads: "I pledge allegiance to the Flag of the United States of America, and to the Republic for which it stands, one Nation under God, indivisible, with liberty and justice for all." When I was a child, I remember standing at attention every morning before the school day began, facing the flag hanging in the classroom and reciting that pledge. I was fortunate to have parents and teachers who instilled in me a sense of civic pride and patriotism. These people not only taught me the pledge, but they taught me the meaning behind those words. They taught me that we were a nation that was undivided and committed to the ideas of liberty and justice for all; not only those with white skin but everyone, regardless of race, was free and that justice would be available to all. But for many, that lesson has failed to be taught and the commitment of that pledge has lessened. We need to return to the values that this country was founded upon and live out the phrase from our Declaration of Independence that says ALL men are created equal. We were a nation founded on Christian values, but we have abandoned those. We must heed the words of the psalmist: Blessed is the nation whose God is the Lord, the people whom he has chosen as his heritage! Psalm 33:12 ESV
Praying
Prayer changes things. It changes the hearts of men. If we genuinely want to bring about a lasting and impactful change in this nation than we must not resort to violence and rioting. We must recognize that more can be accomplished through prayer than through protests. Peaceful protests have always played a role in bringing attention to a cause and in helping to advance an agenda. But the true need in this country is a change of our hearts and our thinking and that can only come about through prayer. In James, the bible says, Therefore, confess your sins to one another and pray for one another, that you may be healed. The prayer of a righteous person has great power as it is working (James 5:16 ESV).     In 2 Chronicles 7:14 God said to the people, "If my people who are called by my name humble themselves, and pray and seek my face and turn from their wicked ways, then I will hear from heaven and will forgive their sin and heal their land." But many have abandoned prayer. It some areas of the country it has been banned in our schools, and many have rejected its rightful place in our nation. The lack of prayer has led to a lack of values and that includes the devaluing of human life. Many devalue the lives of people who are different; be it the color of their skin, their culture or simply because they create an inconvenience (consider abortion and assisted suicide). This lack of values has put us on a slippery slope, and we are sliding further into the dismal pit of darkness. We must unite in prayer and as Jesus instructed, we must pray that God's will be done on earth as it is in heaven!
Planning
Finally we need a plan. While life and property must be protected from those who would choose to destroy, more violence is not the answer. We need to have a frank and honest discussion about racism in our nation and it MUST begin within the church. Sad to say, but the church is still one of the most segregated institutions in America today and this should not be. As the children's song says, "Red, yellow, black, and white; ALL are precious in his sight." God loves us all and he has called us to love one another! We must join together and worship the Great I Am. We need to reinforce the idea of the family unit. We need to restore the teaching of history (the good, the bad, and the ugly) and teach the principles on which this country was founded. If we reject our past and try to ignore the mistakes and atrocities of earlier generations then we are doomed to repeat those same mistakes and atrocities over and over again. We need to embrace our pledge once again and not only recite the words but commit to live by that pledge and be ONE nation under God, indivisible with liberty and justice for all. We must come together in love and pray for one another, asking God to show us mercy and grace and to help us show that same mercy and grace to one another. Only then can we find peace and unity.
If we went to the doctor and were told that we have an advanced form of cancer that must be addressed aggressively then we would take whatever steps were needed to rid our body of the devastating disease. We would endure radiation, chemo, and surgery as we fight to stay alive and win the battle over the illness that threatens to end our life. As a nation we have an advanced form of cancer. The symptoms of the disease are seen in our lack of guidance, our lack of patriotism, and our lack of values. To eradicate the disease, we must have an aggressive treatment plan and God gave it to us: pray and seek his face and turn from our wicked ways, then he will hear from heaven and heal our land. My fellow brothers and sisters in Christ, I implore you to follow the plan. It will be painful at times. There will be setbacks along the way. But if we follow the plan, then victory and healing lie in our future. Whoever you are, whatever you have done please know that God loves you and so do I.