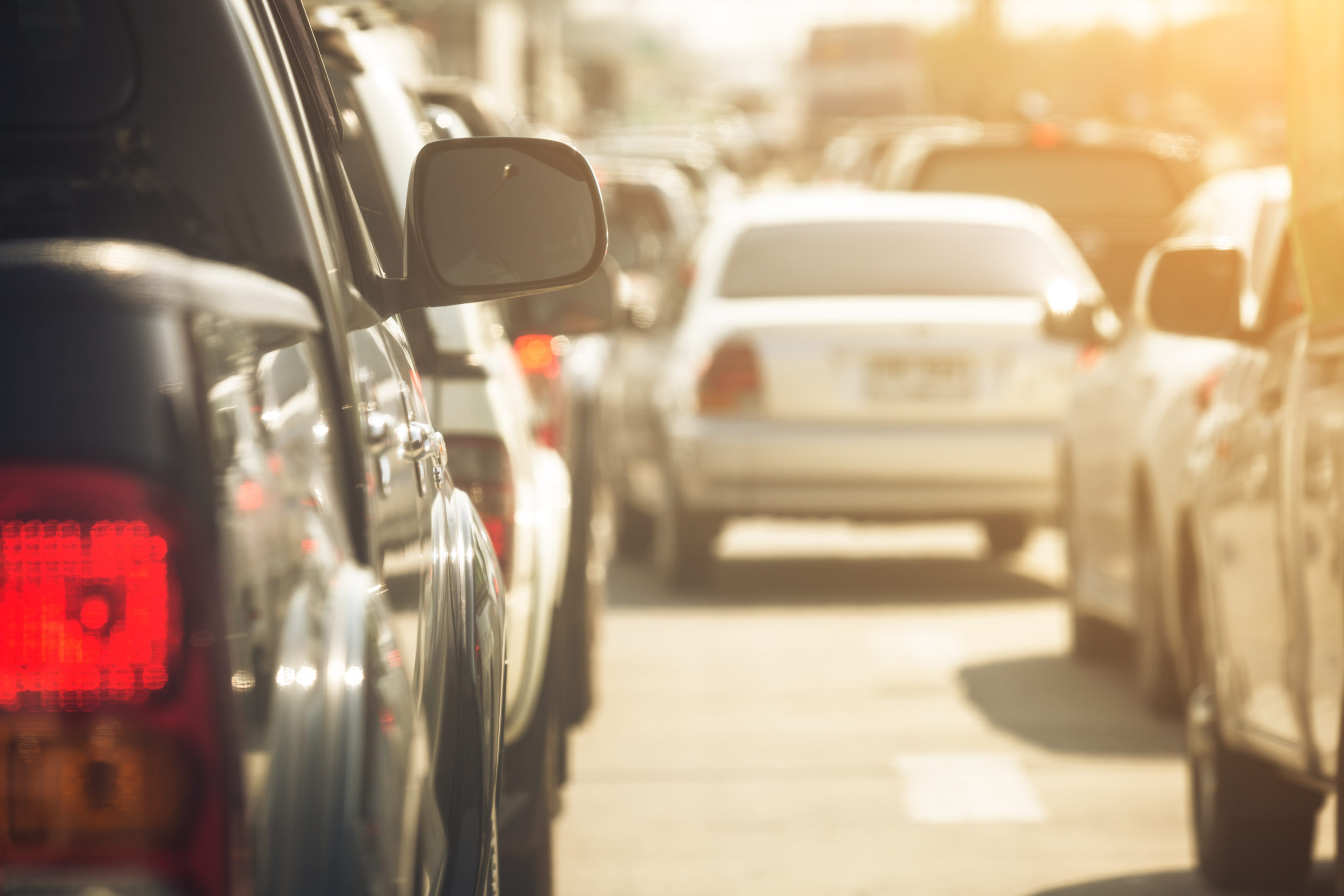 Stop Impeding Traffic: How Name-calling Hurts Our Witness
By John Martin
I am sitting in a small coffee shop in Guntersville, AL. It is a rainy and dreary day and I am looking out the window trying to get motivated to start working on my projects for the day. As I am sitting here, I observe something that was both entertaining and enlightening at the same time.
The street the coffee shop is located on is a one-way street and therefore the parking spaces in front of the shop are oriented in the direction of travel for the street. A gentleman in a small pick-up truck had decided to "back into a parking space" instead of merely pulling in and parking with the flow of traffic. I watched as he began backing up with his truck crossing over three parking spaces. He seems to decide on the one parking space that he desires to use but in order to get aligned he must pull forward into the street, adjust his direction and head backwards again. He does this several times, blocking traffic on the street each time and impeding others from reaching their destinations, but he cannot get his truck aligned in the parking space.
I sit mesmerized, watching the spectacle unfold before me. Cars in the street are forced to stop and wait as the driver of the truck tries again and again to correct his position while facing the wrong direction. Drivers are growing frustrated and horns are beginning to sound as they vent their frustration toward the poor fellow in the truck. As I watch I want to go and tell the driver of the truck, "Buddy, turn around and get headed in the right direction and things will go much smoother." That is when the light bulb comes on, and I see how this driver is like so many of us who claim to walk with Christ; we are so focused on getting what we want that we don't realize we are heading in the wrong direction and keeping others from the destination.
Over the past several days I, along with so many others, have watched as issues within the church have unfolded that, in my opinion, are slowing down the flow of traffic and keeping people from the destination. First, we have a prominent and widely respected pastor who has publicly criticized and berated a fellow Christian laborer because she is a woman (this individual is just as prominent and respected).
As I observe people begin to "draw their lines in the sand" and argue the right and wrong of women preachers/pastors, it breaks my heart to see such division and anger. There are quotes from Christians on both sides of the issue, such as, "She is living in sin." "She is a liar." "It is appropriate that this has come out at this time of the year because she is a witch!" Fellow pastors are making statements to prove their stance and show their support of the first pastor, "I will never allow her or any other woman to speak in my church." "Women are to remain silent in the church and she needs to shut up!"
However, the other side is no better. Just listen to a few of the comments from that side; "He is an old, white man who is out of touch with the world around him." "A pastor? I would question if he is even a Christian!" "Guys like him are the reason sexual abuse is so rampant. His views on women show he thinks we should all be barefoot and pregnant. It obvious he thinks women are good for only one thing!"
Second, the possibly more publicly known item is the criticism I am seeing from those in the church towards a recording artist who has just released a Christian album. Here are a few quotes from Christians, "What he is doing is blasphemous. He is a wolf in sheep's clothing and deceiving." "He isn't even a Christian and he wants to declare Jesus is King? Ridiculous!"
Both of these issues have, in my humble opinion, given the church and Christianity a "black-eye" and have served to push people away from God, instead of drawing them to Him. Just like the fellow in the truck this morning who was determined to park his way, even if it was wrong, we are heading in the wrong direction and impeding people from their destination.
Let me state for the record that by addressing these two issues I am not trying to stir controversy or create division (there is already too much of that). It is not even my desire to change anyone's mind or convince anyone that my views are right. I only want us to realize that we are heading in the wrong direction and we need to get turned around, so we stop holding up traffic and preventing people from reaching the destination of the Kingdom!
So, why do I say that many of us are heading in the wrong direction on these issues (especially when I am not going to use this article to state where I stand)? Because where any of us stand on these issues is not nearly as relevant or important as how we conduct ourselves concerning these issues.
Before leaving this world to return to His Heavenly Father, Jesus gave us one sign that would be used to identify His followers to this world. One thing that would separate His church from the rest of the pack. It was not denominations or doctrines. It wasn't fancy slogans or the translation of the Scriptures that you use. It is not your views on abortion, homosexuality, political parties, women in ministry or who is and is not worthy to proclaim Christ. Jesus was very clear on what identifies us as His followers. Are you ready? Here it is:
"A new commandment I give to you, that you love one another: just as I have loved you, you also are to love one another. By this all people will know that you are my disciples, if you have love for one another." – John 13:34-35 ESV
I am no expert, but many of the quotes that I have seen in the news and on social media do not seem to represent a love for one another in the Body of Christ. Instead of showing the world that we are a family bound together by the love of Christ, we are showing them that we are no different and that in the midst of disagreements we cannot, or more accurately we do not, love one another and just agree to disagree. But rather we can become hateful, spiteful and mean-spirited. And for what? To prove that we are right and someone else is wrong? To stand on our principles? To prove we are Christian? Here is what I have come to understand concerning these questions:
1. It is not important for me to prove I am right (those that know me know this is very difficult for me to say). What is important is that I love God and I love people. "Teacher, which is the great commandment in the Law?" And he said to him, "You shall love the Lord your God with all your heart and with all your soul and with all your mind. This is the great and first commandment. And a second is like it: You shall love your neighbor as yourself. On these two commandments depend all the Law and the Prophets." – Matthew 22:36-40 ESV I haven't found a commandment that says, "The most important thing is for people to know you are right; therefore prove your point regardless the cost."
2. As a Child of God, I must stand faithful and live by the principles set forth in His Word. I should be willing to take a stance on sin and not be fearful to share my convictions. But this must be done in the love of God and in a manner that is respectful and representative of God's love. But ultimately the most important "conviction" or "principle" that we as Christians should stand on and not back down from is the simple fact that Jesus Christ is the Hope of mankind and the ONLY MEANS OF SALVATION. "I did baptize also the household of Stephanas. Beyond that, I do not know whether I baptized anyone else. For Christ did not send me to baptize but to preach the gospel, and not with words of eloquent wisdom, lest the cross of Christ be emptied of its power. For the word of the cross is folly to those who are perishing, but to us who are being saved it is the power of God." 1 Corinthians 1:16-18 ESV
3. And lastly, we have already established that the Lord has given us one means by which to prove our identity to the world and that is that "we have love for one another."
Ultimately the driver of the truck realized that what he was doing was not working. Perhaps he even realized that he was causing more harm than good, but he did give up and pull over to the other side of the street, heading in the right direction, perfectly aligned and parked. My prayer is as the church, we will stop being a roadblock and start moving in the right direction and loving people to Jesus. So, then each of us will give an account of himself to God. Therefore, let us not pass judgment on one another any longer, but rather decide never to put a stumbling block or hindrance in the way of a brother. I know and am persuaded in the Lord Jesus that nothing is unclean in itself, but it is unclean for anyone who thinks it unclean. – Romans 14:12-14 ESV
---
John Martin is a husband, dad, and pastor. He spent over 16 years in full-time pastoral ministry and has preached to groups of all shapes and sizes. He loves the Lord and is passionate about sharing the life changing message of Jesus Christ! John serves as the Director of Ministry Operations for Next Level Worship International. Next Level Worship International is a non-profit, charitable organization that provides resources, training and missions opportunities. Their goal is to help people experience transformative biblical worship. John does life with the love of his life, Dee, and their three children (Billy, Caleb and Beth Anne). John and Dee reside in North Alabama just outside of Huntsville.