Dwayne recently met with some students at Trevecca University in Nashville to share our vision and plan for a NLW LIFE chapter on their campus. It was such a holy time and clearly a "God-moment." The more Dwayne shared with them, the more their eyes lit up as they nodded in approval. At the end several came up to us saying they wanted to be involved. Below is a transcript of Dwayne's presentation to the students, as well as an audio recording. You can download the chapter brochure that Dwayne walked the students through during his presentation.
We believe God's hand is on this endeavor and that many students will be impacted in their lifestyle worship because of these on-campus chapters. If you would like your college or university to host a chapter of NLW LIFE, please go here for more information.
Recording of Presentation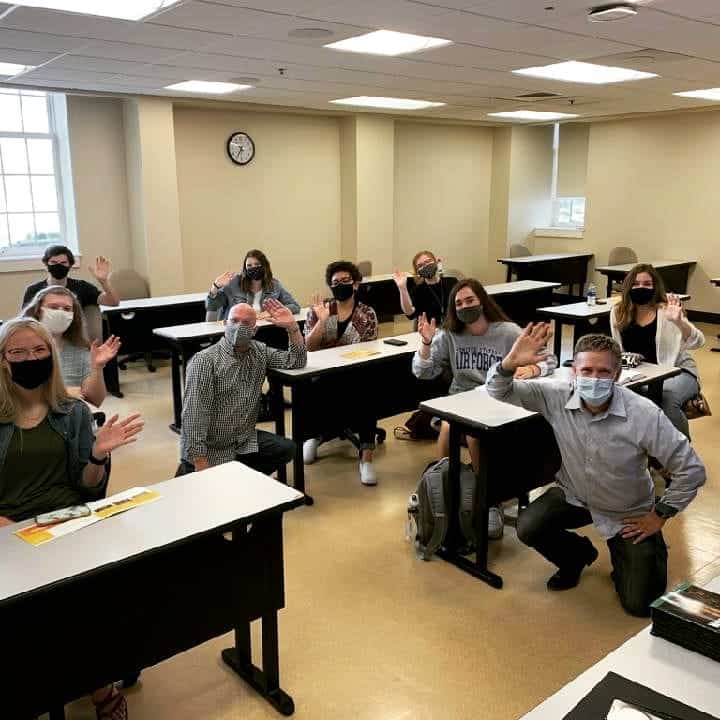 Transcript of Presentation
Dr. Sam Green: My friend, Dwayne Moore. I met Dwayne, it's going on three years, I think. For the last two years, worship students, a small group of worship students have been able to go, paid for by the university, to what is called ReFOCUS. Dwayne, and he's going to talk… The focus today is about campus ministry, okay.
So I'm going to try to do this in a nutshell. In Gatlinburg, there has been for several years a retreat called ReFOCUS that Dwayne leads as part of his overall ministry. It's a bigger ministry than just this one retreat. But several students from Trevecca have gone to that. I went two years ago. Actually, this last February, I had pneumonia and the flu at the same time. I kind of think it might've been COVID, but that was before we started testing in the US. But anyway, who knows what I had. Except I know I had pneumonia and the flu. So I wasn't able to go, but students were, along with one of our personnel.
Thing that I love about Dwayne is I love his heart. I love his heart for worship. Worship, period. But also for worship leaders and a desire to speak into their lives. And really up until the last couple years, his focus has been global, and he continues to do global. And feel free to talk about anything that you will want to today, so they really get a big picture.
But what we are doing is we are starting a student chapter of Next Level Worship. And the idea is, and this is one of my passions, is for students to be able to network. Not just network with each other, okay. And that's a good thing when you're in college, to network with people that are like-minded, but even bigger than that, worship leaders that are preparing. So like last year, Liberty University also sent students, for the last couple years. Any other schools that-
Dwayne Moore: Cedarville.
Dr. Green: Cedarville University sent worship leaders.
Dwayne: Bryan College and others.
Dr. Green: Yeah. So it's a great way. This is just, that's a part of it. But what this is, is a new venture for… Come right on in. This is a new venture for campus ministries. So, without me continuing to talk, [crosstalk 00:00:02:16].
Dwayne: You were saying such good things, really.
Dr. Green: Well, hey. My friend, Dwayne. [crosstalk 00:02:20]. He is going to be talking with you, sharing some opportunities. We'll go until about 10:30. But let me just plant a seed. One of the things we want to be looking for is officers to help with this campus ministry organization. I love the fact that many, well, most of you are actually newer students, because this can be something that's spread out. Okay. So, all right, Dwayne.
Dwayne: Thank you so much. Let me give you guys one of these. Thank you for coming. I really appreciate it. I know you didn't know what you were getting yourself into, but you trust Dr. Green and therefore you are here. And let me say Dr. Green. Calling you by the name I should call you all the time, Dr. Green.
No, that's [crosstalk 00:03:06].
You've earned that title. I will call you that. But I appreciate him. And I think you know that he loves you greatly. I mean, every time he talks about you, he just lights up. And I don't mean you individually. He doesn't do that. But I mean, as a group, he loves you guys. And one of the things I know that he desires for you is that you be worshipers for life. Not just here on campus, but this become a lifestyle for us, for the rest of our life. Amen? That's what we're praying for, for all of us. And I know that's what he prays for you. And also he wants you to succeed at life. That doesn't mean that you'll necessarily succeed in life the way the world defines it, but you can succeed at life. And so our ministry is one committed to helping people do that. To be whole life worshipers for their lives. So that's who we are.
Dwayne's Calling & Experience
Let me tell you a little bit about us before we jump into this brochure. First of all, I'll tell you about me very briefly. I went to Samford University in Birmingham, Alabama, back in the mid '80s. Back then, maybe not so much now, thankfully, but, boy, there was very little talk of discipleship, very little talk about the word worship and worship service that we had on a sign outside. But no one really ever talked about what they mean. So we've come a long way since then, thank God.
But one of the things that people did for me is pour into me as a student. I had a small group of people that took a real interest in me in a unique, I mean, in a really powerful way about my Christian spiritual growth. I never really had anyone do that other than my mom. But no one had really ever done that, intentionally done that with me. And I saw a model of discipleship I'd never seen before. And I realized it's incredibly biblical. What a concept. That's exactly what Jesus had been doing all that time. I didn't know that. And it so impacted me personally. It transformed me. And I don't use that word lightly.
It was very transformative for me to the point where when I left, I graduated, I did graduate from Samford University, I felt in my heart… It wasn't like God spoke out loud, but he might as well have. It was that strong. Like, "Dwayne, what they did for you, you're going to spend the rest of your life doing for others." It was a call on my life. And I knew it, I knew it, I knew it. I didn't know how to do it. So I just got busy looking around for somebody that I could encourage.
Looking back, I don't know how many, I've lost count, but probably hundreds over the years of college students, young adults, just people in my church, people around me. I traveled full time in evangelism for 10 years, and was in many parts of the country doing music and that kind of thing. And I didn't get the chance to really get to know people, and I missed it. So I looked forward to that, to go back into the local church and just pour into people. And so I got to do that for a few years before the Lord called me full time into what I'm doing now.
Some of this experience and knowledge and what to do and maybe what not to do, we want to pour into you guys. We want to invest in you. That's why we're beginning chapters of NLW on campuses. And I'm so grateful for the opportunity to be here to do this. You guys are one of the charter schools. That may be good or may not be good. That means you will learn together on how to do this really, really well. But this is something that I believe with all my heart can be very powerful, very impactful for people that are involved with it. Not only for you, but for the people you can influence and encourage.
NLW International
Because this is way bigger than a person. This organization, actually we have team members in, I think, 18 countries now where we have people that are actual part of our team working. And they're passing on the things that God has taught them from our ministry. They're passing on to others. We've got one lady in Zambia that's taught over 3,000 people alone, and she is on fire. And all she did was, all it took really is coming to an intensive school we did in Zambia, and it just lit her up.
Worship, ultimately, because worship is gazing on God and being transformed, that's really what it is. If we gaze on Him, we're transformed, then we want to tell somebody else about it. Amen? And it brings revival to our lives and to others. So with that said, let's jump into this brochure.
I was going to also tell you that Next Level Worship International, you see here on the front, it says Inc. because we are an incorporated ministry, a 501C3 nonprofit organization. And that's important in that our heartbeat is to not make money on people. That's not our desire at all. We go into the farthest reaches of places. You can't even imagine. Where we sleep with spiders and eat weird food. But anyway. Well, we go where they are. And this lady I told you that's taught 3,000 in Zambia, we met her out in the middle of the bush. Where the chickens we played with in the morning were the chickens we ate for lunch. That was weird. But this lady and her husband just are some of our greatest team members, out in the middle of nowheresville, we would consider. But wow, vibrant Christianity there is out there.
And so we go wherever they need to go, wherever people are. We offer all we can to help people here in the United States. We just got back from New Mexico and Wyoming doing a mission trip there. Again, going where people don't normally have any… No one had ever been out there doing a worship conference. So that's who we are. We've trained over 15,000 worship leaders now in several countries.
What We Believe 
I want you to open up to the first page. I want to show you a little bit about what we believe. Because you don't want to jump into something till you know what in the world you're getting yourself into. So let me show you. NLW life is basically defined as our chapters on campuses that are comprised of Christians from different backgrounds and maybe even majors. It can even beyond just the worship majors. And who want to worship God in every aspect of their lives. That's what we have in common. Does everybody concur with that statement? Do you want to do that? Okay. Then we're in the right place together.
Students encourage each other and hold each other accountable to worship the Lord in three directions. This is extremely important. Everything about our materials, like the book I brought today that you can take with you if you want, everything about what we teach is founded on this principle of Colossians 3:16 and 17. That we worship first of all on the inside. We love Him with our heart, right? We love Him first in our heart. Love the Lord your God with all your heart, mind, soul, strength. You know that. That's the greatest commandment. Doesn't mention the word worship, but that's the essence of worship. And that's what we teach. That we love Him even when no one's looking. We're not perfect. We're trying to love God. Love Him from our heart. And then that's the inward part of worship.
And then from that, making time alone with Him and spending time with friends that can encourage us. Out of that, that just kind of builds up like Psalm 45 verse 1 says: "My heart is stirred with a noble theme as I recite verses for the king." My heart is stirred, it means boiling. So that heart gets to boiling, gets to boiling. What happens when something starts boiling? Steam comes up, right? That's what happens. So you don't see the boiling, but you do see the steam.
What we believe is that out of a heart of worship, the second part of Colossians 3:16, teaching others and admonishing others in psalms, hymns, and spiritual songs. Boom. That's when it comes out of me and spills onto other people. That's the upward part of worship. That I praise Him, I clap, I sing, I shout, I share my testimony. All those are ways to praise Him. I can kneel with my body. I praise Him. You know why? Not because I was told to do it. Not because that's my tradition. Not because my parents did it; I think I'm supposed to now. Not because my friends do it. I do it because that God changed my life.
And I'm going to be like John chapter 9, when that guy, that blind guy who had never even seen Jesus, but now he's healed and now he's looking at the very one that healed him. He's staring at Him. He didn't go to school. No offense to schools. School is important. We'll get there. But in that moment, he had literally just been changed. And now he can see again. And no one told him to do what he did. You know what he did? Down in verse 25 or so, I forget, maybe 30. I forget. It's down in the chapter. He says he looked at it and when he saw and realized it was Jesus, the Lord had healed him, he fell down and worshiped. Nobody told him to do it. Just make sense to what's on the inside, comes up in the form of praise. That's the upward part.
But you know what? If we just watch the kettle boil. "Wooo! Let's watch it boil. Isn't that exciting? Look at all that steam." Call your friends over to watch it. That's weird. Nobody would do that. You don't boil the water to watch it boil. You boil it to share it. You boil it to pour it out to somebody else, or maybe yourself. But you boil it to share it. You don't keep it inside. If we just get together, have little praise moments, that's wonderful, that's needed, Lord knows I need encouragement, these days we all do, but you don't just do it here. You take it out there. You show forth the praises of Him who calls you out of darkness into His marvelous light. It's the third direction of worship. Not only inward, not only upward, but outward.
The greatest commandment is not just love the Lord your God. If you think that, you need to read it carefully. Look at it It says, listen, the second is as onto it. What is the second that he said, he talked about? Not only love the Lord your God, but who else should we love?
Love your neighbor.
Love you neighbor. You can't separate those two ideas. If we love God, we will love our neighbor. If we worship God, we will love our neighbor. You can't hate your neighbor and worship God. Doesn't work that way. So what we believe about worship, there you go. My little sermonette. Got it? All right.
That's what we want you to pass on to… That is the message that will change, radically begin to transform people. The gospel is what changes in a heart. Once they have met Christ in a personal way, the sins are cleansed. Like the blind man that can now see. He started on a journey that began with bowing and falling, worshiping. But you don't stay there. You go get some knowledge with that. You come to school. You learn how to do it better. You hold each other accountable. You encourage each other and you grow in your worship. And that's what we want to help each other to do.
Key Elements of Chapter
So look at the key elements now, the next page. This idea is built on three pillars, if you will, three fundamental ideas. And they're all very important. First of all, you have the inflow. I mean, we just talked about how worship starts on the inside. You know what? I don't get up every morning, go "Woohoo! I can't wait to serve you!" I don't do that. Do you? I mean, first of all, I look at myself in the mirror and I'm already depressed. I thought I liked myself yesterday. And now I look at me. I need a pedicure or something. I need help.
That was an inside joke, inside earlier joke. Anyway. And you need some encouragement. So we need to encourage each other. So from time to time, Dr. Green and you guys… And it's student led, so you decide. You can meet every week, but that may be a lot. Just at least every month you got to get together. Because when you put the coals together, what starts happening? Start heating up. So you got to make time for that.
You can go through books like this, which again, I'll give you a copy today if you want one. But you're already going through a bunch of stuff. But what you got to be careful of is what we're not going to do is make it academic. Not this time, not in this setting. There's a lot of reasons to be academic, thank God. I need to work on that, and am going to work on that part myself. But we got to get it from here down to here. That's important. What we want to help each other do is that very thing. All right, cool.
I don't know what that looks like. I mean, I'm not a guitar player. I'm not that cool. I wish I was. I have to drag a keyboard everywhere and that does not work around a campfire at all. But find a way to sing and do the things you love to do in worship. And encourage each other to live a life once you leave that moment. That's inflow.
And then the second part is outflow. It's like, what sea is it? The Dead Sea? They call it that for a reason. My son Steven actually went. He's been twice to the Holy Land, and his dad had never been once. That's just wrong. But anyway. But he says that he floated in the Dead Sea. You know why? It's so full of salt, right? But he said it's very hard to walk on because of that salt. You can't walk barefoot. But if you look at the Dead Sea, you study it, everything flows in, nothing flows out. We've got to be a people that let things flow out of us. We don't want to be dead people. Want to be alive in Christ and living for Him. Amen?
So you find a way you can go out and… Listen, we've actually gone to parks before and just taken just some singers, just go to a park and give out water. Now I don't, because I'm this old guy walking up… This freaks them out. So you guys do it and you're cool. They don't get offended by you. You walk up and say, "Hey, just want to tell you, Jesus loves you. Here's some water." It'll freak them out: "What?" We had a Hindu lady standing over watching, just loving it. And we interacted with them and they just loved us. And we loved… It was cool. That's what you do.
And you can do that on campus. I don't know what you do. You get creative with that. But if you don't ever go out there and share in some deliberate, intentional way, you become the Dead Sea if you're not careful. So once, twice a semester, you've got to make time for this. It's important. So inflow on a regular basis. Outflow, occasionally. Yes, as a group.
The third thing, the third pillar is accountability. Ecclesiastes chapter 4 verse 12. You know that verse, I bet. One person can stand, if he fights alone, he could be defeated. Two people can stand back-to-back and conquer. But three are even better. Because a three-strand cord is not easily broken, right? So we're asking you guys, this is voluntary, this is optional. You don't have to do this to be a part of the group. But among your group, you find a couple of other people.
Jesus had three people that he trusted so much that he let them hear Him and see Him crying in the Garden of Gethsemane. Let them see Him on the Mount of Transfiguration. They were close to him. You don't look for yes-people. Like, "Hey, let's go watch the grass grow. That is so exciting." They don't care what you do. That's not the kind of friends we're talking here. We're talking about friends that'll say, "While I'm watching the grass grow, I'm going to ask you a question. How's your quiet time going?" "Could you just quit with that for a minute? I just want to watch the grass." No, you got to have somebody around you that will boldly ask you the questions. That will say, "Hey, I know you're struggling with that. How's that going? Letting you know I'm praying for you. But I really want to know."
I'm just saying, guys with guys, girls with girls. No cross-pollination. No. And three, four at the most. Because you ever try to coordinate schedules? It's ridiculous. Everybody is too busy. Now you can do it online, but everyone's online, it gets annoying. Try to meet in person, a coffee shop. But do that from time to time and do it with a purpose. And that's what we'll walk you through and help you know how to do better. That's what I've been doing for years and years. And I promise you it's transformative.
That's the three pillars. If you're in, you're in. If you're out, you're out. I get it either way. Say, "I'm too busy." Okay. Fine. It's not for everybody. But this is the kind of stuff that'll take you on a pathway to succeed at life. You form these habits now, it will transform you for life.
Perks for Students
So now let me show you a few perks to this that we're showing you, offering. The ReFOCUS this time may be online, Sam, Dr. Green. Just because, like you guys, struggling with traveling. Normally we'd go to Pigeon Forge. I don't know if we'll get to do that this time. But that's in February. There'll be some perks come along with that. For example, discounts. Those are always nice. And I don't know how to do it online, but maybe hanging out with artists a little bit. We'll see. But we're trying to do some of that.
Okay, the perk in the middle picture, the community meetings. We will have at even given meeting maybe 15 to 20 nations represented. And it's awesome. We've actually got a student praise gathering, first time we've ever done, October the 22nd, I think it is, Thursday. Check that and make sure. Think that's the date. It's at 10:45 in the morning until 11:30.
Dr. Green: And where's that going to be hosted, Dwayne?
Dwayne: That'll be hosted at a place called Trevecca University. But we have nine, maybe even… I talked to a guy in Uganda yesterday, so we're maybe looking at 10 schools now. But we have four universities here in the United States: Samford University, Liberty University, Cedarville University, and Trevecca. But we're hosting it here. In other words, I'll be back here. Our team will be here. We'll be in the room sort of together. However they allow us to do that.
Dr. Green: And you all will be invited. [crosstalk 00:21:27] Limited number for social distancing, but we'll be [inaudible 00:21:32]. October 22nd.
Dwayne: Right. And my understanding is you guys are leading a song.
Dr. Green: That is correct.
Dwayne: It's going to be awesome. So it'll go from you guys leading. I don't know the order, I'm sorry. But like you guys will lead a song, and then Cedarville will lead a song, and then a seminary of people your age in Germany will lead a song in their language as well as English. But we have people in Zambia, Bangladesh, Mexico. It's crazy cool. And it's going to be live, interactive. It's not recorded. It won't be polished. It won't be sleek. We get enough of that.
This is the real deal. This is like, this is me right now in my life, right this minute. And we're living life together, online as it is. It's really a cool technology to do that. We've done several of them and they're phenomenal. But I've not done one with just students, but we're going to try that. How about that? Hope you can be a part of that.
So that's some of the perks. For those that are in chapters, that's the first people we'll look for. That's the first. We'll go to Dr. Green first if we're needing a team to go to… Next year we're going to Ethiopia and Kenya and New Mexico. That's our three mission trips next year where we're needing people. Our first people we'll look for are people we trust that are already a part of our chapters. You already get what we believe. You're out there trying to live it yourself. Naturally we're going to ask you first. And so those are phenomenal experiences. Where you can go teach, well, you know, not only spiritually, but musically. Because that's what we do. We teach music and worship together. It's really cool, and in many parts of the world. It will be chapters we ask first, because we trust you. All right.
We'd like to do a conference on campus later on, right? Maybe later next year. We don't know yet about that. But that's what that means. That's going to be awesome. I ain't got time to talk about that now. But flip to the next page. Okay.
Benefits for Chapter Leaders
I'm going through this, going to give you a few minutes at the end to ask questions. Here's some perks for you if you are an officer. And I don't know if that may sound too official. You can call yourself something else if you want to. Doesn't matter to me. But it's people that we count on to lead this organization here at this campus. But you are, you're one of the leaders. So it's not about a title, it's about you being bought in and really wanting to help. That's what we're looking for, servant leaders.
But probably the end of October, maybe my spiritual birthday, actually, October 25th, maybe the evening we try to get together for two or three hours online and just do some practical training with you of what it looks like, what it will look like to lead this and help lead this organization. Cool? So that'll be confirmed with Dr. Green. But you might jot that down as possibility. It's a Sunday evening. We may do it from like 7:00 till about about 9:00 or 10:00. We'll see. That's what we're looking at. And you guys can wish me happy birthday, happy spiritual birthday. Okay.
Values. Some of the very values that we believe in our ministry, we want to help you see what those are and hopefully help instill those. Because ultimately what you value is what you will do. We don't have to be reminded on "Are you doing that?" You will do it, because you valued it. You value shopping, you go do it. That's how it works. You value pedicures, whatever, then you go do that. Okay. What you value, you do. So let's help… You can't make somebody value something, but you can encourage that over time. So you will begin to learn our values, and hopefully we'll learn yours and grow.
Leadership Training 
Ultimately, what we've already said is some of the stuff you learn here and just how to lead people, we've been doing that a long time, but, boy, made a lot of mistakes along the way. But we will also pass some of that knowledge and information and encouragement to you. And you'll learn just by building. Just jump in there. "I don't know how to do that."
Well, I got a story to close. In eighth grade, the 4-H club people came into our school. We were out in the middle of nowhere. Were you the one that… No, no. Who was it was talking about "I don't really live there, but I live nearby"? That was Joyce. Okay. Okay. Joyce, me too. I grew up in Owens Cross Roads, Alabama. You can't get there from here. It's not, but… So let's just say Huntsville. But Owens Cross Roads is one of those little towns nobody ever really came to.
Somebody actually came from the national organization of the 4-H club and they wanted to start a club. They just looked around that day and all of the students voted me to be president. I literally had no idea. I walked in the room and I walk out, I'm a president, something. I don't even know what 4-H stands for. To be honest, I still don't really know what 4-H stands for. No one ever sent me a book. Never had a phone call. No one did anything. They just made me president. And for the rest of the year, "What we doing?" "I don't even know what we're doing." We're not going to do that to you. We're going to take time to help you succeed. Amen?
Questions/Comments
That's that. Questions? Comments? You want to leave? Please don't quite yet. And I'll sit down now and let you talk.
Dr. Green: What'd you think of the general idea of what Dwayne has shared? I see nodding heads and smiling eyes.
Kyla (student): I think this is a really cool opportunity, like get experience.
Dwayne: Thank you.
Joyce (student): I just want to sign up for everything. I'm really excited about [crosstalk 00:27:07].
Dwayne: This is a deep rabbit hole. I'll be honest with you. It's really cool. I didn't even have time to tell you all the stuff we're doing. It's exciting. And that's the cool thing, you'll plug into a much larger community of thousands.
Dr. Green: [inaudible 00:27:23] does not fall in this category, but with most of you being new students, I do see this as a beautiful opportunity for growth as a class, basically. And also the mentoring, as you heard, as you continue to mature, for new students that will come in. And because this is a brand new venture too, in some ways the college chapters will kind of help define, I would think, with Dwayne and the other leaders, how it all looks.
Dwayne: That's right.
Dr. Green: They obviously have the plan in place. [crosstalk 00:28:00] It's that, like you said in this growth section, you got to learn some things and you grow from that. What I will do, Dwayne, is a followup to you all, to those that signed up. But also because this is being recorded, the followup, so that you can send to me your interest in participating, first of all, in the student gathering, the praise gathering on October 22nd.
That'll be something, if you have a class conflict… And it's going to be from like 10:45 to 11:30, okay. That's a Thursday, October 22nd. And intentionally, I did not announce it until today. It's one of those things. I like it when sometimes students almost are like the privileged few that learn about something before everybody else. So feel free to share it, share the word. But y'all will have, y'all will be the priority people, since you came today, of being part of that actual physical gathering. And others could be online. Because [inaudible 00:29:01] will be limited.
Questions you might have for Dwayne or myself about this? As far as time commitment, Dwayne. I think that would be a question by the college [crosstalk 00:29:12].
Dwayne: Great question.
Dr. Green: This is relational. So obviously the training, there'd be a time commitment. And that would be for the officers.
Dwayne: Not a lot, but [inaudible 00:29:20] a little time on it.
Dr. Green: Yeah. But for others that are participants in Next Level, maybe weekly.
Dwayne: If you meet every week, you'll be looking at an hour a week, meet every other week. So it just depends on what you decide. I think that's up to y'all.
And the accountability part. I hope you're already doing that anyway. But if you're not, you just have to start doing that. Just make time. Let me just go get preaching at you on that one. That's all we're asking on our end. An occasional maybe plan an event. That you do something out there to outflow that stuff. That's like a Saturday morning or whatever. I don't know what you do.
Dr. Green: It's great to have Dr. Whaley here. And Dr. Whaley and Dwayne go back many years. And students, if you have not gotten acquainted with Dr. Whaley yet, you need to. Okay? And most of these, Dr. Whaley, will be in the spiritual formation class that the new students… All right? I'll make sure that one day we have him come in so you can get a little bit better acquainted with him, sometime in the second seven weeks. Just because this is a man after God's own heart right here. But I know he and Dwayne have had many conversations on what can be done even in our college.
Dwayne: He's one of the main reasons that we're having this moment, right? Because of his leadership and his helping me see the bigger vision. So thank you for that. And he's on our board of directors too. [crosstalk 00:30:42] Just got to slide that in. I'm very happy about this.
Dr. Green: Dr. Whaley, would you want to share anything with these students as part of your encouragement?
Dr. Vernon Whaley: Are all of you freshman? [crosstalk 00:30:50].
Student: I'm a senior.
Dr. Whaley: What are you?
Student: A senior.
Dr. Whaley: Senior, oh, good for you. Is this the group that I texted this summer?
Dr. Green: Yes. Many of them would've received texts from us.
Dr. Whaley: It's good seeing you face-to-face. And thank you for responding to my texts. We're really excited about what's going on here. [crosstalk 00:31:08].
This whole idea was a new idea to [inaudible 00:31:11] with bringing college students together. We've talked about doing the same kind of thing with the Experience Conference next year. And the idea in that case was to bring all the [inaudible 00:31:20] schools together.
But we really believe that, I have long believed that the next great awakening is going to come from this generation. And got to do those fun ways for the students to connect with each other. Whether it's by a catalyst or passion or a kind of meeting we put together. And this is the way we do that in the college level. And start moving forward, developing not only workshops, but developing new methods for training, new methods for communication, new apps, that kind of thing. So we really can develop our own [inaudible 00:31:55]. Really looking forward to meeting all of you face-to-face. Come by my office. I'll look forward to finding out more about you.
Dr. Green: Dr. Whaley is in Jackson, right next to Dr. Diehl's office. So introduce yourself to him.
Dr. Whaley: The idea, Dwayne has got several things that are going on with his group that I think will connect well with us. One, is their international work. So every summer, every April or May, and every August, they take a huge group of people over to Africa and minister and teach worship. And I think it's an ideal place for us to either establish internships or establish opportunities for summer work [crosstalk 00:32:36] opportunities and so forth.
Dwayne: Absolutely. I agree with that.
Dr. Whaley: And so, just [inaudible 00:32:40] one of the ways a student can get people from Cedarville, people from Trevecca, people from Samford or [inaudible 00:32:45] and whatever. [inaudible 00:32:46] and said, "Hey, you need new partners." And we'll see what happens.
Dwayne: Thank you.
Dr. Whaley: I'm real proud to be part of it. [crosstalk 00:32:55].
Dr. Green: Before you talk about your materials, Trevecca paid the dues, okay, for this chapter. So there's not a financial obligation. I want to make that clear.
Dwayne: Now, if you want to give me money.
Dr. Green: Your participation will not be "What's it going to cost me?" Okay. So I want you to know that.
Dwayne: Thank you, brother. If you're interested in one, I'm not going to hand them out. You need to come get it. But if you want this, this is a daily journal that will help you know what we really believe. And you may or may not agree with it after you read it. You might get really excited. You may not. But this is a simple journal, but it's very powerful and what we believe at Next Level Worship. And it's five weeks long. So you can jump into that if you want. You can pick that up.