ReFOCUS Worship Conference REGISTRATION OPEN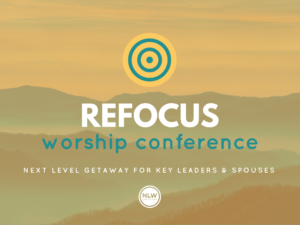 Come and experience TRANSFORMATION for you and your team leaders. Registration is open!
Let us help you refocus on the Lord, on your spouse and worship team, and on who God made you to be. The ReFOCUS Worship Conference is specially designed for key leaders of worship teams.
It's ONLY $199 per person for 4 leaders to a room. All our registration prices INCLUDE 2 nights stay at the Black Fox Lodge in Pigeon Forge! What's more, spouses can come *FREE!
Dates: February 1-3, 2018
For more information, check out the site for all the details or go ahead and register here! Feel free to email us at office@nlwinternational.com for any questions you might have.