"An immersive global worship experience" ~Dwayne Moore, founder of ReFOCUS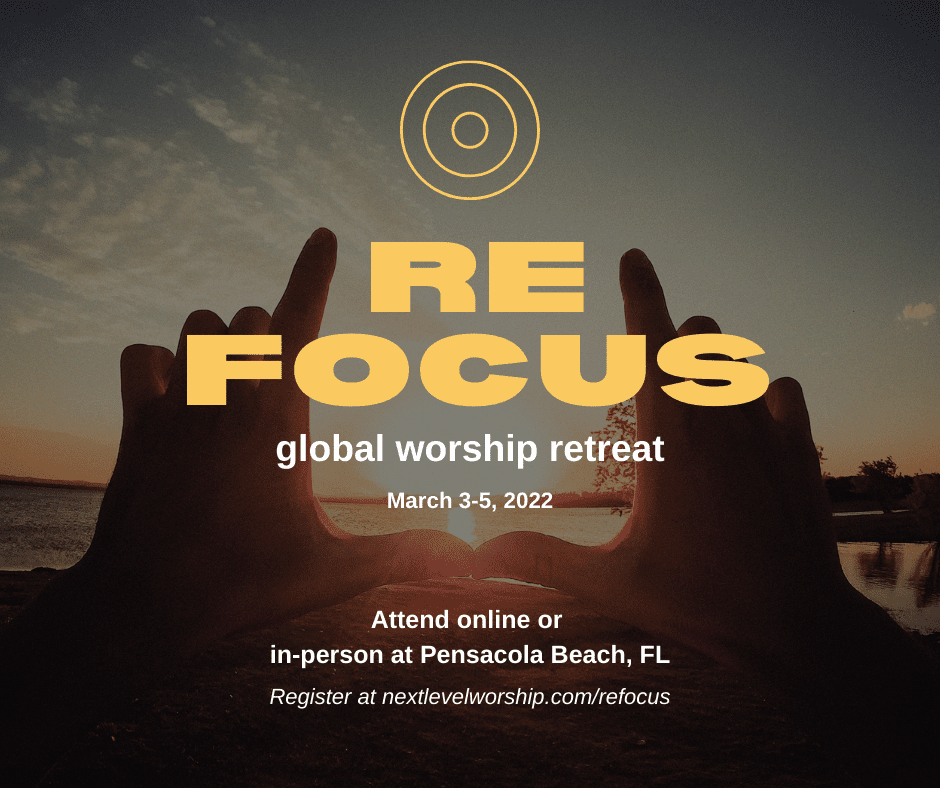 ReFOCUS Retreat '22 is coming March 3-5, 2021!
Live and in-person at Olive Baptist Church in Pensacola, Florida
10 minutes from the beautiful sands of Pensacola Beach
Also online for churches and schools to access around the globe
Several amazing speakers and musicians talking about worship & worship leadership
Interact with believers around the world
An immersive, interactive, refreshing time of worship
Earliest Bird Pricing is ONLY $29 for an Individual Pass and $199 for a Group Host Pass
Highlights from ReFOCUS '21 are below!

ReFOCUS Global Worship Retreat
4 powerful sessions of teaching & worship with Dwayne Moore, Tim Timmons, Matt Morris, Constance Cherry, Juan DeVevo of Casting Crowns, Scot Longyear, Jon Tyner, Vernon Whaley, Joseph Mwila, Mike Harland, and the Destiny Africa Choir!
THEME is Leading Worship in a COVID World
On February 18-20, 2021, churches and universities in 21 countries on 5 continents came together online for a powerful and unique experience of worship and teaching. All 4 sessions were recorded, and now you and your team can glean from this amazing retreat.
Buy the Post Pass and have a retreat of your own! Custom pick and choose which messages and praise sets you want to watch with your team. The Post Pass even comes with the Retreat booklet, for daily devotionals, small group questions and session notes! The Post Pass has EVERYTHING you need to have your very own spiritually renewing retreat experience!
Go here to buy a Post Pass for you and your team!
This video is for churches who hosted local cluster groups for ReFOCUS to share with their team.