Impact Profile: Donald Kutala
Name: Donald Kutala
Age: 41
Country: Zambia
Role: Pastor at Dayspring Ministries International & NLWI Africa Director
Donald's Story
What a journey! In 2013, l went online to look for a Worship course that l can do after one Pastor spoke in my life that l will be training the young generation worship leaders. The word sounded so nice, but l had one challenge; l had never done any course in worship. I remember getting on the internet using my desktop computer and typed the word "worship". A lot of results came out and at the top was "Next Level Worship" which l honestly liked. I subscribed with them to be sending me some worship articles and they were very faithful in sending me every week.
Later in the year, l got an email from a man called Dwayne Moore saying they were recruiting students for the 10 weeks online students which was costing $399. I couldn't reply to that email because the amount disqualified me, but 3 days later he again sent an email which stated that they do scholarships! That was were l belonged and l didn't wait for any more minutes; l responded and filled in an application of all what was required of me. For me at that time, it was a very big breakthrough and l remember gladly sharing with some people; others were like Wow, we thank God for that, and others discouraged me because of how things on the internet can deceive you. Five days later from the day l filled in the application on 3rd September 2013, l got an email which stated, "Congratulations you have qualified for a scholarship! I remember calling my wife and sending this Facebook Messenger message to my young friend Teophil.
When l started the online course, we were 10 in class sitting in various places. In Africa we were 3 of us; one from Zambia (myself) and a couple from South Africa who never attended any live class accept the last one because the time was challenging. We are 6 hours head of the time Dwayne was meeting us. But time was not an obstacle for me, l managed in all sessions. The computer l had was very slow and for it to work well l had to wake up an hour before to let run for it to be fully functional.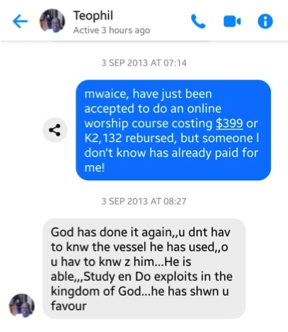 NLWI's Impact
From that seed in Africa, NLWI has now affected more than 10, 000 lives directly and some learning from others who have attended our various gatherings! Am so happy to be part of what God is doing at NLWI and also to serve as Africa Director as at today! From what started in Zambia, NLWI has been in Ethiopia, Botswana, South Africa, Kenya, Malawi and Zimbabwe to do Worship Conferences. People from Namibia and DRC have come to attend our Intensive School. Lives are being changed through our discipleship programs that we do at NLW.
---
"I am so grateful that God brought NLW to Zambia! I have learned so much… Please partner with NLW in helping other pastors to better understand true worship and how to share that message! Every Dollar you donate goes to help Pastors and churches in this side of the world. My testimony today stands because of your faithful giving. Thank you for blessing Africa and God bless you!"

Donald Kutala
---
Ways You Can Partner with NLWI
Be a Prayer Partner
Donate to us
Use our Resources
Join Us on a Mission Trip
Volunteer at a US Conference