How Can We Move Forward in Growing and Changing as a Ministry? (Podcast)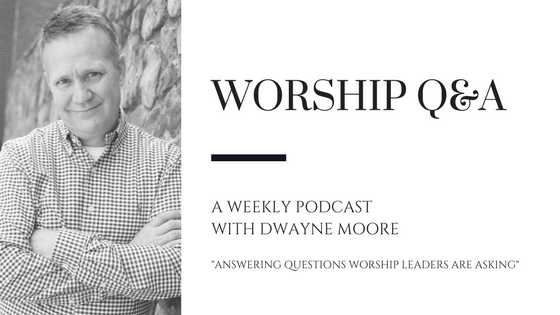 Hello, everyone. Welcome to the Worship Q & A podcast. I'm Dwayne Moore. Each week, we try to answer questions that worship leaders are asking. Today we are addressing the question of, "How can our ministry become more productive? How can we move forward in growing and changing as a ministry?" Now, that's a great question and we're going to look at a Biblical principle for that that's going to give us some really clear direction, I think. I promise you it'll help you.
Before we do that, I want to mention one thing very important that's coming up. We begin our IMPACT phase of our Worship Leader Coaching in May. May 15th, 2018, we will begin the impact stage of coaching. You say, "Well, what does that mean, Dwayne?" Well, the IMPACT stage is where we focus on helping you grow your group, your worship team, which includes your singers, your band, your tech people, even how to encourage and influence your staff, which is a really tough one. But we're going to tackle all of that in the IMPACT phase, which is a 10-week course that we want to encourage you to be a part of.
It's very interactive. We will talk to each other online, and have conversations. We will also help you develop a group growth plan for your group. We will assign you to an encourager who will touch base with you on a monthly basis to just check in and pray for you and see how things are going. Guys, this is a powerful, exciting opportunity for you to grow as a leader with your group. I want to encourage you to go onto our website at NextLevelWorship.com
The other thing I ask that you do is pray for us as we are now in Africa. We are leading conferences in five countries. We ask that you pray for us and encourage us in that way, because we need God's direction. We need His blessing that we would see great fruit as we train worship leaders and pastors, as we do evangelistic rallies. These are all very important. We pray that God would do awesome things through this and we need your prayers. Let me now jump into this question of, "How can I as a leader move my ministry, my area within the church forward?"
Well, something we do at NLW International that's really helping us move forward is what we call the principle of sowing and reaping. But it's more than a principle for us. We take it seriously and we put it into action. The Bible is clear that we must sow if we expect to reap. We must ask God and keep on asking God if we expect to receive. That is why we developed a three-step approach to help us be more intentional with sowing into our ministry and into other people.
I want to give you this plan as a guide for intentional sowing and reaping. We use this approach for sowing into our ministry, for reaching lost people, for making disciples. You can include this sowing and reaping approach for your ministry, as well, and also for your family, your business, your career. It works in every aspect of life because it is a Biblical principle. This is something our team members at NLW have begun doing. We list specific names and give specific answers to the questions listed for each step. I'm going to give you what those questions are and you can also go onto our blog site and you can see the text version of this podcast. You can see these things printed out.
Sometimes we will share our answers with each other so we can pray for and encourage each other. In fact, we try to do it on a monthly basis. Now, this Biblical three-step approach is based on 1 Corinthians 3:6 where Paul said, "I planted the seed, Apollos watered it, but God has been making it grow." The other passage that this approach is based on is Matthew 7:7 when Jesus said, "'Ask and it will be given to you. Seek and you will find and the door will be opened to you.'"
It's important to keep in mind that these steps do not guarantee results. The results, the increases, if you will, are up to God alone. He determines if results happen, when they happen, and how they happen. We may not even be aware of what God is doing behind the scenes, so don't lose heart. Just keep sowing, watering, and praying.
The first step in the sowing and reaping process is planting. The questions that we need to ask ourselves is who or what have we sown into this past month? Who or what have we sown into for our ministry, for evangelism, for discipleship? You can go on and make the list longer. For our family? For our business? Whatever the case may be. First you take time to write out three, four, five things. There's no certain limit on how much you can write. When we give reports to each other and share this with each other, we ask not to inundate us with too many details, just get to the point. Bullet point it. But take enough time to really think through, "Who am I planting into? Who am I sowing into and planting seeds into? What am I doing to help our ministry move forward?"
For example, this past week I wrote 60 cards, handwritten cards. I am not a card-writer. I do not like to write cards and people, frankly, don't like to read my cards probably because I don't write very well. But there's something powerful about writing a card, a handwritten card, that you put in the mail to someone. It feels very personal. It feels like you took extra time and interest in that person and there's a much higher probability that that person will open that card and read it. I wrote out 60 cards to people that we hope will become prayer partners with us or even perhaps financial partners down the road. In that way, I was planting into these people. Now, I don't know how many will actually become prayer partners. I don't know how many might give to us in some financial way in the future to our ministry. That's not the point. The point is I'm planting seeds, just like a farmer goes out and plants seeds. He can't guarantee that every seed's going to come up. But if you never plant the seed, one thing you can be sure of, it will never come up without a seed. You have to start with planting.
You ask yourself on a weekly basis, a monthly basis, "What are we doing to plant into our ministry for things we hope will happen in the future?" That's the planting phase. Take time to write those out.
Number two is the watering phase. What have we done this week, this month, to help water what's already been planting in each person, in each item? Who else may need watering what we've already sowed? It's not just about us, thank God. Other people God sends along to water for us, to water the seeds we've already planted or vice versa. That's how the Kingdom of God works. It's not all up to you and me to do all of it, but we do need to be intentional with what we are watering, who we are watering. That just simply means for me, I wrote down in my report this week of what I was watering, or who I was watering, some requests we've made to some people. Just some worship leader influencers out there, to write an endorsement, or a review, of our Pure Praise book.
We are republishing as a new release, revised edition in the fall. We are gathering new, updated endorsements. Well, we've already asked them for it once and several have said, "Yes, Dwayne, I'd love to," but we haven't heard back from some of them. Guess what. We have to follow up with that. We have to send another email out. "Hey, please don't forget to write that endorsement for me and don't forget to write that review." See, it's a very simple thing, but you're watering what you've already sowed.
For you, it might be following up on someone you've talked to about preparing a solo or helping you with the children's ministry. Just follow up. Just water into them. Or maybe it's someone you're mentoring and you're encouraging to get more into the Word and deeper into prayer. Just follow up and say, "Hey, how's that going for you? Hey, letting you know I'm praying for you. Hey, here's a verse you may want to read this week or a passage you may want to study." You're watering in to what you've already planted.
Then the third one is praying. This is the part that only God can do. Who or what are we asking God to give the increase to? This is where that "ask and you shall receive" part comes in. At some point, we have to realize all the planting and all the watering does nothing without the sunshine that makes it grow, without the warmth of the Holy Spirit that prompts the hearts of people to cause them to want to do what you are praying needs to be done. You're not manipulating them, you're not doing anything beyond what you can do.
One of my favorite illustrations is when Jesus raised Lazarus from the dead. Did you notice in that story that people moved the stone away. Jesus didn't roll the stone away. People did. What Jesus did is say, "Lazarus, come forth!" I love that line. You and I, we cannot raise the dead. However, we can roll the stone away. We need to do our part. We need to plant, we need to water, but then we need to realize that only God can give the increase. Only God can raise the dead, so to speak. We need to pray and ask Him to do that. "Ask and you will receive, seek and you will find."
But don't ever leave off the last one. The last part is extremely important to keep us encouraged and keep us appreciative of what's happening around us. If we don't take time to celebrate, we'll miss it.
Number four is reaping. Always take time to think about what signs of results can we celebrate from the sowing, the watering, and the praying. What's already happening around us that we can say, "Yes, I can see something's already stirring right there?" It may be something really small and minute. It may be, "Well, they finally actually rehearsed before they showed up for band practice." Good! Rejoice! That's a reaping moment. Hey, something you're working on, something you're praying toward to change the mentality of your group, to change the practice habits, it's working. Celebrate that.
Among our team, we include that in our report. We send that as a part of our report. "Hey, we can see that's something's changing and stirring over here. We're getting some response back from what we've been sowing into." Or maybe you see a sign towards salvation. You can see that someone's beginning to ask questions. Maybe your child that you're praying for, your grandchild, that they would become a Christian, a follower of Jesus, and you can see them becoming interested. That's a reaping moment. It hasn't fully come to fruition yet, maybe, but you can see the little plant peeking out of the dirt. You can see it coming out. Rejoice in those moments.
To close, let me give you a few practical tips to help you with the sowing and reaping updates. Encourage your team, beginning with you, to post once a month on average at least, to take the time to write this out and go through this once a month. This is not an exhaustive list of everything that you have done and are doing. Tell your team that. You're not trying to say everything. It's not a to-do list. It's just highlighting a few things. You may only want to give one or two updates in each category, each step.
It's okay to only give one or two things, but what we emphasize on our team is to give at least one update in each category, each step, about what they are doing within our ministry, something that has to do with NLW. In your case, something that has to do with your church, your ministry. What are you doing in each of those four areas? But the other update, though, now it can be about their family, it might be something about their personal evangelism or discipleship, someone they're pouring into, or it may be something about their own growth, how they're investing in their own personal growth.
I encourage them to include things that they want us to celebrate with them and pray with them about. Then always emphasize this and remind them of this from time to time. The goal of this exercise is to build into our organization and into our team a culture and a mindset of intentional sowing and reaping. Be sure to remind them of that and set the example of doing this on an at least monthly basis and sharing it with your team and letting you team see that you are serious and committed to sowing and reaping.
Well, I hope you've enjoyed this podcast today on sowing and reaping. I'd love to get your feedback and comments about how you're using this and trying this out in your ministry and in your life. Shoot us an email at office@nextlevelworship.com. Hey, while you're emailing us, send us a question or two that you'd like for us to tackle and try to answer on this podcast. Thanks so much. Blessings.
Have you checked out WORSHIP LEADER COACHING with Dwayne Moore? Don't miss this amazing opportunity to grow your ministry with personalized development plans from Dwayne and the NLW team.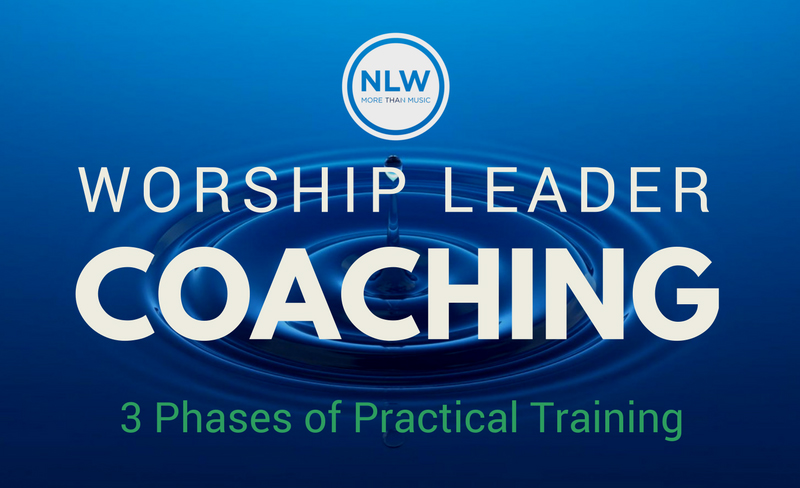 Podcast: Play in new window | Download | Embed