His Mercy Is More has received a *Choice Resource Award from NLW International. His Mercy is More is a collaboration of hymns written by Matt Boswell and Matt Papa. Below is a review of this album by Dawn Kelley, Director of Community Development for NLWI.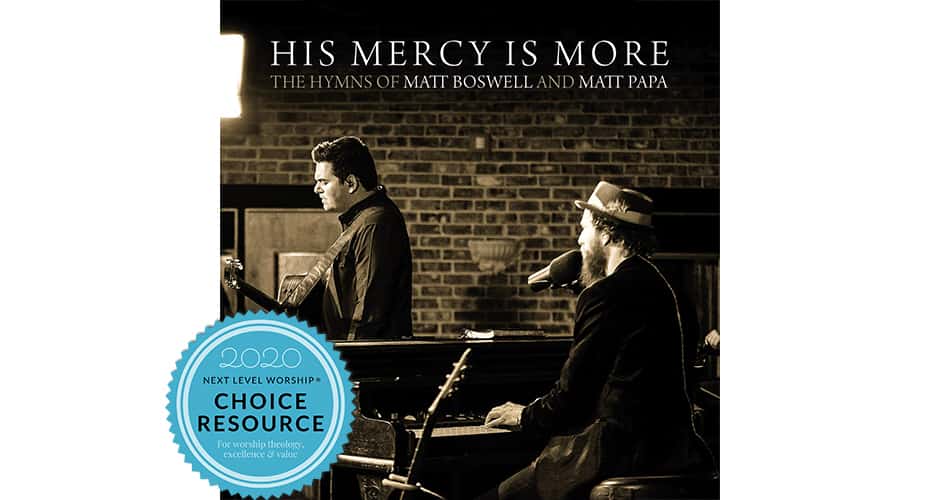 While listening to His Mercy is More, I was struck by how each song on this album is saturated in Scripture. This is one reason we are happy to award His Mercy is More: The Hymns of Matt Boswell and Matt Papa a 2020 Choice Resource for excellence in theology, quality, and value.
These songs were written over the course of several years and only songs that stood the test of time with congregations were selected for this album. As Matt Boswell states, "trying to take the most beautiful parts of our doctrine and God's Word and putting it with the most beautiful melodies…" to create a lasting, singable theology is the core premise for every lyric. This album encompasses many parts of the Church's liturgical calendar including a Christmas hymn, Sing We the Song of Emmanuel, which means the entire album could easily become part of your church's song rotation for all 12 months of the calendar year.
Another aspect of this album we love was the inclusion of singers focused on singing the melody with the song leader. It exemplified how these songs were not meant to be as a solo or performance. These melodies were written for the purpose of encouraging congregational singing. Any congregation could hear and sing back this worshipful music in a short timeframe. Additionally, many of these hymns were written with a refrain and bridge which adds a nice modern twist on a traditional hymn style. And the easily accessible sheet music, offered by GettyMusic.com, includes orchestration, choral, and rhythm charts for the largest to smallest of music teams.
As a worship leader who battled, for many years, the choice between sing-able, quickly learnable tunes or biblically rich lyrics, I can fully say you will not compromise either one with His Mercy is More. Confidently add these songs in your congregational worship rotation and… add this album to your personal worship favorites playlist!
*Choice Resources are selected resources which enhance corporate and/or personal worship. Resources from other authors and developers are recommended by our NLW Community each year. From there, our NLW team selects resources from those recommendations to award and feature on our site.