Advice for Worship Leaders 38 and Older (Podcast)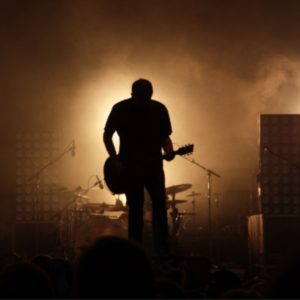 During one of my sessions recently at the Sweetwater worship conference, someone asked me, "Dwayne, what do you tell worship leaders who are 38 and older?"
The first thing that comes to mind is that if a person is 38 years old, then he or she has already started into their second half of life. Wish I didn't have to break it to them, but if we do the math, we'll realize we might as well face that fact. The good news is, we still most likely have plenty of good years left, and with the Lord's help, we can stay "fresh and green" no matter our age!
Since the conference, I've thought more about that question, and I've come up with a few things I'd like to pass on as advice for worship leaders who are older.
1. Be confident.
Confidence in your skill set is important. Look back on your experience. Think about all you can do and all you know now because of your experiences, both good and bad. It gives you an edge over younger people. You're not necessarily better than them, and it's not that you can't learn from them. However, the truth is you have talent that's been honed over the years, and you've been blessed with strong skills, abilities and experience. You need to remind yourself of that and be thankful.
Also be confident in your calling from God. Think of what He's called you to do, and know that He's going to work through you to accomplish it. As long as there's breath left in your body, He can keep using you. So, dig down deep and know who you are in Christ. Be careful not to allow your identity to be wrapped in your job. Jobs can end–even church jobs. Nothing is really permanent or secure in this world, except who we are and who we will always be in our Savior. So above all, put your confidence in His love for you and for your family. (If you need a powerful reminder of your position in Christ, do yourself a favor and meditate on the first chapter of Ephesians.)
2. Be courageous.
The last part of Hebrews 3:6 says, "…we are God's house, if we keep our courage and remain confident in our hope in Christ." Courage and confidence go hand-in-hand. But while courage certainly flows out of our confidence, courage is more than just being confident in who we are; God-given courage is doing what we know we should do.
Sometimes we just need to step out in faith and do what the Lord is leading us to. (I know that's easier said than done!) When God called Joshua He told him to "Be strong and courageous, for you are the one who will lead these people to possess all the land I swore to their ancestors I would give them." It takes godly courage to step out of our comfort zones into an unknown and uncharted territory. What God-planted dream have you not seen fulfilled yet? Maybe it's time for you to make some bold moves toward that seeing that dream become reality.
Sitting in the library one day in college, I remember reading a powerful statement carved into a desk of all places. It said, "The will of God will never lead you where the grace of God cannot keep you." You see, if God is leading us, then how can we fail? I love this quote from an old Imperials song. It says, "He didn't teach us to swim to let us drown. He didn't bring us this far to let us down."
[bctt tweet="The will of God will never lead you where the grace of God cannot keep you."]
God went on to say to Joshua, "Be strong and very courageous. Be careful to obey all the instructions Moses gave you…" It requires courage to step out in faith, but it also takes courage to step only in the direction He says to go. We can't deviate from His instructions and commands–no matter how unpopular or difficult they may be along the way. We must stay the course and remain faithful to the end.
3. Be constant.
It takes courage to be constant–constant in your spiritual and music disciplines and constant in your principles and values. Keep practicing the wholesome habits that got you where you are, and know what you're unwilling to change. Even if everyone else around you changes and the culture changes, there are certain things that shouldn't change about you. You know what's important to you; you know what you believe so deeply that they've become convictions for you. Don't change those, for anybody.
One pastor asked me not to refer to lost people or to unchurched people during the services. I knew that was the beginning of the end for me working with that guy. I honored his request for the short time I remained there. But I knew I couldn't work there long term. There's just certain things I'm not willing to change. Even it means having to leave a church job (which it did), I'm not compromising on my principles and values.
4. Be changing.
As important as it is to be constant in our values and principles, it's imperative that worship leaders also change in our methods and our approach. Technology and culture are alway changing, and we need to stay up with the times, to always be growing and improving in our knowledge about the latest techniques and tools.
I'll never forget when I started as the worship arts pastor of a 2,500-attender church in Louisville. Up to that point, I'd only served on staff in churches of a few hundred. So I knew I had to step up in some areas or this huge church could eat me alive. I knew I had to change. Suddenly I was leading a worship staff of 7 people. I literally had to upgrade the way I did things. I had to learn to plan services farther in advance, for example, and use click tracks and band loops. The old way of doing things just didn't work as well anymore.
What does one to do when you're in over your head like that? Well, you take yourself to school, so to speak. You read books, a lot of books if needed. Attend a leadership conference. Join a coaching community, with mentors who've been where you are, and from whom you can get advice and help. You stretch yourself to change. Here's the reality check for us "second-halfers": Either we learn to change–or we may get changed out.
[bctt tweet="Either we learn to change–or we may get changed out."]
5. Be a coach.
Bob Buford says in his book, Halftime, that the second half of our lives ought to be more focused on significance than success. This is the time–in your second half of ministry–to move toward being more of a coach rather than just a quarterback. You've had years on the stage. You've been the one who led the songs and made the calls from the platform. As exciting as that was, at some point, you need to begin to step off the field some, so to speak, and give others the opportunity to help lead the team.
[bctt tweet="We need to begin to step off the field some and give others the opportunity to help lead."]
You can continue to be a quarterback. In fact, your church leaders probably expect you to be visible on the platform. However, start now training others to lead as well. Be intentional with raising up the next generation of worship leaders. Have conversations with your pastor and church leaders to help them understand you're not taking a step backwards; you're stepping forward to make disciples and pass on what you've learned to others who are eager to learn and grow.
What else would you add to this list of advice for worship leaders? Please share. Would love to hear your comments!
One great way to keep growing as a leader and learn how to leave a legacy is to join our award-winning Worship Leader Coaching program. It's a full year of coaching divided into 3 powerful phases:
Influence Phase (focusing on your personal leadership)

Impact Phase (focusing on developing your group's growth)

Legacy Phase (focusing on training up others to lead)
The 3-month Influence Phase starts in January! Sure hope you can join us!
Podcast: Play in new window | Download | Embed