How to Be Thankful in Every Circumstance (Podcast)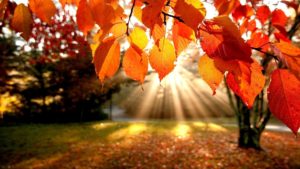 Hebrews 13:15 encourages us to "continually offer the sacrifice of praise to God, that is, the fruit of our lips, giving thanks to his name" (NKJV). Praise is primarily acknowledging God for who he is. Thanksgiving, on the other hand, is giving thanks to God for what he has done for us.
We can be sure nothing ever happens to us that our loving God doesn't permit. After all, like Moses, he protects us "in the cleft of the rock" as he covers us with his mighty hand (Exodus 33:22 NKJV). His rod of correction and his staff of protection and direction should bring us great comfort at all times (Psalm 23:4). But let's be honest here.We know we should be humbly grateful. Yet there are times when we are tempted to be grumbly hateful.[perfectpullquote align="right" cite="" link="" color="" class="" size=""]We know we should be humbly grateful. Yet there are times when we are tempted to be grumbly hateful.[/perfectpullquote]
I once heard Dr. Ben Haden share a story during his radio broadcast of a young couple who entered the hospital to have their baby. Complications arose. Tests results showed that their child had Down syndrome. By this time, word had spread throughout the hospital about this young couple and their yet-to-be-born baby. Word had also gotten around that these parents were Christians. So several nurses and employees began to speculate about how these "God-fearing" people would respond.
Many, including the hospital switchboard operator, expected them to become angry at God. However, the couple maintained an upbeat attitude. Not to be proven wrong, the switchboard operator decided to listen in on their private phone conversations. What she heard would change her life forever. Rather than spewing bitterness and doubt toward God, the young mother repeatedly stated her trust and thankfulness in her Lord. She said that no matter what, they knew God would work the situation out for their good and his glory. Not only did that operator surrender her life to Christ, but as a result of those parents' faith, over 20 nurses and doctors walked the aisle of that couple's church the following Sunday and trusted in Jesus!
Apparently that new mom and dad understood that God would be with them in the midst of unexpected or difficult circumstances. Before any of us can give thanks and praise to the Father and really mean it, we, too, must accept God's sovereignty in our hearts. There is a throne in heaven. And it is occupied! Our great God, mighty and majestic Father, is sitting on that throne right now. This world may seem as if it's spinning out of control, but God is still the all-powerful, all-knowing, ever-present King of kings and Lord of lords–the same God who loves you and me.
Giving thanks in all circumstances
Consider 1 Thessalonians 5:18: "Give thanks in all circumstances, for this is God's will for you in Christ Jesus" (NIV). We are not told in that verse to give thanks for our circumstances, but rather in them. We are not necessarily expected to be thankful for problems and hardships that come our way. However, if we clearly understand that God reigns and that he is using our circumstances to make us more like him and to bring him greater glory, then we can be thankful to him constantly, even while we're going through the tough times.[perfectpullquote align="right" cite="" link="" color="" class="" size=""]If we clearly understand God reigns…we can be thankful to him constantly, even while we're going through the tough times.[/perfectpullquote]
This is sometimes called an "attitude of gratitude."
When my boys when young, I purchased a book for them titled Hermie by Max Lucado. It's the story of two caterpillars named Hermie and Wormie. Hermie and Wormie are common caterpillars. So common and uninteresting, in fact, that they don't even have any stripes or spots on them. When they bring their complaints of commonness to God, he reminds them that he is not finished with them yet. He is giving them a new heart, he tells them. This makes them feel better for a while; nonetheless, each time they meet an insect with a unique ability they wish they had, they begin complaining again. (Sound familiar?) Eventually Hermie decides to simply be thankful for how God made him. Not so coincidentally, that same night he turns into a beautiful butterfly! His heart, however, had already been changed.
My Daily Praise
An old song tells us, "Count your many blessings; see what God has done." From time to time, I've found it both humbling and thrilling to make a list of things I'm thankful for: the good, the bad, and the ugly. Why not take some time now to write down every blessing you can think of? And remember, blessings can come disguised as heartaches.
Talk to God about anything in your life for which you're finding it hard to be thankful. Be honest and open with him. He already knows what you're feeling anyway. Ask him to help you be thankful in that situation. Ask him to change your heart. Then decide to be thankful throughout your day today, deliberately looking for God's presence in each and every circumstance.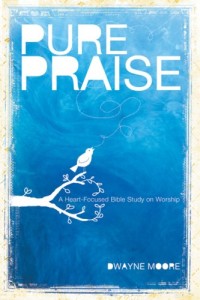 Excerpt from: Pure Praise: A Heart-focused Bible Study on Worship by Dwayne Moore (Group Publishing). Used by permission. To order a copy of the book, please go here.
Podcast: Play in new window | Download | Embed