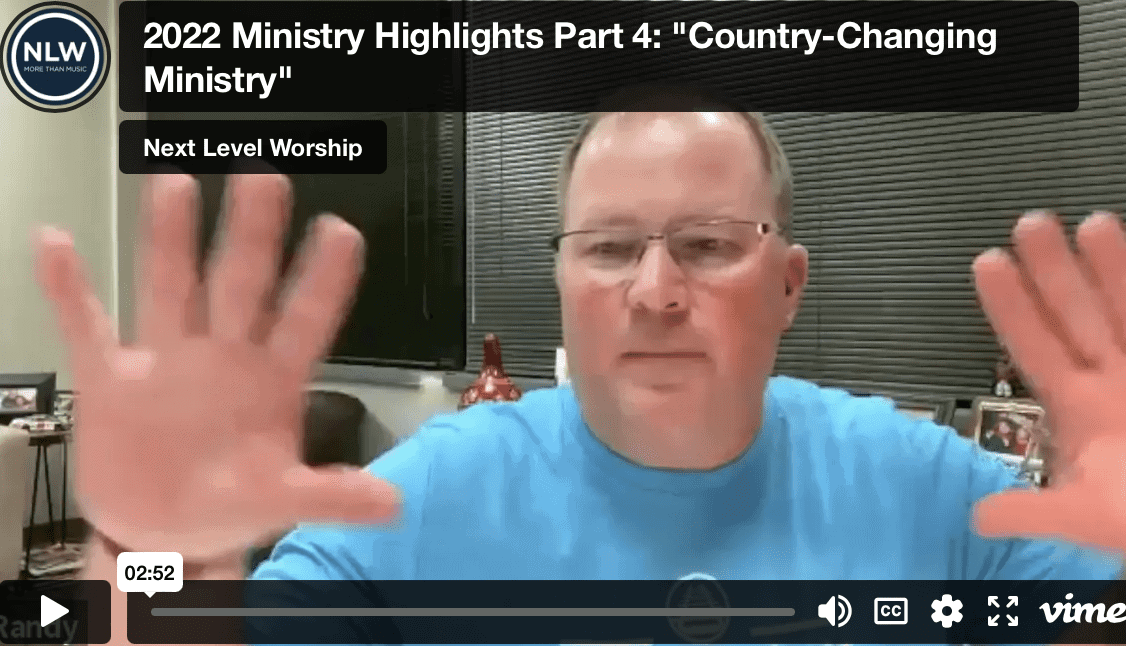 2022 Ministry Highlights – Part 4: Country-Changing Ministry
This video provides a snapshot to the ministry NLWI has contributed towards the Kingdom. This segment is one of four segments shared with the NLWI board of Directors. In part four, a pastor shares his experiences with Next Level Worship, and the impact NLW is making in several different countries.
Transcript
I think the one thing that really jumped out at me was just the quality, you know being there in Kenya and seeing your Kenya team and your Africa team – the quality of those people. I mean these were, these were high level people. And if you had told me that you brought them over from Broadway and The Lion King show, I'd have believed you.
They were absolutely unbelievable. They were insanely gifted. Being on the ground in Kenya, I think even knowing, Dwayne, for all these years and hearing it and being on the board and being in every meeting, I got to Kenya and it was almost like oh, so this is what this is. And and it was almost like at that point, I just thought, this this is a lot bigger, and can be a lot more impactful than what I'm giving it credit for sitting in board meetings. To have that type of leader, our leaders, and that type of talent and that type of dedication, it's where I realized this can be country changing ministry.
This isn't just about going over and and handing people certificates and spending a few days with them. When I realized the type of people that that were on board with Next Level worship within these countries, I thought every day there and then since I've been home, "God, you have brought a wealth of resources as far as just people and talents and dedication to Next Level worship. What are you up to?"
Whatever you think this is, it's a hundred times bigger. That's all I can say as far as the potential impact.
Whatever you think this is, it's a hundred times bigger.

Dr. Randy Norris
Well, for one just as far as a mission trip goes, I've been on one everywhere in the world. Hands down the best trip I've ever been on.
Dwayne, I've known you longer than than most, you know, and have heard your vision for this from the get-go, and all I can say is when I got there on the ground, I thought, my Lord, this is this is far more than anything I ever thought.
Well, as far as a mission trip goes, I've been on one everywhere in the world. Hands down the best trip I've ever been on.

Dr. Randy Norris