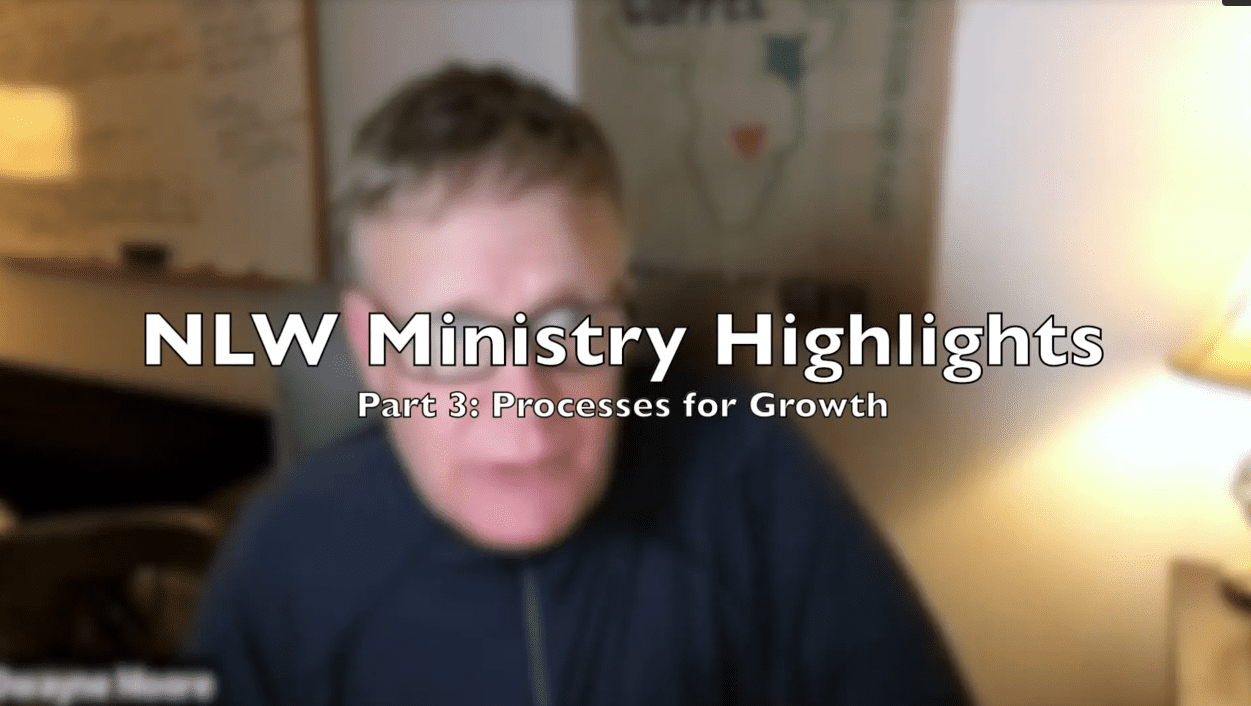 2022 Ministry Highlights – Part 3: Processes for Growth
This video provides a snapshot to the ministry NLWI has contributed towards the Kingdom. This segment is one of four segments shared with the NLWI board of Directors. In part three, Dwayne explores the systems in place within NLWI that are designed to bring kingdom growth.
Transcript
I believe it's inevitable that we will grow. In hearing what we've just talked about in the first part of this, the message is needed out there. People are hungry for it. We're getting invitations right and left and we're going to grow.
And so we got to prepare and firm up the foundation and not have a dirt floor like noticed in that church building. It's got to be somewhere a little more solid than that in our ministry. This is the sort of thing that's going to make it more solid so we can grow.
So this is a review back from the first session. We talked about how the soil we need are these church leaders, the hungry church leaders so desperate for some of the things the resources we bring. But the message is also. That's the seed that's planted there that's making impact. Then the sun and the waters is the holy spirit and community.
What I didn't talk about is the system. For us it is the processes. Even prayer is systematic in that we want to not just say we pray, we want to actually build prayer into our daily lives on the personal staff basis, but also build it into our ministry to make sure that we're really praying together. We're not just assuming people pray, we're actually encouraging them and following up with prayers. So, this is very important.
We've been trying to build a wall of prayer so to speak ever since we started the ministry. We've got about 400 names. We're trying to build it to a 1,000 people that are prayer partners.
We send out a prayer letter frequently. I will probably write it later this weekend and Barry on our team will send it out to everybody that's on our prayer partner list on an email. But that's a process. But it's a process of prayer. So I combine those two. Because ultimately our systems and all the other stuff, it doesn't work without prayer. We got to be praying, right?
So let me show you some. And I'm not going to go through the details of this. We're not going to take that kind of time. I just want you to see that we do have processes that we're trying to follow.
The community are those who they may come to us through a conference, may be introduced to us, they may just show up at a conference or they may be drawn in by something they downloaded. They may read a book that they bought and they like what they read. And so they reach out to us. We consider them community if they give us their email address. So if they share something, a bit of information about themselves so we can contact them, we figure, okay, we'll call you community at that point.
Core community are those who actually respond back. They don't just throw us an email. They actually interact with us and engage with us and show and demonstrate that they want to be more involved with us. We have core community meetings about every quarter. Those are a lot of fun. If you ever get a chance to be at one of those, those are really awesome just to see people from different parts of the world. It's like a big family. We've got a few thousand in our community, but we've only got a few hundred in our core community.
The team.
Out of that core community, there's people we call team. Ambassadors is a different words we use for it. These are people that are like, look, I'm not only going to interact with you, I'm going to go on a mission trip with you, or I'm going to help you write some articles for your blog or I'm going to whatever. I'm going to engage and help you. Oh, okay, that's team. That's what that means.
So it's a fun loop because not everybody's going to do all that, but we do have people that choose to. We have processes in place throughout these, each one of these, some are automated through the internet and our staff knows what they need to do to help pull people then into our funnel deeper.
This is very important because the more people we engage, the more opportunities we have, to be honest, for them to go on mission trips with us. Then, that brings in support. Or the more opportunity they might need them to donate or to pray.
"Community is a vital part of that chain that makes everything else work."
Once people become a part of our team and they're going on a trip with us or they're helping us in some other way, we want them to feel welcomed.
John Tyner
Everybody know John Tyner? He's at Olive Baptist Church in Pensacola, FL. That dude is phenomenal. He's not just a team member. He's an ambassador for us. He's out there talking. Did you hear what Randy said earlier?" He said he's telling people and pastors about He, We, They. That's an ambassador. That's what ambassadors do. They share because they're excited about the resource, they're excited about the ministry, excited about NLWI. And they go and tell people about it. They help spread the news.
We need more people that are intentional that see themselves in that role and say, "Hey, I'm an ambassador for Next Level Worship because I believe these are life changing stuff. So we want to give them a little certificate, make it official. That's where we want to go.
Then directors come out of that group. Man, they're so bought in that they could actually be managers, directors, assistants, whatever in the future in different countries.
There's a conference funnel. We developed this over the last five years. It happened in Zambia. We watched it happen so we just made it official. I don't think we ever get away from this. We always follow this flow.When we first get interest in hosting a regional conference locally and overseas, we come in first to scout it out. You may have noticed that Johanas used that word when he recorded the video a few months ago that I played for you in Germany. He said, "We've been on this scouting trip with Dwayne Moore." Okay, it's a scouting trip because he knew that. So we went from place to place meeting pastors, sitting down to meet pastors. We weren't a big flash in the pan. We weren't there for that. We wanted to hear what was going on and listen.
"We listen. We sit down and talk to them and heard what's going on with them and how we can maybe help them. They loved it."
It blew him away because they never had an American do that before. The Americans that have come in before have always come in with their message and they do their thing and they leave. We listen. We sit down and talk to them and heard what's going on with them and how we can maybe help them. They loved it.
We made an immediate connection. That scouting has now led us the invitation for us to return and do conferences.
So the regional conferences then, if we do enough of them, we build rapport and we build a reputation. We go into different areas of a country or a region like in a state. Like we're looking and coming back to Vermont and doing a different part of Vermont next time. All that could lead up to a longer school, 3, 4, 5 days depending on the setting of where it is culturally. People in the states might not want to be gone a whole week, but they might get in three days. It's a longer more intensive experience.
Out of that, even in Vermont and Colorado, we're trying to find ways we can pour into and connect individuals for that six months of mentoring each other and pouring in somebody that's more, not necessarily an age thing, but they're maybe more experienced. They've got some wisdom about them that they can pour into someone who needs that.
This is a vital part of who we are. The heartbeat of our ministry. It's rarely ever talked about, but it's very, very important to us. We'll start a new round of sponsorships in January actually for Ethiopia, Kenya, and Zambia. We hosted an intensive school in Zambia. So now some of the people that came to that school, we'll give them the opportunity to be sponsored.
It's that second Timothy 2:3 principle of passing it on to the reliable people. So we're looking for reliable people. The funneling process helps us find them.
See how it funnels?
So that's how we do it. We don't just go out and randomly ask anybody to be sponsored. We try to vet them through this series of relationship building. And plus we have some other things in place like the pastor has to write a reference letter. And we're trying to put enough in place so we can truly vet people well. So by the time they get assigned and the sponsorship, they're both committed to it. They both pay a small amount of money and they both sign a covenant that they have to follow.
You don't have to pay anything to simply attend a regional conference. You just show up. But you have to pay something for the intensive school. You have to be referred by your pastor and get a letter of recommendation. This is all important. Only two, three people at the most can even come from one church. That's why this works because we funnel it down to the most serious people. It's that second Timothy 2:3 principle of passing it on to the reliable people. So we're looking for reliable people. The funneling process helps us find them.
What do we do with people who come to our website and download our materials? We have this free ebook called Building Strong Worship Leaders. It's been downloaded in 80 countries or more. When they come to our website and download that, all we ask is for an email address. You get a free cool book written by a lot of really good people and we get your email address. What do we do with that? So they'll get seven automated emails over a period of a few months and it'll say, "Hey, so glad you downloaded that. Let us know if you can if we can help you. And so they've got different things they communicate.
We've got a person in charge of the database and they're in the background making sure we don't forget people and lose people. And so it funnels into Salesforce and it sends out automated emails when they physically say, "Hey, so glad that I reached out." "Thank you for reaching out to us, to me." And I'm reaching back. If they say that back to us, a person actually types an email back to us, we have a real live person that responds to them. Automated responses lead to personal follow ups, which hopefully in some cases will lead to engagement.
These are the part of our structure I believe are the most important for you to recognize and understand.