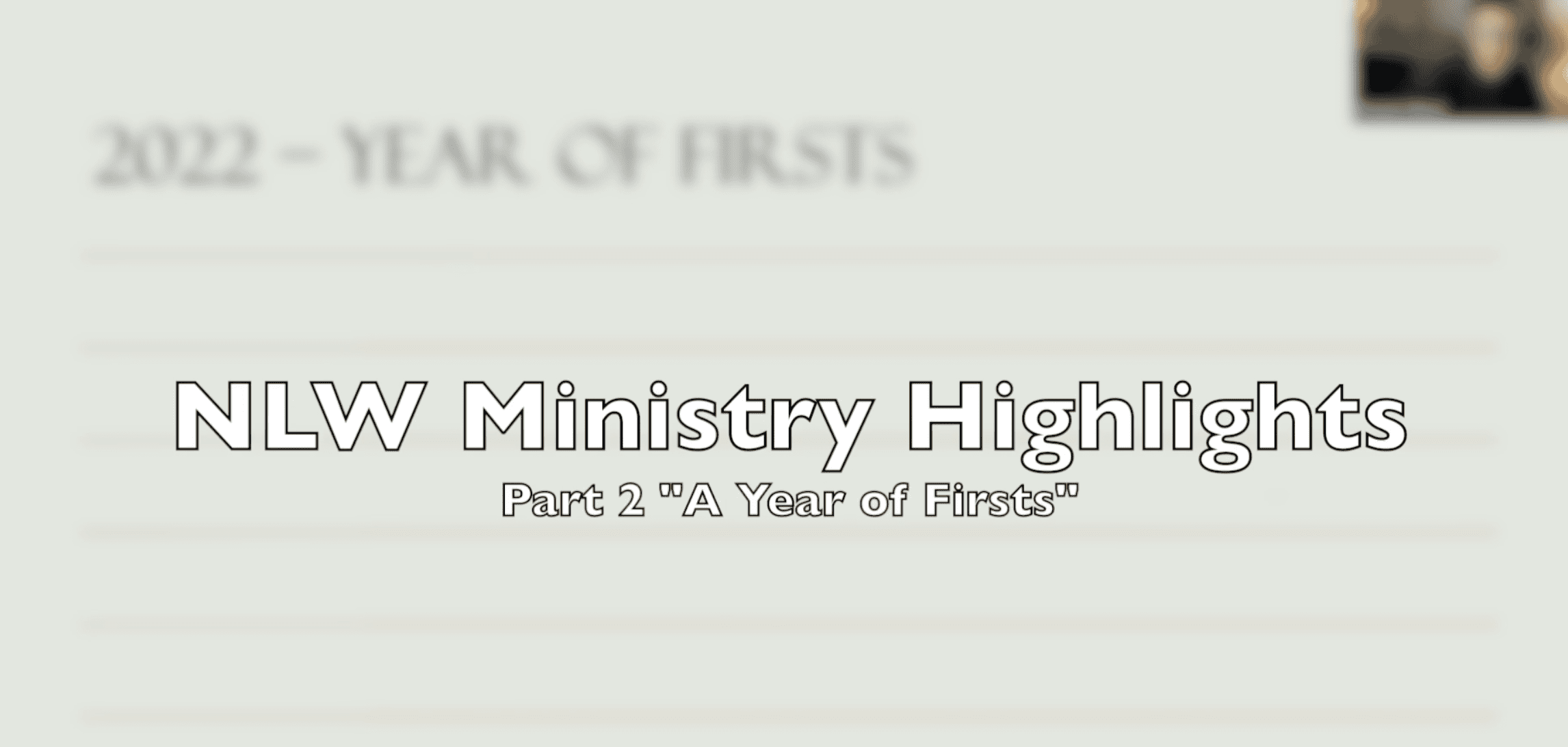 2022 Ministry Highlights – Part 2: A Year of Firsts
2022 Ministry Highlights – Part 2: A Year of Firsts
Part 1
This video provides a snapshot to the ministry NLWI has contributed towards the Kingdom. This segment is one of four segments shared with the NLWI board of Directors. In part two, Dwayne shares several examples of "firsts" in the ministry of NLW during 2022.
Transcript
Now I want to give you some first for this year. I'm very, very excited about sharing this with you. Pretty blown away by these things. First time in Europe, yep, was this year. I went in May, I guess it was. And that's me speaking at a German church. And I have my southern English, and I felt sorry for that lady trying to translate for me, but she kept up with me quite well. And I didn't know how we would be received there, to be honest, because Germans tend to be more reserved and more intellectual in their approach. And I'm not. I'm not any of that stuff. But I just came in and was myself. I thought, I'm not changing a thing. I'm going to be who I am and I'm going to see how it goes over. Well, it went over pretty well, I guess, because they've invited us back.
But while we were there we got to meet with several pastors and built a lot of friendships and relationships. So this was a huge door that we did not seek after. We didn't go after it at all. A guy named Johannes Schroder, we met him through Dr. Vernon Whaley. And Johannes, who has a doctorate from Liberty University, he called me, contacted me and said, "Can I go through your coaching?" So he went through all our year-long coaching. And this guy's sharp as a tack. But he's actually on staff at a seminary in Bonn, Germany. And he's head of one of the programs there, the directors.
So he had me come in, and I spoke at their seminary. And that's Johannes right there. And the students took to our message. And Dr. Heinrich Dirkson is the president or the rector, they call him, of that seminary. And it turns out he's extremely well-connected with Paige Patterson and on down the list, with people here in the States. And so we went out to eat lunch. We talked about some future opportunities. So now they've invited us and our team to come back next year. A huge opportunity in Europe. So it's really happening. Here's a little short video from Johannes at that last day that I was with him back in May.
Johannes Schroder Video Excerpt
Hello, my name is Johannes Schroder, and we are basically on the back end of a scouting tour that we were able to do with Dwayne Moore at Next Level Worship here in Germany. That was just a wonderful experience for me, finally in person, after all these Zoom and Facebook and FaceTime meetings, to meet Dwayne Moore and to get to know him when he is on fire on stage, when he is tired in the car. And to really appreciate the heart that he has for ministry for the Lord and for teaching others to help the churches. This is our passion here. My goal, my task here is to help the churches to understand what real life worship is all about. And so we got the chance to see several churches, different leadership, levels of leadership, and get together in the room with the pastors of this country to listen and to hear what their passion is and what their need is, and how Next Level Worship and what we are doing from Bible Seminary Bonn can answer or be an answer towards that need.
And we have seen several opportunities that we are now brainstorming, thinking about, and planning for the future. And we are so excited for that, what God has orchestrated here. The resources and the passion that Next Level Worship brings to the table fitting with what is needed here and what we are trying to accomplish in the name of our Lord Jesus Christ. So we are so thankful for the time that Dwayne has put into it now. So for you, making it a possibility that he could visit our country just to listen. What an amazing thing. And it was a great testimony to the people here, that the Americans came to listen and to learn and to see if and how the resources and the approaches can help here. And we have made really good connections. It's helped me personally. It has encouraged me personally. But I've seen the same happen in the people that we were talking with.
It was a great time even yesterday at the seminary, where he could talk to some of my students and meet with some of my colleagues. And what encouraging meetings that were. And so we are just looking for ways how God will, in the future, use what has been planted and done and talked about today. So please keep praying for us towards that. And when the time comes, also invest into the kingdom so His name may be glorified even amongst here, and from here into the nations that are surrounding us and kind of looking and depending on what is going on here. So we are in this together. And we just experienced that in a very special way this past week. Thank you, and God richly bless you.
This is our passion here. My goal, my task here is to help the churches to understand what real life worship is all about.
Dwayne Moore:
So, really excited about opportunities in Europe, and I'll talk more about those later. But pretty, pretty cool stuff. So that was a first. Another first for us this year is being in Asia. I was in Asia years and years ago when I was at Sanford University. Our choir did a tour of South Korea. Well, I'd never been in Asia since. I tried to go a few years ago, if you remember. I wasn't allowed in the country. The customs wouldn't let me in. But that was because there was a technicality with my visa, so I couldn't go. But this is the first time to actually go, and got to go to Bangladesh.
But we've been working in Asia just online for a while. And you know that, for about three years. It's just always been online. We haven't actually been in the country yet, or at least I haven't been. Josh Anders came. He was allowed in and he was able to do some conferences there, but for me it was a first, to be in Asia and see what God is doing there. But we had already been doing stuff through the TV broadcast that happens there. And I just thought that this was a funny clip. I'll play just a few seconds of it. But this is what these guys see every week. It's broadcast every week over there.
So the people that do these, we don't pay much money for this but we have to pay a little bit for them to translate it. We don't have to pay anything to be on the show, on the TV station, which is cool because others do have to but we get a pass on that for whatever reason. But the people that do this are the same people that translate for Joyce Meyers, if you're familiar with that name. And so they're very, very professional. They're incredibly good. And so that's been going on for a while. Okay. And the latest numbers, that's amazing. And they call into the station and they talk to pastors who are answering phones. That's how they do it. And they talk to them. And so over the past two and a half years or however long it's been, there's been that many salvations. I don't know how they know that on viewership. I don't know. I'm just telling you what they tell me. In about 35 countries. So that's an amazing opportunity we have.
So we've already been in Asia for a long time. And just recently, this is teaching a pastor's conference. I think this particular one they had like 600 people there. And so we've already trained 2,500 or more between two different groups we work with. There's this group that organizes pastor's conferences. And this guy's well-connected. He's the TV station guy, so he knows people all over the country. But there's another group that's smaller, but they're very, very passionate and we work with them too.
And we actually did a school with them. This was another first. We had never done this. We did a multi-week school. We brought in pastors and people to teach. Dave Edwards was one of the teachers. David Moore from Oklahoma was one of our teachers. Donald's a teacher. And they met every week, and we Zoomed in with them and we taught them. And then this is their graduation. And this is very cool.
Pakistan Pastor's Leadership Course video
Dwayne Moore:
It's translated into Amharic. That's our book in Urdu.
They were very faithful to attend every week, and it was a really cool experience. There were about 30 of them. We kept the number small. We wanted to make it more individual feeling. Plus it was expensive so we couldn't do a whole lot of people. But that's just something we hope to do more. Even next year, we're talking to them about doing another school like that.
I was just in Bangladesh two weeks ago. Yes, that was a very long trip. They're 12 hours ahead of us, and so my body is still confused, even now. But this was a very cool experience. We worked with a lady named Aporna and her husband Philip Sarkar. And they organized this conference, and they had over 300, about 350 people at it from all around the country. And most of them are teenagers and 20-somethings. And they were fired up. And you see Aporna standing up there talking. That's actually her in the picture. But I got to be one of the keynote speakers for this, and it was just incredible.
And so they've asked us to come back and take them deeper in some training. So we're hoping in 2024 to come back and do an intensive school. Who knows? But they're very open to the Gospel. 99% or more are Muslims, but the government actually protects minorities so you don't feel any danger or anything. It's just the reality is that there are very, very few Christians. Some of these students in here told me they're the only student in their high school, or they're the only student in their class that's a Christian. There are no others. Among thousands, they're the only one. 0.01% of population are Christian. But these are all people that I've coached. And we were able to meet them in person there in Bangladesh. And if you'll see, Steve is on your right, far side with the black shirt and the red collared shirt sticking out. He went through all my coaching and he was so faithful. He did every assignment. The guy is incredible.
And he… and Kevin's the same way. The guy on the far other side. Kevin's the same way. They were selected. The government selects 200 students each year from all… it's one of those crowded countries in the world. They've got millions and millions of people there. It's one of the top five, I think, or something. It's a crazy crowded place. The size of Iowa, basically, but they're packed in far much more than we have in our country. But they only choose 200 in each class, like engineering and medicine and different things. Both these guys were among those 200 that were chosen among their major to have their education paid for. These are smart people. Very smart. And yeah, they're very excited. Kevin, the guy here on your left, is one of the ones that, while I was doing my walk… and of course I walk fast, but he was right there beside me walking through the camp, talking to me because he just needed somebody to talk to.
He said, "I'm in college. I went away from my family to get this free education." He said, "But nobody. I have no friends." He said, "I'm literally alone because I can't hang out with these Muslim people because they're all…" He said, "Everybody I know, they drink and they party." And he said, "I can't do that." He said, "I don't trust myself that much. I can't get around that that much." He said, "So I just sit alone in my apartment all the time." Separated from his family and his friends back home. But he's a solid Christian just living for the Lord. Doing the best he can to represent the Lord. But literally he'll walk along campus and they'll heckle him and they'll yell at him and make fun of him. That's what they deal with. It's really bad.
And the way this happened is about seven years ago, probably six or seven years ago now, she emailed us and she said, "Hey, I came across you online. Would you guys help us?" So we started helping them.
But anyway, Aporna, you see she's the lady standing beside me there. And she's a part of our team at Next Level Worship. And she organized all this, made all happen. And the way this happened is about seven years ago, probably six or seven years ago now, she emailed us and she said, "Hey, I came across you online. Would you guys help us?" So we started helping them. Started pouring into their leaders. And so we partner with them but we also have a presence there in Bangladesh. That's a pretty, pretty cool story. It's our first time in Europe, first time in Asia, but also the first time in Vermont and Colorado. Now, we can't get anybody to feel sorry for us going to Vermont and Colorado. The only thing better would be Hawaii. But there's ministry that needs to happen there, believe it or not. A lot of ministry, okay? We really went from ministry, I promise. And we did go look around the mountains and the beauty of the place, at the beautiful fall turning of the leaves.
But we went there primarily to do a conference. That's Steven up front. You see him leading. That's Travis Bly from Syracuse, New York. He's dangling his arms wide open. He's a part of our team. Phenomenal guy. Went to Africa with us. Right behind him on the keyboard is Jamie Evans. Jamie is from Olive Baptist in Pensacola. One of the best worship leaders in the country. These guys are awesome. And we brought them into Vermont where nobody ever comes, and they've literally never had a worship conference in their state that anybody remembers. Never even done one. They didn't even know what it was. So they didn't know what to expect. And we came and had about 50 people there from around the state. They're neck and neck with New Hampshire and Connecticut with the lowest population of Christians. It's like 1%. 1% to 2% are Christian. And so for them to be here and have that many gathered, it's awesome. And they're fired up about us coming back. So y'all help us pray that we can come back, because they really want us to come back and do other areas of Vermont next year.
This is in Colorado, in Pueblo. Apparently nobody wants to go to Pueblo. I don't know. But if you talk to them, they're all kind of depressed and down on their city. I've never been around a place like that before. I've never seen that. A lot of needy people there. Once again, very few Christians in the area. So we came in there. Steven on the guitar. But then James Damey, whose birthday is actually today. He turned 42 today. But James is in a large, rocking church in Cheyenne, Wyoming. And we've done conferences at his church the last two, three years in a row. But James came down, it was only about a three hour trip, and was one of our teachers. And this was an amazing experience. So they want us to come back and do some in depth teaching with some of their leaders in Colorado.
First time to bring pastors together with their worship leaders. Now, this was historic. Literally. It'd never been done in Zambia. I don't think it's probably been done in Africa. We did it in Zambia this year. We had 200 pastors and worship leaders together. And what I always envisioned, for years I've been praying for, I got to see with my own eyes. I got to see them spread out across the campus talking to each other. Worship leaders and pastors don't often talk much. They just don't. And pastors often don't get involved with worship leaders. So we brought them together for a whole week so that when they go back home, they go together to teach their people what they've learned. And so we had pastors telling us, "This is going to bring spiritual renewal and awakening to our country." That's what they told them. And we had three former presidents of the Baptist Convention of Zambia there. Former presidents were there. And the present president just was on the road. He couldn't make it, but he's a friend of mine too. But all these guys were there and they were saying, "We've got to do this again." So we were hoping to do it in 2024, to do a larger version of what you're about to see. Here's a video.
Intensive School Zambia 2022 Video
Nothing short of amazing. Incredible, perfect even. We're in this beautiful setting and with these beautiful people. I've gotten to meet so many individuals from so many countries and places around the world, and gotten to learn how to speak a few words in different languages. And just seeing everyone worshiping the Lord in different languages. But we're all worshiping the same God. It's been incredible.
I'm coming for the same. And I would also want to take advantage to say thank you to those who have been praying for this school and those who have been supporting and donating towards the same. I say thank you very much. It is happening in Zambia. It is happening in Kabwe. And next time it may be beyond what you think. God has been with us. Thank you very much.
Dwayne Moore:
Phenomenal, phenomenal experience. We love intensive schools. I just can't talk enough about them. But now we're beginning to work more and more with pastors and their worship leaders in countries where we've been there long enough to build trust with the pastors. You can't just walk in and do that because a lot of pastors don't know who we are, so they're kind of suspect. So sometimes we work through the back door, so to speak. We work through the worship leader to get to the pastor. But once we know some key pastors, then they are influencers. They invite their friends' pastors and they're there. And that's what happened. So to have a pastor to give up a whole week of their life to be with their worship leader, that's a miracle in and of itself. And they did it, and we're seeing the interest in doing it more.
I've gotten to meet so many individuals from so many countries and places around the world, and gotten to learn how to speak a few words in different languages. And just seeing everyone worshiping the Lord in different languages. But we're all worshiping the same God. It's been incredible.
The guy that spoke last is Casey Kalaso, is his name. He's a pastor of a thriving church in Zambia. And he was our director for that intensive school. And now he wants us to come back. He wants us to do 600 people in 2024. And we want to bring in children's workers too. To train children's workers as… bring in a team to teach the children, yes, but also teach the children's workers. And it's a phenomenal opportunity. But Casey, Pastor Casey was actually, years ago he was tapped by the Billy Graham team. Get this, the Billy Graham Organization tapped him, the guy that you just heard speak, to rally pastors in Zambia for their crusade in Zambia. That's how well-connected the guy is. He had 1,500 pastors he got together. The guy knows everybody and he loves what we're doing and he wants to help us. So that's awesome. So that's a huge, big, big first for us that we've been working and praying for and visioning for years, and the Lord finally gave us that opportunity to do that, to bring them together for a full week. That was awesome.
Another thing is, first time for us to lead prayer conferences. Now, I felt led to write this book about it. And now these opportunities to teach on prayers is happening. That's us teaching at that conference, that prayer conference in Tennessee. And so we'll be doing more of those next year for the Tennessee Baptist Convention. This is a big, big deal. It's a big first. It's a huge open door that I didn't even see coming.
And then there's first time for others to travel with us and speak. Well, the Lord is already helping us raise up more people to speak on our behalf and be there to represent when we're not around. And this is huge. Donald is doing an awesome job. I couldn't get to Ethiopia back in May or in April. I think that was where it was. And I couldn't get there. Yeah, it was Ethiopia for sure. And so he went by himself. He had never done it. He was a little nervous about it. Went out solo and met up with Dimeke, our director there. And they just went from city to city and did conferences, and it rocked. He told about being in Soto, their intellectual, theological center in Ethiopia where half the people, literally, Christians have some kind of theological education. And so he felt a little bit intimidated but he got in there and he shared our message. It blew them away. They never heard it before. Never heard of this before. Never heard about worship like that before.And he had people crying while he was teaching. They were just shedding tears. It was impacting them so deeply. So this is what's happening.
And not only him, but this is Pastor Danny. Danny. And he's a pastor. Phenomenal pastor outside of Mombasa in Diani Beach, Kenya. Well, he traveled all the way over from there, where he's got a thriving church there on the beach. But he traveled all the way over on his own accord, he and his wife, to the other side, far side of the western side of Kenya, right against the border. And he led a conference this past weekend. This just happened this past weekend. Filled up the room. And you know what he taught? He taught He. We. They. And he represented Next Level Worship. Another thing that's really cool, and it's not our first time.
Last year we had a book translated. I pointed out while they were giving them away in Urdu. That book was done last year. And Mark Basil, who was in that video that you saw there in Pakistan, he translated it. We raised some money to pay for copies to be printed. But our first book in Amharic was printed this year. I felt led to… now, I only had a few copies with me in Ethiopia last August when we were there at a school. I couldn't get that many in my bag. And so I was just really having to hold them close and not tell anybody about them because as soon as they know you've got a book, they want it. And so I just kind of watched for those that I felt led to give to. And so I gave one to this young man named Samuel. Wende Samuel. And I didn't have any idea what would come of it, and I just felt led to give it to him. One of my Creating Space books, which was brand new at the time. Steven and I put that together. But anyway, I gave it to him. And a couple days later we were sitting there. And he comes up to me and he says, "Hey, would you be all right if I translated this into Amharic?" Well, long story short he did it. And this is the fruit of it. So that's why I'm about to show you a video about that.
Creating Space Video Excerpt
Hey everybody. I want to say thank you to our donors who helped this become a reality. We wrote this book in English and it's called Creating Space. It's a devotional book, a 31 day devotional book that we wrote to help people grow in their faith. But now it has been translated into Amharic. And that's why, if you're like me, you can't read what it says. But the people here in Ethiopia can read it. This is their language. And we are so blessed to get to distribute this and bless a lot of people in Ethiopia thanks to you, our prayer partners, our donors. And the people here in Ethiopia want to say a big thanks to you right now. Ready? Here they go.
Thank you!
Dwayne Moore:
So in that picture, right there, Wende, that last guy with the flowery shirt on, that's the guy that translated it. And then Dimeke was on the front row. He's our director there. The guy standing up that was kind of leading it, he just got married last weekend. His name is Johannes. And I actually recorded a video for him to play at their wedding. We're friends with these people. And it's really a cool experience to get to be there and invest in them and see how they're growing. Wow, wow. It's awesome.
So Randy, as we close this time out I thought we'd take some time just to thank God and celebrate. God has been really good to us this year. Somebody commented, Zach Brooks went to Zambia with us. He's from Pensacola, from Olive Baptist. And he's all in now. But it was Zach that said, "How in the world, on the small budget you have, do you that much?" I can tell you, it's the Lord. It's God for sure. It totally is the Lord. And so Sonya reminds me of that often. And reminds me it's not us, and I appreciate that because it's not. But Randy, you had, I think, a pretty good experience with what we did with you. And I'd like for you to share a little bit about that, when we were in your church and with He. We. They. Because we heard you talk about it last year from your personal standpoint, that you went through it. But at the time you had not yet taken your church through that. So I thought maybe you could take a few moments to share about that.
Randy's Take on He. We. They
He. We. They., after going through it personally I knew that I wanted to take our church through it. So that's how we kicked off 2022. We kicked off our year with a He. We. They. church-wide emphasis. We actually came in. We did it with every age group, actually, even our children. Our children's minister wrote materials for our kids' ministry to actually coincide with He. We. They. And so every week the kids were also doing this study as well, just on their level. But we took the youth through it, we took our adults through it. And so we partnered where it was an adult study in our small groups. So they were going through it each week. We actually used Clay Hallmark's small group material that he wrote for He. We. They. So we used his material for that and then we did a sermon series all the way through it as well. And took six weeks. Dwayne actually came in and wrapped the whole deal up for us. But it was just church changing. It just set our year.
2022's been just a banner year for our church. And I really believe He. We. They. set the tone for us. And again, it's the tool. And I just think that when we put a 40 day emphasis basically, it's kind of what it turned into, to start our year off with praying and praying through the model prayer and praying through how Dwayne teaches us to pray through the model prayer of He. We. They., I just think God honored that in the lives of our people. We still have people that will talk about it. We refer to it often even in messages now. When we talk about prayer, we'll say, "If you remember back in our study of He. We. They." We still talk about it even in our sermons and in our small group times today.
And so it just was one of those… to say the best would be an understatement. It was the best church-wide emphasis we've ever done.
And so it just was one of those… to say the best would be an understatement. It was the best church-wide emphasis we've ever done. Everyone loved it. It was so… what's the word I'm looking for? So on everyone's level. Everyone just was able to read it and immediately apply it. It's asking you to pray as you go. And so everyone just was telling me how many notes they took. I know I did. I was exactly like Clay. I think I marked up He. We. They. more than any other book that I've read in a long, long, long time. And this'll be a very big compliment for you, Dwayne. Probably I marked this book up more than any book since I read Celebration of Discipline in seminary, which is a life-altering book for me by Richard Foster. That's a classic book on spiritual disciplines.
And it just had such a profound impact on us. Not only that, but coming out of He. We. They… well, during it and coming out of it we saw salvation decisions that were being made. In fact, coming out of He. We. They. I think we baptized nearly 40 some odd people in just the couple of months after we got through with He. We. They. And again, I think that's just God honoring the prayers of His people. And one of our dads led his son to the Lord, and he credits going through He. We. They. with his little… his little boy's in the third grade. But that's how these principles apply to everybody and every agent, how understandable they are. That's what I meant earlier when I said everyone gets it. So his name's David. His little boy is Slade. And Slade accepted Christ. And David will tell you it was because of what was happening when he and Slade were going through He. We. They, which I just think's incredible.
And story after story of how God just changed people's prayer life. How suddenly prayer wasn't just something that they felt like was all about them, and it really just elevated everyone's prayer life and made them realize that it's not just about the routines that we get in with our prayers, almost like we're ordering at a drive through. "I'll have a good day. Give us some safety." But by praying through the He. We. They aspect of things it keeps you focused and your prayers, one, on the Lord, which is where they need to be. But it also doesn't just make them all so selfish. So many of our prayers can be so selfish. They're all about us and about our wants and our needs and our desires and how we want things to go. And this just really put it in a perspective for everyone, that they were able to pray the way the Lord taught us to pray.
And it just was a… obviously it's the life-altering formula of the model prayer. So it's taken Jesus' model prayer, and then showing us really how it's the model and so what that really looks like. And to do it in such a simple way as He. We. They is just brilliant. And it really ramped up our prayer life. Right after we got finished with that we had our spring staff retreat. And we started talking in our staff retreat about what are what we call our keystone ministries? What are the ministries in our church that we hang our hat on? And we limited ourselves to five. We said, "We can only have five." Do we have more than five ministries? Yes. But everything can't be keystone. Everything can't be where you hang your hat, so to speak. And so we began to list those things.
What do we believe the most important ministries here at our church are? And one of those that came out was prayer ministry. But it was also the one that we felt like, after going through He. We. They, that was the weakest of our ministries that needed to be the strongest of our ministries. And I think He. We. They set that mindset up in our staff to just say, "This is what needs to be the most important ministry."
And so we've had a year of continuing to put focus on prayer, focus on prayer, focus on prayer to the point where we actually have created a staff position now as a prayer pastor that is there. And again, I think 40 days of He. We. They, those six weeks propelled us into all of these discussions. Into all these revelations as well. And so it just started our year off right. And I can't say enough really good things about it. It just was incredible. And our people absolutely loved it. I recommend it to so many other churches as well. And it really was huge for us. And then getting to go… I don't think you want me to talk about Kenya right this moment. But getting to be a board member on the ground with you was pretty awesome as well.
Dwayne Moore:
What I want you guys to take away from this, and I'm trying to absorb too, is this is not accidental. We are some of the most common, every day… what is that? First Corinthians chapter one. The nots. That he chooses the nots to confound the wise. We are nots. We are the ones not chosen. We were never picked. But God has given us some tools that are phenomenal. They're not the word of God. The word of God is the word of God. We're simply trying to encourage people toward the word of God. But he's given us this for a reason. It's not to lay on a shelf somewhere. We're supposed to do something with this stuff, and that's what we're trying to do. And our ministry's not any more important than any of the others that are out there trying to do a thing for the Lord. I don't think that we're more important. I just know that what we're doing is… God's favor's on it, and I don't want to take that for granted.