FREE Worship Devotional on Adoring God
Challenge your worship team to grow in their adoration of God with this new devotional by Dwayne Moore.
Print a copy for each member of your team to do individually as a quiet time experience. You'll need to allow 15-20 minutes for them to complete it. Then, if you want, you can invest a few more minutes discussing with them what they learned and experienced.
Great for retreats and devotion times with your group!
Download it here: Persevere in Your Adoration (pdf)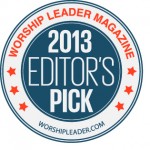 Check out our books and other award-winning worship and leadership resources!