Worship: What Christians Should Aim for Every Day
NOTE: The following article is an excerpt from Week 2 of the 6-week Bible study, Heaven's Praise: Hearing God Say Well Done by Dwayne Moore. This article will run in Rick Warren's Ministry Toolbox and on Pastors.com later this week.
____________________________________
Have you ever felt like you've been wandering through life, not quite knowing what exactly God's expecting from you? Sadly, many in God's family spend much of their lives this way. They walk around with an I-hope-so approach to the Christian life–they hope they're in God's will, or hope they're doing what is best and right. Many eventually become discouraged and quit even trying.
Other Christians seem to think the goal of their Christianity is to somehow please God through their endless strivings, as though God will only love them when they're performing up to His expectations. Yet the Father is already pleased with us, not because of how much good we manage to do, but because we are His children.
Stop now and ask yourself this question: What should the goal of my Christian life be, as I live each day? Get an answer in your mind before moving on.
Now, look at your answer a little closer. Is your goal measurable? At the end of your day, can you look back and know for sure if or when you hit that goal? Perhaps more important, is the goal you just identified attainable? How much say so do you really have over whether you can successfully aim at and hit your target?
Let's say, for example, you answered, "My goal is know God more." That's an incredible answer! After all, "knowledge of the Holy One is understanding" (Proverbs 9:10b). Paul talked about his deep desire to know Jesus in both the power of His resurrection and in the fellowship of His sufferings (Philippians 3:10). Nonetheless, I do not believe that the best target for us to shoot for each day is "to know God more." Hear me out, and please understand that I agree that knowing God intimately and better is the ultimate goal for each of us in this life. In fact, it's life's greatest pursuit.
However, there are a couple reasons why I believe getting to know God more is not the best target to shoot for on a daily basis.First of all, it's not easily measured. God is always working behind the scenes in our lives, teaching us His ways and shaping us more into the likeness of His Son. Just as kids rarely notice they're growing taller, often we're not aware of how much, or even how, we're growing spiritually day by day.
Furthermore, knowing God better isn't a readily attainable goal. I can't get up on any given day, say to myself, "I'm going to get to know God more today," and then be sure I've accomplished it. Certainly I can read the Bible and pray really hard, asking God to reveal Himself to me–and I should. But how God helps me know Him better, and when He does, is His call, not mine. Thinking I can decide how much I get to know God is like thinking I can decide how much I get to know another person. No matter how I may want to know that person, the degree to which I'll ever actually know him or her depends on how much he or she is willing to reveal to me.
It's like that with God, too. In Paul's doxology in Romans 11:33, he wrote, "Oh, the depth of the riches of the wisdom and knowledge of God! How unsearchable His judgments, and His paths beyond tracing out!" Ultimately, only God can help us to know God more.
I once heard the story of a grandfather and his grandson out fishing on a huge lake. The grandson gazed across the expanse of the lake and said, "Granddaddy, that sure is a lot of water." The wise elderly man looked over to his grandson and replied, "Yes son, it is…and that's only the surface." While God certainly wants to reveal Himself to us–and will, as we seek Him with pure hearts–like the depths of the ocean, His ways will always be "beyond tracing out" on our own. We are utterly dependent on God to make Himself known to us.
Love and Obedience
So, if knowing God better isn't our best target, what is? What can we aim at and hit every day? Or put another way, what does God expect of us, and what is our primary responsibility before Him?
Please turn to Mark 12:28-31. What two commandments did Jesus say are the greatest? Why do you believe He chose these?
When we truly love God with everything we are and have, we'll want to keep the other commands regarding our relationship with Him. We won't value other things more than God because all our affection and desire will be focused on Him. And when we love our neighbors with a godly love, as Jesus says we should, we won't seek to defraud them or harm them in any way.
Please read what Jesus told His disciples in John 15:9-14. According to this scripture, what should our love for God lead us to do?
It's not enough to say we love God. We must demonstrate that love by doing what God tells us. This is where far too many professing Christians fall short. Moses made it very simple to the children of Israel what their responsibilities were: "And now, Israel, what does the LORD your God require of you? He requires only that you fear the LORD your God, and live in a way that pleases Him, and love Him and serve Him with all your heart and soul" (Deuteronomy 10:12, NLT).
True Worship
The word that sums up whole-hearted love and devotion to God is "worship." True biblical worship means adoring God with every part of our being. It means surrendering our lives and all our moments to His will and direction.
The other day I read again about how Abram became Abraham, the "father of many." Each time I've ever read about Abram's calling in Genesis 12, I've been both challenged and convicted by his quick and non-questioning obedience. Listen to how Abram responded to God's directive: "The Lord had said to Abram, 'Leave your country, your people, and your father's household and go to the land I will show you.'… So Abram left, as the Lord had told him" (Genesis 12:1, 4a).
Not until this most recent reading, however, did I notice another equally powerful, profound and revealing fact about Abraham's character. Each time Abraham moved to a new location, the first thing he did was to build an altar of worship to God. That tells me that Abraham's walk with God matched his talk. He wasn't just obeying God out of fear or for personal gain. He clearly loved and adored the Lord, and honored Him by worshiping Him everywhere he went in Canaan. In other words, his love for God motivated his obedience.
Have you ever wondered why God's first big written revelation to the children of Israel was a set of 10 commandments on two cold stone tablets (Exodus 32:15-16)? Doesn't that strike you as a bit odd? I mean, wouldn't it have been better for God to have provided a few paragraphs about Himself and who He is–you know, have a little "get to know me" time? Why would so early on He choose to unveil all these "thou shalt nots," rather than a few more "I am's"? I believe it's because of this: Before He will allow us to know Him intimately, God first requires that we love and obey Him consistently.
Response
Mark Hall wrote a song which became the title cut of Casting Crowns' second album. It's called "Lifesong." Listen to these words from the chorus: "I wanna sing your name at the end of this day, saying that my heart was true. Let my lifesong sing to you."
Think back over your day today (or yesterday). Did you hit the mark of loving God with your whole being as best you could? Or did you only give Him half-hearted devotion and worship? Answer honestly, asking God to reveal your heart and motives. (If you failed to hit the target today, take heart! His mercies are new every morning, so try, try again!)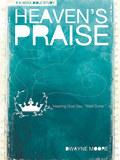 NOTE: This article is an excerpt from the 6-week Bible study, Heaven's Praise: Hearing God Say Well Done by Dwayne Moore, (Group Publishing, 2011) 34-37. Used by permission.