Worship Leader Spotlight – Micah Eastridge
Worship Pastor at Picayune First Baptist Church in Picayune, Mississippi
By Savannah Cone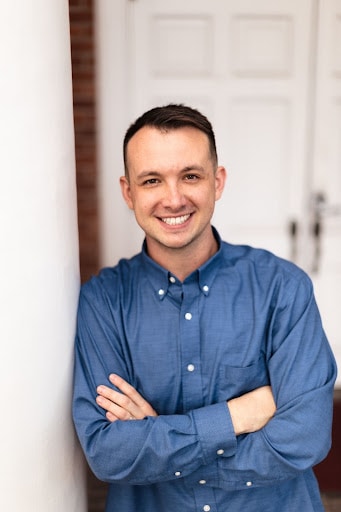 With a missional outlook, a strategic plan, and a thriving staff, Micah has the privilege to serve alongside Picayune First Baptist Church in Picayune, Mississippi as their Worship Pastor. Micah, along with his fellow staff, use their mission statement to be the blueprint for their ministry – "Encouraging influencers with the gospel." Micah focuses on implementing this mission statement and raising up the next generation of musicians within his ministry at Picayune.
Encouraging influencers with the gospel
For eight weeks as the pandemic took hold, PFBC was able to open their doors as a daycare to watch children as parents and families were dealing with sickness. This sparked the new direction PFBC needed to go. With their lead pastor's passion to see God move in their city and in the world, this mission statement was born.
The five influencer areas PFBC targets are: families, educators, first responders, medical professionals, and leaders in their city. With these five focal points, each ministry "adopts" a target influencer. For example, Micah's worship choir has "adopted" the Fine Arts Department teachers within their area to love on and stay in touch with. Not only are whole ministries involved in adopting influencer targets, but small groups, individuals, friend groups and more. This chart displays the goals they wish to accomplish by encouraging influencers with the gospel and how they plan to do this strategically.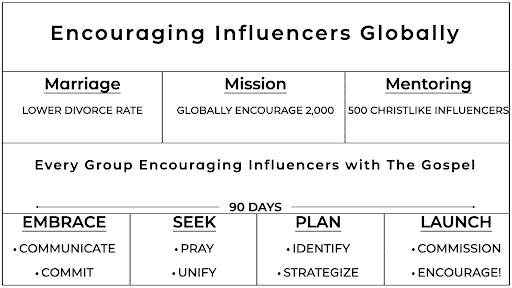 How does this mindset affect the worship ministry at PFBC?
PFBC has transitioned over the last several years from a more presentational style to an engaging format. Micah implemented this transition via choir specials, setlists, student engagement and more.
Occasionally Sunday morning setlists include choir specials. When these opportunities arise he is sure to include both his student and adult worship choirs to attend on a Sunday morning. "Displaying multigenerational worshippers brings much energy to the room." In the last two years, Micah also uses his worship choir specials to introduce new songs. By doing this, he has felt a much more engaging response from his congregation.
Annually, the student worship choir takes a mission trip typically somewhere out of the state, however, this last year Micah felt it was important to bring their missional mindset to their own city. "We held a Bible Club for a week right here in Picayune, Mississippi to engage in long term relationships, ultimately building a bridge with families."
Training the next generation of musicians
"I am blessed to have excellent musicians on the worship team." The Sunday morning crew rehearses in the morning before the services. With his adult teams being prepared for Sundays without mid-week rehearsals Micah has been able to focus more on pouring into their student worship teams during the week. Each week Micah gives the students on the worship team a binder of the upcoming music they can work on for the next week along with tutorial videos and websites to help them learn the material before the next rehearsal. The students are already becoming better musicians by adding these elements into their weekly tasks.
Micah Eastridge is the Worship Pastor at Picayune First Baptist Church in Picayune, Mississippi. He has served in worship ministry for 12 years and five of those years in a full time capacity. He received a Bachelor of Music Contemporary Worship Ministry from William Carey University and his Master of Arts in Pastoral Ministry at New Orleans Baptist Theological Seminary. Micah enjoys spending time with his wife, Becky, and his two-year old daughter, Emma.