Worship Leader Spotlight: James Damey
Worship Pastor at Cheyenne Hills Church
in Cheyenne, Wyoming
By Savannah Cone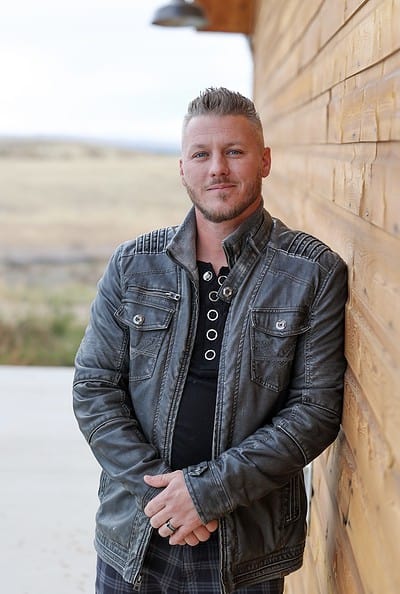 James Damey has been leading worship for 26 years, and 13 of those years he has served at Cheyenne Hills Church. About five years into this ministry, he used Dwayne Moore's "Pure Praise" book to bring growth among his team. In James' words, "the turnaround for our team was incredible." This sparked the beginning of a great partnership. James' ministry has devoutly attended NLWI's ReFOCUS retreat, participated in several in-person training sessions, and used several NLWI resources to improve his team. Since taking part in these opportunities, James has implemented whole-hearted worship throughout his leadership team, worship team, and congregation. Unique aspects to his ministry include having a leadership tree, using a custom-built songbook, and providing resources for spiritual and musical growth.
Leadership Tree
James reached a point in his ministry at Cheyenne Hills when he could not give personal attention to each and every member on his worship team. This kindled the idea to hand over some of this responsibility to trusted team members. Thus, creating a "leadership tree." This team is assembled by volunteers who value heart-worship and desire to grow the worship ministry. They are responsible for recruiting, scheduling, and handling basic communication with their designated team members.
Congregationally Tailored Songbook
In his early years at Cheyenne Hills, James attempted to satisfy every person's stylistic needs. He soon discovered how his attempt to please everyone ultimately hurt everyone. To solve this dilemma, he and a small trusted team came together to create a custom-built song book. This song book is made up of 30 songs and each song is selected based on biblical truancy and contemporary relevance. As James builds their setlists, he uses the songs only from this book. Damey says, "This has worked incredibly with the congregation," allowing them to be extremely familiar with the songs and giving them the opportunity to experience authentic worship. Moreover, this songbook gives his band the opportunity to refine their musicianship every week.
Spiritual and Musical Growth
James Damey believes that every worship team will grow spiritually from spending time drawing closer to God. He demonstrates this posture by leading a weekly devotional with his worship ministry and picking a book or study to go through with his leadership team. Currently, his ministry is focusing on the topic of prayer via Dwayne Moore's new book on prayer, HE. WE. THEY.
Musically, James provides their worship ministry with several resources that help his musicians to hone in on their skills. Some of his favorites are: worshipartistry.com, churchfront.com and worshiponline.com. These resources provide vocal tutorials, band tutorials, technical set up information, devotionals, and more. In his words, "Excellent musicians bring a congregation together when the music sounds good and people can worship without distraction."
ReFOCUS Retreat
The Cheyenne Hills worship ministry has participated in ReFOCUS since 2019. Since then, they have been able to broadcast the online ReFOCUS experience and invite other churches in the area to gather and attend ReFOCUS in Cheyenne, Wyoming.
Last year, ReFOCUS shaped the way James' ministry communicates their worship of God and God alone. During the breakout sessions James says, "there was one discussion in particular that we munched on for several months afterward" – on biblical truth in worship and worship songs. James discovered how people can easily misunderstand the context of a worship song. His worship team determined that it never is safe to assume people know to sing about Jesus Christ rather than themselves or another god. Since this conversation, James intentionally explains in every service how they "are not gathered to sing to themselves or to each other, but to God and God alone." It is key learnings such as this that James says is vital to developing a God-centered worship ministry. He encourages every worship ministry to participate in ReFOCUS. "This conference will hit every level that is important to a team, pastor, and a congregation regarding worship."
"This conference will hit every level that is important to a team, pastor and congregation regarding worship."
"James Damey is the Worship Pastor at Cheyenne Hills Church in Cheyenne, Wyoming. He has been ordained for six years and led worship since he was 15 years old."