A Reason to Make Up Your Bed
By Dwayne Moore
This morning I was tempted to not make up my bed. It would've been easy to skip. After all, who's going to know anyway, right? No one else is going to come in and inspect my bedroom and see that I didn't make up the bed. Besides, I have better things to do with my time. My thought was I'll just skip it and go ahead with my day. Problem is, I did that yesterday as well, and to be honest, I skipped it the day before that too. So that's three days in a row of not making up my bed.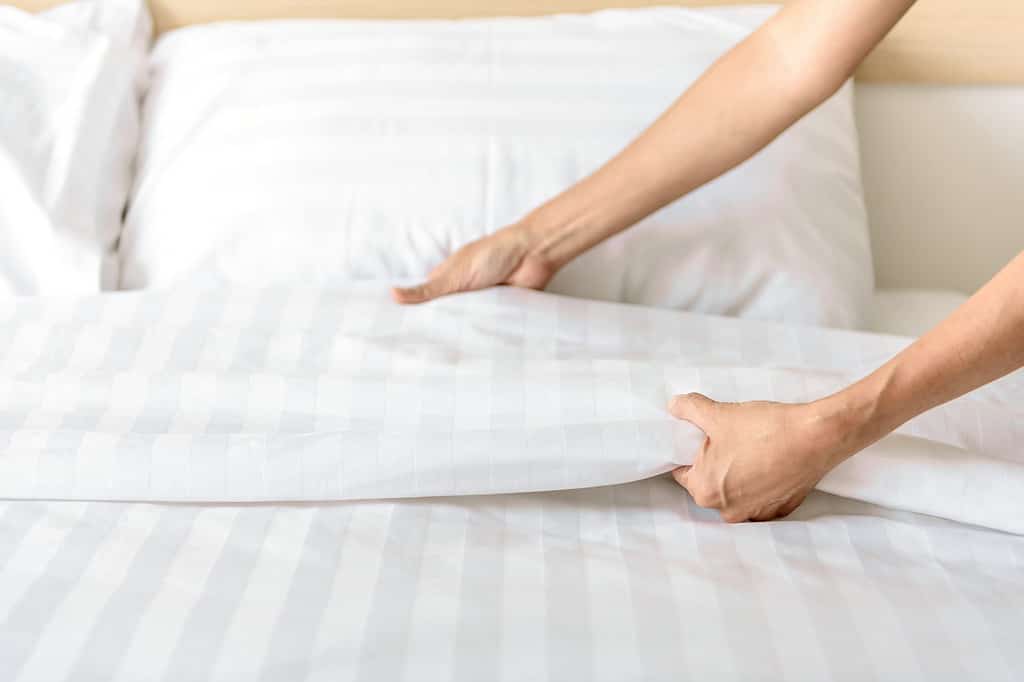 Harmless, you say? Perhaps. But this morning as I looked around, I realized what was beginning to happen. I had left some clothes on the floor beside the bed, and I hadn't put some items back into my closet from three days ago. They were still in the exact place where I left them near the bed. As I walked out of the bedroom and into the living room I saw I'd left a few items on the floor there as well. I didn't put the pillows back on the couch, for example, like they're supposed to be. Now, my bedroom and my living room are both becoming untidy.
You see, the bed is the largest piece of furniture in my bedroom. Its presence tends to dwarf everything else in the room. And while not making up the bed can lead to a lower standard in the room, having a bed that's made and in order can actually bring things up to a higher standard. Simply put, when the bed looks nice and neat, it encourages me and motivates me to make the rest of the house a bit neater too.
I use this illustration, not because I want you to make up your bed. If you do, great. If you don't, that's up to you. Instead, I want to parallel making the bed with having a quiet time with God.
In my younger days of following Jesus, a big chunk of my morning was often invested in time alone with God. And the subsequent growth I experienced in my faith was phenomenal. I have tried to maintain that habit over the years. However lately, I've been slipping. Sometimes, I may only take a few minutes to pray and read the Word. It's because "I'm so busy," I'll say. Or, "No one sees it anyway, so what difference does it make? I'll just do it later." The problem is, later rarely happens. Just like when I skip making my bed, I never seem to get back around to it.
We may have good intentions to make time alone with God, but if we don't prioritize it then it's unlikely we will do it. In allowing it to slip and become less and less of a priority to us, it begins to affect other parts of our lives–the way we think, the way we perceive things, our attitudes, the way we respond to people. I have friends who prefer to have their quiet times with God in the evenings. But for me, mornings are the best. If I wait until the afternoon or evening then my day and my strength is often spent.
First Things First
A great reason to make up our bed each day is to raise the bar for other things in our home. In much the same way, prioritizing time alone with God can motivate us to put things in order in our hearts. It can cause everything else that matters before the Lord to have a higher priority in our lives–like treating others kindly, whispering occasional prayers of thankfulness, and meditating on God's Word throughout the day.
David said in Psalm 63, "O God, You are my God; Early will I seek You; My soul thirsts for You; My flesh longs for You In a dry and thirsty land Where there is no water. So I have looked for You in the sanctuary, To see Your power and Your glory. Because Your lovingkindness is better than life, My lips shall praise You. Thus I will bless You while I live; I will lift up my hands in Your name" (v. 1-4). Take note that David started with "I will seek you early." Everything else he wrote about in that psalm—everything he was able to experience—started and flowed from seeking the Lord first of all.
There are several examples in the Bible of people rising early to meet with God…
David wrote, "In the morning, Lord, you hear my voice; in the morning I lay my requests before you and wait expectantly" (Psalm 5:3).
Isaiah said, " The Sovereign Lord has given me a well-instructed tongue, to know the word that sustains the weary. He wakens me morning by morning, wakens my ear to listen like one being instructed" (Isaiah 50:4).
"Jesus, very early in the morning while it was still dark, got up, left the house and went off to a solitary place, where he prayed" (Mark 1:35).
Just as Jesus and countless others have made time to be alone with God in His Word and in prayer to Him, also make it your first and foremost priority each day. It will help put things in order in your heart and mind and bring much joy, peace, and divine order to your "spiritual home"!