Sunday Keys has received a *Choice Resource Award from NLW International. Below is a review by Jon McCord, Associate Pastor of Worship and Media at Faith Baptist in Knoxville, MD.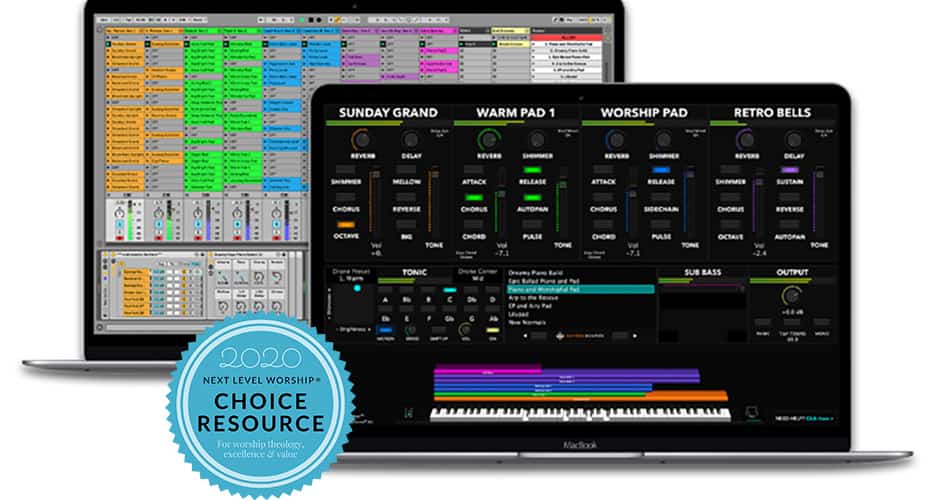 Sunday Sounds is an organization with the goal of helping church musicians (keyboard, guitar and bass) gain ease with sound creation in order to make the worship experience better through music technology. This organization started as a one-man operation and has grown in staff and technological reach. They create templates and sound libraries to work with MainStage and Ableton, making use of most popular third-party plugins (although not required) and well known sound creation companies (like Native Instruments).
Their flagship product is Sunday Keys (available for MainStage and Ableton). The template is created to allow the user to access multiple sounds and mix them within the template to get the sound they are attempting to create. The sounds are predesigned (and programmed with the template) making the work that much easier. It allows the user to mix piano, EP, strings, pads, brass, arps, basses, and many other varieties (Christmas included!) of sounds within one simple template. The expansion to Ableton has allowed Sunday Sounds to branch into the most popular DAW on the market, as well as opening the door for PC users to have access to their products.
With their latest version, Sunday Keys 2021, users can now opt into a subscription type service that will include regular sound updates and libraries. A game changer (and money saver) for regular users. As mentioned above, the Sunday Keys template is designed using primarily stock MainStage or Ableton sounds (the most recent version does require the download of a free piano sample library and player).
At $75 it is a steal for church musicians.
In addition to Sunday Keys, the group has produced Sunday Guitar (primarily for electric guitar), Sunday Bass (for bass players) and recently released Sunday Mixer (for recording and mixing your band) and Live Tracks (which allows integration of using stems with your Sunday Keys set up). Song Specific patches are also available. These predesigned patches are created based on the original recordings and are designed to work with the Sunday Keys template. I stumbled upon this group when I was thrown into the world of worship keyboard playing. I was NOT a pianist or keyboardist by any stretch of the imagination. I was looking for ways to easily make my limited keyboard skills work in my church setting.
I first found Sunday Sounds when I searched for song patches, then had my narrow view of keyboard technology exponentially expanded. The template and sounds allowed me to play well almost immediately, and that was with limited keyboard playing technique. David and his staff create tutorials for just about every product they produce which allows the user to quickly and easily learn how to use each product. From a church music director perspective, this product also opens the door to those with varying keyboard experience to better learn how to create sounds that will bring your worship experience to a whole new level. It is easy to learn and implement and the Sunday Sounds support is off the charts if a user has questions.
*Choice Resources are selected resources which enhance corporate and/or personal worship. Resources from other authors and developers are recommended by our NLW Community each year. From there, our NLW team selects resources from those recommendations to award and feature on our site.