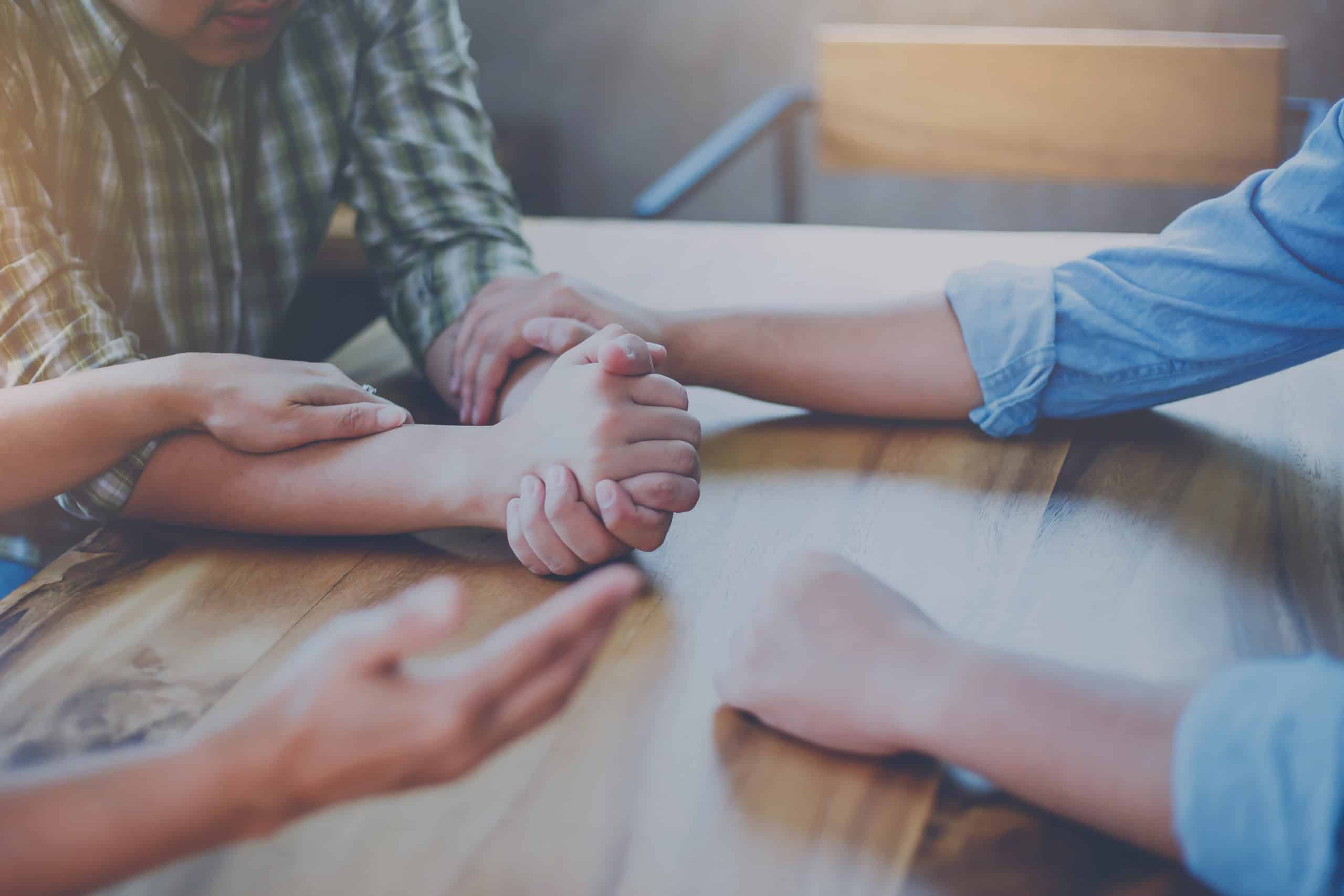 Praying for Yourself and Those You Love
Praying for Yourself and Those You Love
By Dwayne Moore
NOTE: This article is taken from Dwayne's video, HE. WE. THEY. Teaching Week 3.
I want us to start with a thinking exercise. Take 10-15 seconds and name all of the close friends and family members you can think of. If you're with a group of people right now, then don't say the names out loud. But in your mind name as many close friends and family members as you can. Ready? Go.
Pray for Us
So how many names did you come up with? 5, 10, 20? Whoever came to your mind are most likely your "us." Let me explain. The second part of the Lord's prayer is what we call the WE section of the prayer. We should begin our prayers with focusing on HE, on the Father. But now we move to the WE part of the prayer.
When Jesus said "Give us this day our daily bread," I believe he was referring to the kind of people that came to your mind just now. Think about who he was standing around when he prayed that prayer. He was around his disciples. Those were some of his closest friends. Those were people he did life with. When we pray, it's not realistic that we can pray for every person in the world. To be honest, we can't think about every person in every place when we pray. That's not realistic. We don't pray for every person, and I don't believe Jesus meant for us to. We shouldn't feel the responsibility to do that. I mean, we don't even know who they are. But we do know who WE are. We do know US. We know those people that are closest to us. So we pray us–give us, forgive us, deliver us.
Have you stopped to think what a privilege it is to pray for us, to carry everything to God in prayer? What a joy that we can lay our burdens at his feet! I think perhaps we take that for granted sometimes, maybe because we've been doing it for so long. David said in Psalm 54: "Surely God is my help; the Lord is the one who sustains me." I love what Isaac Watts wrote in this hymn: O God, our help in ages past, Our hope for years to come, Our shelter from the stormy blast, And our eternal home. O God, our help in ages past, Our hope for years to come, Be Thou our guard while life shall last, And our eternal home."
Looking back I can testify that God has always been my help. That's his character, to be a helper. He sent the Holy Spirit to us. We don't have to feel like we're out there flailing in the water alone just hoping we don't sink. No, we have a loving Savior who is reaching out his hand wanting to help us. And Jesus, in the model of all models of prayer is elevating the importance of us praying for ourselves. By including the WE portion in the Lord's Prayer, Jesus is qualifying, validating, prioritizing that we should pray for ourselves and for those we care about.
Pray for Today
Notice Jesus said, "Give us our daily bread." Why did he pray for daily bread? Why not pray for weekly bread or yearly bread? Remember how the children of Israel were fed in the wilderness? God sent them manna. It was white like coriander seed, and it tasted like honey wafers. The Israelites ate this manna for forty years, until they came to the promised land. Exodus 16:21 says, "The people gathered the food morning by morning, each family according to its need." So God only sent what they needed for each day. Then on the sixth day each week, God would send them twice as much manna, so they would have enough to last them through the sabbath on the seventh day. Have you ever wondered why God only sent them enough for a day or so? I don't know all the reasons, but I think one was to teach His people to depend on Him day by day, to trust him to provide for their daily needs.
I want to ask you a question: What are you most concerned with right now? What comes to your mind? Don't have to say it out loud, but is there a burden you are carrying at this moment that is weighing you down? Is there something or someone you are genuinely concerned about? The WE section of the Model Prayer is your opportunity to bring that burden before God. But, let's be honest, how many of us really do that?
I've always been somewhat challenged technologically. (That's putting it mildly!) I remember one time I was setting up a recording studio in my home. I had bought a new desktop computer, and I was trying to get it linked up with my recording equipment. But of course, I couldn't get it to work. So I ended up having to call tech support. I spent hours on the phone trying to get answers to the issues I was having. But no matter what we tried, it seemed nothing could fix the problem. Even the tech support people were at a loss.
I was exasperated, just frustrated at the whole situation. And then it hit me. A little voice whispered inside me and said, "Have you prayed about this?" Well, no, I haven't prayed about it. Thought I could fix it! Why would I pray about it? "Well, you know, you might want to try that." Yeah. Yeah. Okay. So I remember vividly where I was sitting there in my home studio at the very moment I finally stopped and prayed, "Lord, I don't know what to do. I can't fix this, and I need it resolved. I'm trying to set up and use this studio to record songs for your glory. This problem is standing in my way of doing that. I'm humbly asking you to help me." That's basically what I said. I think I said it out loud in fact just sitting there in front of my computer.
As soon as I prayed and sincerely asked for his help, within an hour–I'm not exaggerating–I discovered the solution to the problem and was up and running. I know it may sound like I'm making this up, but I'm telling you, that's too good to script. You see, this is how it works with the Lord. When we acknowledge the Lord in all our ways, he will begin to point us in the right direction of where we need to go and what we need to do. He will direct our paths, just as Proverbs 3:5 promises he will. God wants to help us, but he also expects us to ask.
Ask Him First
Listen to what Jesus said in Matthew 7:7-8. "Ask and keep on asking and it will be given to you; seek and keep on seeking and you will find; knock and keep on knocking and the door will be opened to you. For everyone who keeps on asking receives, and he who keeps on seeking finds, and to him who keeps on knocking, it will be opened."
Those three words–ask, seek and knock–imply distinct degrees of intensity. We should start with "asking" in spoken words of prayer. Then the "seeking" begins as we put forth effort and labor to act out those prayers. As we look around, diligently seeking, if we see a door that we believe God has led us to, an opportunity that would glorify him, then we should knock on that door, and keep on knocking until it opens.
We should always ask, seek and knock first of all in a vertical direction. We ask the Lord, seek his will and knock on his door. We should only want his will to be done in our lives. Remember, that is what we have already prayed in the prayer model–for his will to be done on earth as it is in heaven. Once we ask, seek and knock vertically, then as he gives us permission, we can ask, seek and knock horizontally to other people.
It's good to seek others' advice and help. Thank God for friends, family and colleagues we can reach out to when we are in need. But don't start there. If you hit a wall in life, if there is a problem or situation facing you that you can't get through, don't run to other people first, first run to your Father. You and I have this awesome privilege to come boldly to his throne of grace to receive mercy and find grace to help in times of need. That's what Hebrews 4:16 says we can do. We have this awesome privilege of prayer.
James 4:2 says "you don't have because you don't ask." So that begs the question, why don't we ask? You will discover in Week 3 of HE. WE. THEY. The Life-Altering Formula of the Lord's Prayer that we need to ask him for our provisions, and we need to ask him for pardon and cleansing so we don't carry around a weight of sin, a burden of sin all the time. We need to pray for protection for ourselves and those we care about. That is the opportunity we have before us–to ask, seek, and knock.
This has to be more than mere talk. It's not enough just to learn about it and have it in our head. The question is, are we doing it? Take ample time this week to cast your cares on your Father, for he cares for you.
---
Like what Dwayne shared in this post? Then you will LOVE his new Bible study on prayer!