How Worship Ministry Is Like Football (Repost)
A worship ministry should help in serving the overall purposes of the church.
A worship ministry is not a stand-alone entity that operates separately from the other vital ministries within a church. The best way I know to explain this unique philosophy and approach to ministry is through the analogy of American football.
And I'm a huge football fan (Roll Tide!!!)
We're Like Special Teams
That's not to say we think we're special, mind you. Actually, it's quite the opposite…
"Special teams" in football don't drive the ball down the field play after play. That's the job of the offense. And they don't try to keep the other team from scoring on drives—that's the job of the defense. Special teams are simply those players who help with kicking plays during the games. They often start a drive by kicking the ball downfield; then they get off the field so the offensive players can take over.
In the same way, what we do on Sundays in our services is helping to "start the drive" in people's hearts and lives. Lifting up the Lord in corporate worship can act as a powerful catalyst to help inspire and influence people toward a life of holiness. God can use what we do from the platform to whet people's spiritual appetite to know Him more and to serve Him better. Each week we should pray that our songs and creative elements help to prepare people to hear God's Word through the pastor and to want to invest time alone with the Lord when they leave the service.
As we state in the ministry manual: "Our goal is to help spark people's desire to grow…We pray that people catch a glimpse of God's glory during our worship services and then hunger to learn more about Him through other ministries within our church–such as life groups or missions."
Sometimes We Score
Special teams players sometimes have the opportunity to score points for their team by kicking field goals.
Similarly, as a worship arts ministry, we get to help our church team toward a win. Your church probably considers it a "win" when people's lives are impacted in some transformational way. Sometimes, the Lord blesses our efforts with visible fruit when people trust Christ as their Savior and repent of sin during one of our services. More often, though, we're just one of many ministries in our church that God uses to touch and change a person's life.
I must be careful to make myself clear: We do not for a moment believe we are merely playing a game on Sundays. People's lives hang in the balance from week to week, so it's much more important to us than some sport. Football is merely the analogy we can use—similar to Paul's analogy of a plant. He said, "I planted, Apollos watered, but God gave the growth" (I Corinthians 3:6 ESV). When God causes someone to grow, that's a win! The worship team can just be thankful that they might be allowed a small part to play in someone's spiritual birth and growth!
Meet our Coaches
We know and embrace that, as leaders in the church, we are foremost to be shepherds and pastors to our people. However, we like to use the idea of a "coach" who cares for his players.
In a sense, the lead pastor is the head coach. He and our elders give direction and clarity to the mission and vision of the church. The pastor is also the lead worshiper in a congregation.
The worship pastor in charge of worship arts is the "special teams" coach. It's just one of several coaches who lead ministries. We are each under the authority of our lead pastor and elders. Assistant coaches might oversee certain groups within the worship arts ministry, such as the technical and creative teams.
Good coaches focus more on people than on things like schedules and equipment. As the main coach over an area of ministry, the job is to train and recruit quality players—musicians and singers as well as tech people. Furthermore, the job is to empower those in the ministry to lead and mentor others.
I don't try to sing every song or give every testimony. Often I won't lead more than one or two songs during a service. Why should I? We have other well-qualified worship leaders on the platform who can sing and lead. My most important job is not to "run the ball." Seeing myself first of all as a coach reminds me that my primary responsibility is training up others and giving them opportunities to lead.
It Takes a Team
No matter how many great players a team may have, it still takes teamwork for them to reach their potential as a great team.
Whether you're a fan or not, it still bears noting that any time one of the Alabama players was questioned about their championship season, they always responded the same way. They all said they couldn't have done it without their team. Individual players simply refused to take any credit for themselves.
That's how winning teams think—they see themselves first of all as a team. They value team effort. They cheer each other on, encourage one another, and hold each other accountable to the team's rules and standards. It's no wonder they can win so often.
Worship pastors and directors should always be working on building a winning team in worship ministry–and by God's grace, we can move in that direction! Ministry members will begin to buy into the vision of the worship ministry more and more. Instead of saying "they," leaders and members will learn to say "we." It's incredible to watch a team grow in how they care for each other and how they grow as worshippers and worship leaders.
Know that making adjustments in your worship philosophy and worship ministry practices can be challenging. You might even have to say goodbye to a few who prefer the old way of doing things, but you'll probably gain many more who realize the tremendous benefits and joy of being part of a team – not a football team that merely wins some game, but rather, a church team that helps win souls and build the Kingdom of God for His glory and honor above all.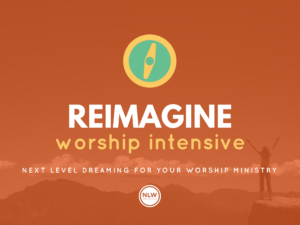 Want more teaching like this to help you navigate your next steps in worship ministry?