By Dwayne Moore
NOTE: This lesson is from the new Bible study Dwayne is writing on Living the Model Prayer. This lesson is taken from Week 3, which is on personal prayer. We pray it encourages and helps you in your daily worship and walk with Christ.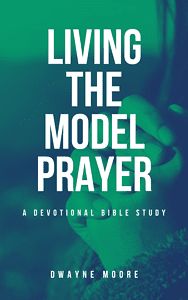 Jesus placed the subject of evil in a prominent place at the pinnacle of the Model Prayer. It wasn't, mind you, to bring honor to evil. That would be absurd to think. However, he apparently wanted his followers to appreciate the gravity of this necessary topic. Evil is not to be taken lightly, and as we will prayerfully see today, it is not to be ignored. It is to be treated with the greatest of care and attention.
<> Our hope is that today's reflection on evil will ultimately lead us to adoration of our awesome God. Take time to praise him now. Tell him how awesome and hallowed he is. Also, ask the Lord to deliver you from any thoughts at this moment that might try to distract you from this important lesson. The devil would love nothing more than to keep you and me from uncovering his wicked schemes and evil ways.
The two requests for protection in the WE section of the Model Prayer are tightly connected and should be prayed together. "Lead us not into temptation" answers the question of what we should be concerned about. "But deliver us from evil" answers the question of why: Why should we pray not to be led into temptation? Simply put, it's because temptation can lead to evil. That is why these two requests are inseparable.
If we pray these requests everyday as a habit, what can they help do for us? Great question! I'm sure there are many benefits, but I want us to focus on three in particular today…
1. The Model Prayer calls our attention to evil.
I grew up in a small town in the countryside of Alabama. There was very little crime in that area back then. We felt so safe, in fact, that we didn't even lock our doors at night. My friend, Scott, on the other hand, lived his early years in the inner city of Birmingham, so he learned to watch his back and stay alert to possible danger. Scott and I traveled together for several years in full-time evangelism. One night in Pensacola, Florida we were sitting in a restaurant after a church service. I will never forget him telling me he thought the guys sitting near us were watching us and "scoping us out," as he put it. I told him he was paranoid and naively kept eating my food.
When we finished our meal and got up to leave, those guys got up from their table as well. When we paused at the register after paying, they waited also. That was enough to convince Scott he might be right about their evil intentions. On the way out the door, there was a man selling his paintings. So Scott thought fast and struck up a conversation with the man. Sure enough, the suspicious characters didn't walk past us. They continued to wait behind us. Scott asked the man with the paintings if he had more in his vehicle. The man said he did, so we proceeded to walk out to the man's car. The ill-intentioned guys followed us out and waited in their van until we got in our vehicle to leave. As we drove out of the parking lot they followed us onto the street. They continued to follow us to a nearby police station where our scary stalkers finally drove on past and left us in peace.
Unfortunately, evil is all around us, even if we don't realize it. As Paul wrote, "For our struggle is not against flesh and blood, but against the rulers, against the authorities, against the powers of this world's darkness, and against the spiritual forces of evil in the heavenly realms" (Ephesians 6:12).
One of my earliest "wake-up" calls to the idea of demonic activity came when I read a novel titled This Present Darkness. It's the story of a pastor who finds himself engaged with powers of darkness in spiritual warfare over his small town and church. Here's an excerpt from the first chapter where two angelic beings are fighting a demon just outside the pastor's church:
"There was an explosion of suffocating vapor, one final scream, and the flailing of withering arms and legs. Then there was nothing at all except the ebbing stench of sulfur…The big blond (angel) replaced a shining sword as the white light that surrounded him faded away.

"A spirit of harassment?" he asked. "Or doubt….or fear. Who knows?" "And that was one of the smaller ones."

"But what are they doing here? We've never seen such concentration before, not here."

"Oh, the reason won't be hidden for long." He looked through the foyer doors and toward the sanctuary. "Let's go see this man of God."1
That is from a fictitious novel. We have little idea how demons and angels actually operate on earth. Nonetheless, Scripture seems clear that they are real and that spiritual conflict, unseen to our human eyes, takes place more often than we care to imagine.
<> Read 2 Corinthians 10:3-5. What do you believe Paul meant by "war" and "strongholds" and "weapons"? Have you given much thought to the idea of spiritual warfare? According to this passage, what part should we as Christ-followers play in this unseen conflict?
2. The Model Prayer prompts us to ask for deliverance from evil.
Thoughts of evil lurking around us and warfare spiritually might unnerve and even scare some. But remember Jesus' words to his disciples: "I have said these things to you, that in me you may have peace. In the world you will have tribulation. But take heart; I have overcome the world" (John 16:33 ESV). Our God has overcome death, hell, and the grave! He won, and we can win too. We shouldn't be frightened or intimidated by evil; instead, we should pray each and every day for the Lord to deliver us by his mighty hand. God is constantly holding back the tide of evil that would discourage, distract and destroy us. Praise his name that he is all-powerful and able to overcome evil for good in our lives.
Still, you might wonder why we should have to ask for deliverance. Why does God allow people to experience evil in the first place? Or, put a more common way, why do bad things happen to good people? Those are important questions. It's not within the scope of this study to try to answer them fully. But consider this: If we think we are "good" we are terribly misguided and mistaken. Jesus said, "No one is good except God alone" (Mark 10:18 ESV). When we begin to grasp our utter depravity as humans and how deserving we are of death, the question stops being, "Why do bad things happen to good people?" Instead, we are compelled to ask, "Why do not more bad things happen to bad people like us?"
Clearly, praying the Lord's Prayer doesn't insulate us from all harm. There are plenty of examples of godly saints who died martyr's deaths. Why didn't God deliver them? That's another excellent question! Think about Stephen and Paul. They both died for their faith, and yet, evil didn't overtake them. Their deaths were allowed by God in his time. Many were saved as a result of their persecutions. And think about Jesus: He willingly laid down his life on the cross. He gave his life freely. No person or demon took it from him. Through his death he brought redemption for mankind. God won the ultimate battle for our souls. He overcame evil with his awesome goodness.
You see, God wins every time, and as we follow and submit to him and trust in him, we win also. According to Revelation 20, Satan will one day be cast into the lake of fire, and we will reign with Christ forever. What a mighty God we serve!
3. The Model Prayer leads us to avoid evil when possible.
If we are sincere in asking God to deliver us from evil, if we understand how devastating it can be to yield to temptation, then we will want to avoid evil at all cost. The Lord's Prayer isn't a "Get-out-of-evil-free card." We can't merely pray this prayer and then mindlessly walk through our day with our guard down. We have an important role to play. We must choose to "fear the Lord and turn away from evil" (Proverbs 3:7b).
In order to win a war, soldiers need to know the tactics of their enemy and the strategy to defeat them. Fortunately, the Bible gives us clear instructions on how to overcome temptation and evil.
<> Read Ephesians 2:1-3. Look closely at verses 2 and 3. Try to identify three distinct sources of temptation. They are listed below in this lesson, but try not to peek. See if you can spot them on your own.
People often give Satan sole credit for every temptation they experience. While he is the ultimate instigator behind all sin and blasphemy toward God, the devil himself is often not the source of our temptations. As we read in Ephesians 2, there are actually three sources of temptation. They are the world (the value system of this age), the flesh (our old nature that is prone to sin), and the devil (aka, Satan, or perhaps one of his demons).
Years ago, I heard Dr. Adrian Rogers share a simple but profound outline to help us remember how to win in each arena or source of temptation. I encourage you to commit this outline below to memory, as well as the Scripture verses listed with each.
World > Faith
There is much to enjoy and envy in this world, and as Christians it might seem like we are missing out on certain pleasures that our non-believing friends often indulge in. But we mustn't worry about the wicked or envy those who do wrong. We must believe, as David did, that "like grass, they soon fade away…The lowly will possess the land and will live in peace and prosperity" (Psalm 37:1, 10).
We can't touch and feel the treasures we are storing up in heaven or see the amazing home Jesus is preparing for us. We have to accept those things by faith. 1 John 5:4b declares, "This is the victory that has overcome the world—even our faith" (NIV). There's an old hymn that powerfully sums up this idea…
Turn your eyes upon Jesus. Look full in his wonderful face. And the things of earth will grow strangely dim in the light of his glory and grace.2
Flesh > Flee
God created us with certain human desires. In and of themselves they are not bad. We enjoy eating food, for example, and (thankfully) that is a good thing. But if we eat too much food too often, then we can become gluttonous, and that is not good. God made sex to be enjoyed within the confines of marriage. But sex outside of marriage is evil and sinful.
No matter how much faith we might have, it won't be enough to overcome the desires of our human nature in heated moments of temptation. 2 Timothy 2:2 says, "Flee the evil desires of youth and pursue righteousness, faith, love and peace, along with those who call on the Lord out of a pure heart." That is exactly what Joseph did when he was tempted by Potiphar's wife. Genesis 39:12 says he tore himself away and ran from her so fast that "he left his cloak in her hand"! We must be wise like Joseph and flee temptations of our flesh.
Devil > Fight
Sometimes, no matter how much faith we have and regardless how willing we are to flee, temptations still manage to find us. I have been in worship services singing the Lord's praises and exhibiting lots of faith in him, when suddenly, an unholy thought has raced across my mind. I wasn't hanging out in some seedy, tempting situation. I wasn't giving "place to the devil," as Ephesians 4:27 warns. I was in church, for crying out loud! Can you relate?
At such unlikely moments and places, it may be Satan or one of his demons directly tempting us to sin. They want to draw us away by our own lust, and they will lie and do everything in their dark power to convince us to give in. Those are the times we must "put up our dukes" and fight.
James 4:7 says, "Submit yourselves therefore to God. Resist the devil, and he will flee from you." The next time you believe you are being tempted by the devil, resist him. Say, "In the name of Jesus, get behind me, Satan." Also be sure to quote Scripture, as Jesus did when he was tempted in the wilderness in Luke 4.
Keep in mind that Satan can't read your thoughts. Therefore, say the words aloud. If you were resisting arrest, you wouldn't only say something inside your mind, would you? You would speak out loud to those opposing you. You would even repeat your words to them if needed, wouldn't you? In the same way, be adamant to resist the devil. He must flee if you truly resist him. Just be sure to resist in the powerful name of Jesus and not in your own (pitiful) strength and name.
<> Praying the Prayer
Take time now to pray for your family and friends. Intercede for them not to fall to temptation and to be delivered from the evil around them. Thank your Savior for showing mercy to you and your family and for not giving you what you really deserve. Allow yourself time to get lost in wonder, love and praise of your awesome God.
<> Living the Prayer
James 4:7 gives an important prerequisite to overcoming the devil. It says we must first submit ourselves to God. Satan can sense if you aren't sincere. You will be powerless to defeat him if your heart isn't completely yielded to God first. Do a heart exam on yourself right now. Better yet, be still before the Lord and ask him to reveal any ill motives or hidden sins. Now, walk through your day aware and on guard against evil and sin.
1 This Present Darkness by Frank Peretti (Westchester, IL: Crossway Books, 1986), 12.
2 Turn Your Eyes Upon Jesus by Helen Howarth Lemmel © Warner Chappell Music, Inc