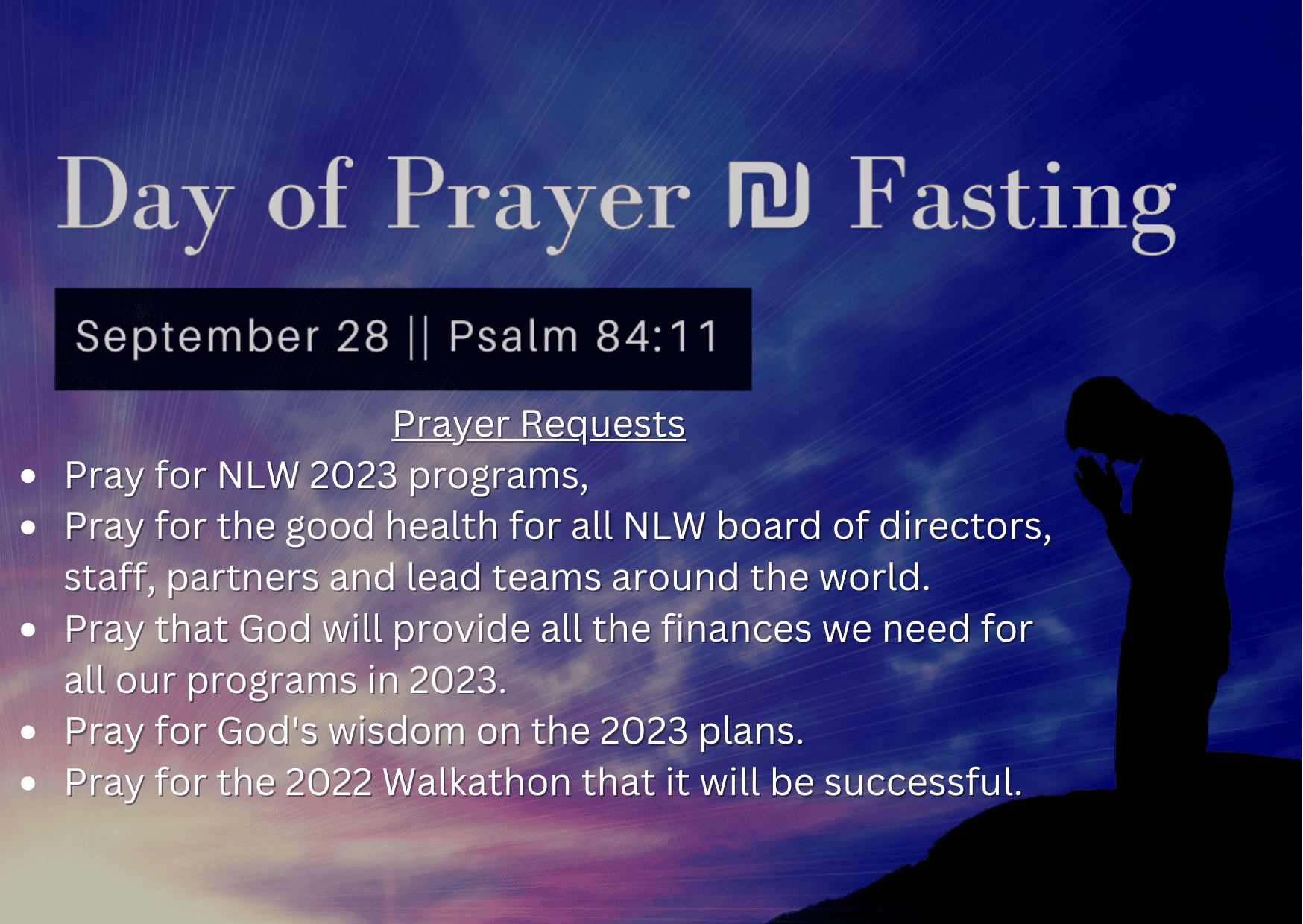 Day of Prayer and Fasting!
Today is a day we've set aside for prayer and fasting at Next Level Worship International. This day is so important as we listen to the Spirit and lay our needs and burdens before Him in prayer and intercession. *Below are some things I am praying specifically for and would covet your prayers over as well…*
Prayer Needs & Concerns
Renewed passion and energy for our NLWI staff & team members from deep within our souls. It's so easy to become weary in well-doing and distracted by lesser things. Like Mary at Jesus' feet, may we each rediscover the one thing worth being concerned about, that will not be taken away from us.
For more people to catch the vision and have the heart for what we are doing in discipling and equipping Christians and church leaders. It's not so hard for people to understand and support evangelizing the lost or helping starving children. But getting them bought in to the idea of making disciples through biblical worship can be a tougher sell. In fact, it's such a challenge for us that we recently hired a firm to help us communicate who we are and what we do. But only the Spirit of God can impress on more people's hearts and minds the life-change and true revival NLW International is bringing to churches and believers in many parts of the world.
For those on our team who have faced serious health issues recently, that God would restore them to complete health and vitality ASAP. Also praying and thrilled for our accountant, Hunter and his wife Shannon, who had their first child this week–Titus Jett Dawson!
For the families of our staff and team. The enemy wants nothing more than to destroy our homes and thus destroy our ministries. May our homes be places of refuge and joy in the midst of the chaos and conflicts of this world. May our children grow to know and love God and worship Him in spirit and truth. May each family be blessed financially with the provisions they need.
For wisdom about which doors to walk through and which countries and regions and also which ministry areas to focus on in 2023. We don't lack opportunities. What we tend to lack are the human and financial resources to support those opportunities well. Sometimes a lack of resources can be a sort of boundary God has laid down for us to prevent us from doing certain things. I want us to move forward in faith to do what He wants us to do. At the same time, I don't want to be foolish to bull ahead in things we are not prepared or able to do yet. Praying for our NLWI Board of Directors and our staff, to discern where we should and what we should be doing next year and beyond.
Sign up to be a Prayer Partner with NLW International