Bring a ReNEW Worship Conference to Your Church!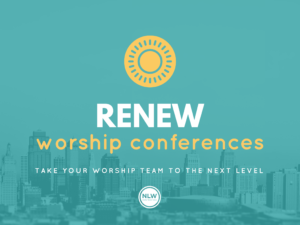 We are so excited to offer you THREE new conferences from Next Level Worship. Today we want to focus on the ReNEW Worship Conference: INSPIRATION for you and your worship team.
ReNEW Worship Conferences are one-day conferences hosted by a local church for worship teams in their area. These conferences are led by the Next Level Worship Team. Your worship team will leave encouraged, challenged and better equipped to lead your congregation in effective, God-honoring worship. Take your team to the next level!
WE COME TO YOU! This conference can be hosted anywhere! The Next Level Team loves traveling to churches everywhere and serving worship teams right where they are. Your job is to host the event and invite as many local worship teams as possible to come!
Are you interested in knowing more? We would love to talk with you! Check out this link for info to download our brochure and submit your request for more information.
To see the other amazing training opportunities that NLW offers, click here.