The Four Anchors of a Worshiper
by John Martin
We are living in some crazy times. COVID-19 has impacted almost every nation and has invaded all areas of life. It has been a turbulent time, but that is life. Life is filled with many storms. Storms of sickness, storms of financial failure, storms of grief. Many different storms that can come at us from all directions and if we are not securely anchored, these storms can overwhelm us and cause us to sink.
Today I want to share with you a story of some sailors who encountered a tremendous storm and, in an effort to save their ship, they cast four anchors into the sea. Sadly, these anchors proved ineffective against the storm and the ship was ultimately lost.
However, on board that ship was the Apostle Paul and as I read it, I became aware that Paul had four anchors as well. These anchors steadied him during the storm. Even though that ship was shaken and battered, Paul was able to stand steady and strong.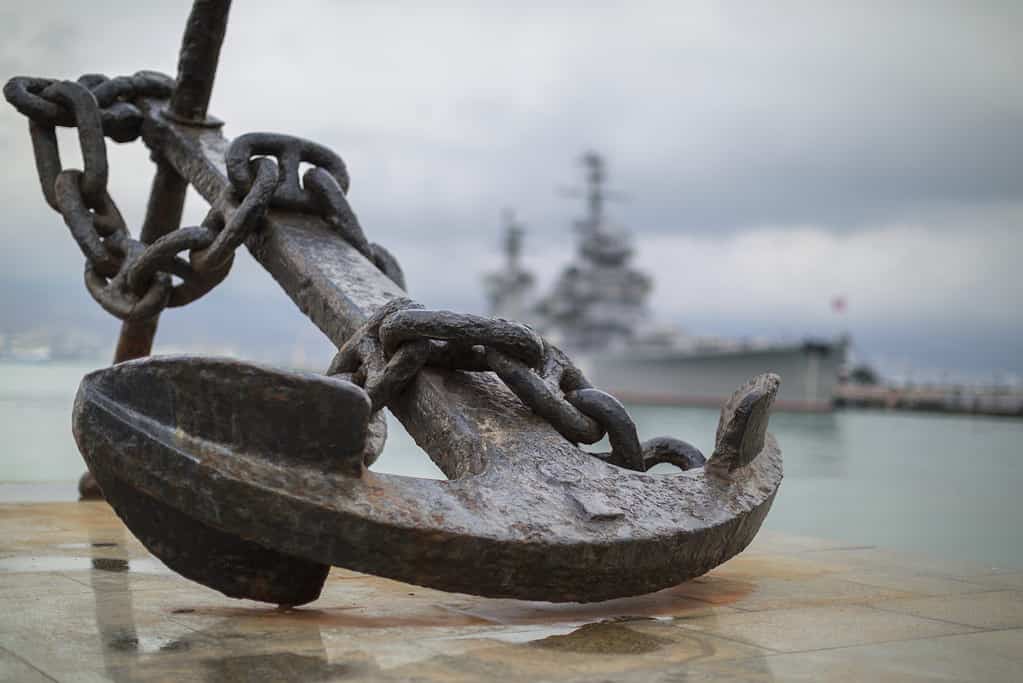 In this article we will examine the story from Acts 27 and I want to show you the four anchors Paul used that can still be used by every worshiper today, as told by Luke.
But soon a tempestuous wind, called the northeaster, struck down from the land. And when the ship was caught and could not face the wind, we gave way to it and were driven along. Running under the lee of a small island called Cauda, we managed with difficulty to secure the ship's boat. After hoisting it up, they used supports to undergird the ship. Then, fearing that they would run aground on the Syrtis, they lowered the gear, and thus they were driven along. Since we were violently storm-tossed, they began the next day to jettison the cargo. And on the third day they threw the ship's tackle overboard with their own hands. When neither sun nor stars appeared for many days, and no small tempest lay on us, all hope of our being saved was at last abandoned. Since they had been without food for a long time, Paul stood up among them and said, "Men, you should have listened to me and not have set sail from Crete and incurred this injury and loss. Yet now I urge you to take heart, for there will be no loss of life among you, but only of the ship. For this very night there stood before me an angel of the God to whom I belong and whom I worship, and he said, 'Do not be afraid, Paul; you must stand before Caesar. And behold, God has granted you all those who sail with you.' So, take heart, men, for I have faith in God that it will be exactly as I have been told. But we must run aground on some island." When the fourteenth night had come, as we were being driven across the Adriatic Sea, about midnight the sailors suspected that they were nearing land. So, they took a sounding and found twenty fathoms. A little farther on they took a sounding again and found fifteen fathoms. And fearing that we might run on the rocks, they let down four anchors from the stern and prayed for day to come. Acts 27:14-29, ESV
THE STRONG ANCHOR OF THE PRESENCE OF GOD (verse 23)
Even during that raging storm, Paul found that he was not alone. The Lord came to him to minister peace to his heart. Regardless of the storm that you may be facing, you can have the same confidence that God will be with you!
Have I not commanded you? Be strong and courageous. Do not be frightened, and do not be dismayed, for the Lord your God is with you wherever you go. Joshua 1:9, ESV
For I am sure that neither death nor life, nor angels nor rulers, nor things present nor things to come, nor powers, nor height nor depth, nor anything else in all creation, will be able to separate us from the love of God in Christ Jesus our Lord. Romans 8:38-39, ESV
If you are facing a storm in your life, hold fast to the anchor of God's presence! He is with you and there is nothing that can separate you from His love!
THE STRONG ANCHOR OF THE PROMISES OF GOD (verses 24-25)
As Paul weathered that long, terrible storm, the Lord came to him with a precious promise. He reminded Paul that he would stand before Caesar, and that all those on the ship were to be spared as well. For Paul, just having a word from God was enough to anchor him and give him blessed assurance. We can trust the promises of God! Let's look at just a few of God's promises to His children:
Deliverance – Psalm 34:19 says, Many are the afflictions of the righteous, but the Lord delivers him out of them all. ESV
Divine Grace – But he said to me, "My grace is sufficient for you, for my power is made perfect in weakness." Therefore, I will boast all the more gladly of my weaknesses, so that the power of Christ may rest upon me. 2 Corinthians 12:9, ESV
Everything is for our Good – And we know that for those who love God all things work together for good, for those who are called according to his purpose. Romans 8:28 ESV
I love the book, Pilgrim's Progress. In one part of the story, Christian, finding the pathway difficult, climbed over a wall to walk in a meadow. Eventually the ground grew soggy and covered with poisonous vines. The sky became black and Christian spent the night huddled at the foot of an oak tree, caught in a downpour. Next morning, Giant Despair came upon him, captured him, beat him, and imprisoned him in the dungeon of Doubting Castle. Christian tried to sing but could not. His mood was dungeon dark. Giant Despair beat him mercilessly and he grew weaker each day. At length he found in his cell a rope, a knife, and a bottle of poison, the tools of suicide, and for a moment he was tempted to end his misery.
But one evening about midnight he began to pray, and …… a little before day, good Christian, as one half-amazed, brake out into this passionate speech: What a fool am I, thus to lie in a stinking dungeon, when I may as well walk at liberty! I have a key in my bosom, called Promise, that will, I am sure, open any lock in Doubting Castle."
It did. Using the key of God's promises, Christian escaped, never again to fall into the clutches of Giant Despair or Doubting Castle.)
The promises of God are a strong anchor amid life's storms!
THE STRONG ANCHOR OF THE PROVIDENCE OF GOD (verse 24)
Paul is told by the Lord that this storm is a part of God working out His plan in Paul's life. At that moment in time, that storm was the safest place in the world for Paul to be! Why? Because he was in the will of the Lord and God was working in a mighty way in the situation to bring about His will for Paul's life and would provide his every need.
Emperor Charles V was trying to assassinate John Brenz, friend of Martin Luther. Hearing of the plot, Brenz barely had time to grab a loaf of bread and duck into his neighbor's hayloft. There he hid fourteen days. The bread was quickly gone, but the Lord sent a hen who showed up and laid an egg each day for fourteen days. In this way, Brenz was kept alive. On the fifteenth day the chicken didn't come, and the reformer wondered what he would do. But from the street below came the cries, "The cavalrymen are gone at last."
In a similar way, a dog provided for the needs of another reformer, John Craig, who was arrested during the Inquisition. On the eve of his scheduled execution, Craig escaped, but while fleeing through the Italian backcountry, he ran out of food and money. Suddenly a dog approached him, a purse in its mouth. Craig tried to drive the animal away, but the dog persisted in bringing the purse to Craig. In it was enough money to take him to freedom.
Similarly, Robert Bruce of Scotland was running for his life, fleeing persecutors. He ducked into a small cave, and a spider immediately appeared and spun a web over the opening. Bruce's pursuers fanned across the landscape, knowing he was near. Two of them approached the cave and one of the men started to go in. The other one stopped him, saying, "He could never have gotten in there without breaking that spider's web." Bruce breathed this prayer, "O God, I thank Thee that in the tiny bowels of a spider you can place for me a shelter."
Regardless of your storm, hold to the anchor that God will provide!
THE STRONG ANCHOR OF THE PERFORMANCE OF GOD (verse 44)
The soldiers' plan was to kill the prisoners, lest any should swim away and escape. But the centurion, wishing to save Paul, kept them from carrying out their plan. He ordered those who could swim to jump overboard first and make for the land, and the rest on planks or on pieces of the ship. And so, it was that all were brought safely to land. Acts 27:42-44, ESV
What the Lord told Paul, and what Paul believed would happen came to pass: everyone made it safely to the shore. God kept His Word! He spared every life and proved Himself to be as good as His Word!
God can work it all out! He will get you through your storm and land you safely beyond it! Corrie Ten Boom said it this way, "When Jesus takes your hand, He keeps you tight. When Jesus keeps you tight, He leads you through your whole life. When Jesus leads you through your life, He brings you safely home."
I want to remind you that our God is a strong and powerful God. He can do anything that needs to be done and He didn't save you to lose His grip on you in a storm. No! He saved you to take you home to glory and that is just what He will do!
Have you set your anchors deep? If you have, then you can weather life's storms