Staff Spotlight – Mike Sooy
US Events Coordinator for Next Level Worship International

Worship Pastor at Old Fort Church in Old Fort, Ohio
By Savannah Cone
Does the phrase "more than music" captivate you? It is this mantra that drew a passionate worship pastor from Old Fort, Ohio to be a part of the NLWI team. For 23 years Mike has served Old Fort Church as their worship pastor. Many times, he has been challenged to consider the meaning of worship, and when he was introduced to NLWI, he was greatly encouraged. Before joining the NLWI staff in 2021, Mike sponsored a worshiper in Kenya, participated in Dwayne Moore's coaching program, and attended several local NLWI events. Mike is a valuable NLWI team member and a loyal worship pastor with a spontaneous leadership style.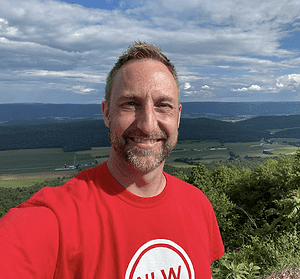 Mike's role with NLWI
Mike serves NLWI as the United States Events Coordinator. Mike is primarily responsible for planning and organizing most NLWI US events. One of his favorite events to host is the annual Walkathon held in October. Because of his passion for taking worship to the next level, he is eager to raise awareness for the cause. Some of his most memorable moments with NLWI involve getting connected with people around the world. "The world has become smaller to me because of these global connections." He has been surprised to learn how people across the ocean from him have many similarities with his life. Mike is extremely passionate about the sponsorship program NLWI offers because of powerful relationship building opportunity it provides. In his words, "We were supposed to have a 6 month mentorship, but it has turned into a forever friendship." Mike believes sponsorship is an "iron-sharpening-iron" opportunity, and encourages every worship leader to consider this truly rewarding endeavor.
A loyal worship pastor
Fresh out of college, Mike landed his first worship pastorate at Old Fort Church, and to this day he loyally serves in his same position. He believes his longevity of service at OFC is the backbone to his successful worship ministry. Over these 23 years he has built credibility with his people and created solid relationships. Some of his most rewarding moments in ministry come from seeing generational discipleship. Years ago, Mike was able to encourage and train a very timid guitarist. Soon after, a similar guitar player joined the team and he watched this guy disciple and train the new guy. And yet again, another timid guitar play came along, and Mike watched this newly trained player encourage him. "To see generational discipleship unfold has been a blessing." Mike truly enjoys walking with people on their journey with Christ, and remains loyal to those whom he cares for.
A spontaneous leader
Along with Mike's loyal leadership, also comes his spontaneous leadership. Mike leads with spontaneity both in spirituality and musicality. He encourages every leader, spontaneous or not, to be well-studied in the Word. Mike finds it is most effective to spiritually lead his team by having spontaneous moments of teaching. For him, it may be a song lyric, phrase, or musical nuance that is a teaching moment for him and his team. These moments are possible though, only because he is well-studied each week before rehearsal as well. In his words, "The more you as a leader know, the more you can pour into your team."
Mike believes the best way to train lay-musicians is to touch base with them regularly. Often, he will be on the lookout for tutorials or resources to help his team succeed both as individuals and as a group. He listens to his team's concerns and thoughts during their weekly rehearsals. Because of his spontaneous leadership style, Mike is comfortable with last minute changes and encourages his team to voice their thoughts.
Next Level Worship International is honored to have Mike on the team.
Bio:
Mike Sooy currently serves as the worship pastor at Old Fort Church in Old Fort, Ohio and the US Events Coordinator with NLWI. He earned a Bachelor of Music in worship arts from Heidelberg University. Mike enjoys spending time with his wife and two kids, watching a good movie and being involved with local community theater.