The following is an excerpt from the Worship Ministry Manual, written by Dwayne Moore for his church's worship team.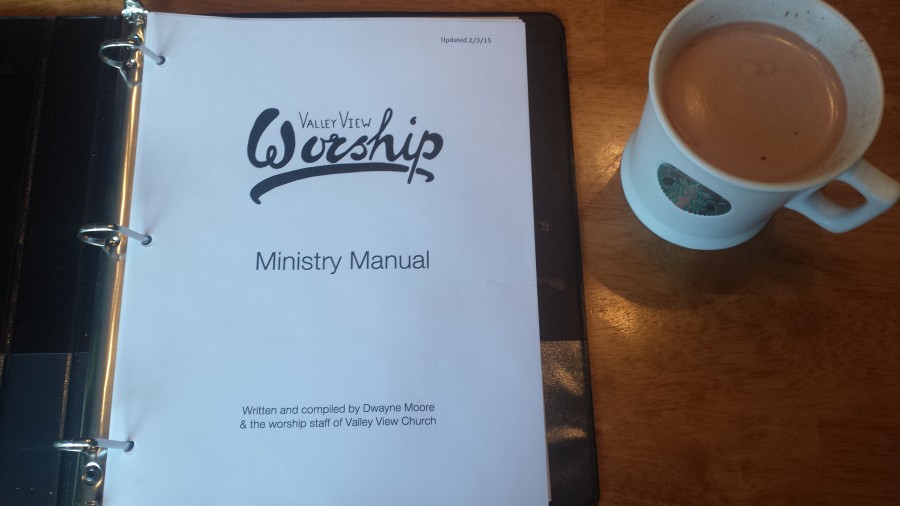 TEAM VISION
Create excellent, distraction-free experiences that enhance encounters with God during Sunday services.
TEAM ROLE
We serve diligently behind the scenes to support our teams and pastors who serve on stage in ANY capacity of song, message, or video. With our serving, guests are able to hear the truths of God's Word and experience God in a unified worship environment, whether present or via Livestream.
Preparing the elements. We serve to create a unified worship experience through technical elements. In placing Scripture or song lyrics on the screens, seamlessly transitioning to a countdown, or even changing the atmosphere with lighting, we enable our guests to encounter and grow with God. Technical elements in place which produce spiritual results.
Creating the environment. We have the honor of enhancing the Spirit-filled environment of worship in our church through sound, lighting, and general atmosphere. We are charged to protect this environment, keeping it distraction-free, while maintaining a spirit of excellence and authenticity.
TEAM RESPONSIBILITIES
Prepare in Prayer. Pray God's heart for His people each and every time you serve. Ask God to move in a special way — to personally touch hearts and heal wounds and bring His lost children home. Pray for the specific, personal moment of intimacy with Jesus that would forever change people's lives.
Serve when scheduled and contact our tech director when you need a replacement. Communication is crucial for building community and carrying out effective ministry, so please let us know your availability to serve.
Be on time and check-in. Once you arrive make sure someone knows that you are here to serve.
Remain positioned. Be in your assigned position before the 5-minute countdown begins. Once we are in position, we serve throughout the entire service, facilitating every aspect of the audio and visual needs.
Remain attentive. Even if you do not have an immediate responsibility, please remain quiet and attentive. Remember that life change could be happening 5 feet from where you are positioned and we never want to distract from what God is doing.
Serve with heart, commitment, and excellence. We want you serving in your gifts and passions; in ministry that is an overflow of love and enjoyable to you. If this ministry is not a fit, if you would like to investigate a new ministry team, or if you need a break from serving for a season, do not hesitate to let us know. This is one reason we are here–to walk through life with you!
Follow your checklist carefully. Please honor the system we have put together for you. Most guys (and some gals) don't like reading and following directions, but in order to maintain an outcome that's consistent from week to week, it's necessary that everyone do the same things. Be sure to complete your checklist and turn it in each week to a tech director.
Smile and be happy. You are serving the Risen King and His Church! "For the ministry of this service is not only supplying the needs of the saints but is also overflowing in many thanksgivings to God" (2 Corinthians 9:12 ESV).
PLANNING CENTER
Planning Center Online (planningcenteronline.com) is our one source of information regarding scheduling, service flow, communication between team members, and service times and information. You have access to this via web browsers and mobile devices.
At our church, we do not ask that you serve on a team every Sunday or Wednesday, but we do ask that when you receive the invite from Planning Center Online to serve that you please respond in a timely manner so that we can ensure every position is filled for the service.