Bring Back the Awe
Ever had a "kairos" moment–you know, one of those moments when time seems to stand still? The ancient Greeks had two words for time: chronos and kairos. Chronos time is sequential time, basically the ticking of the clock. Time passes with nothing especially memorable or extraordinary happening. But kairos time is when time seems to slow down and you're aware of every nanosecond. Those are the times you don't easily forget.
I had one of those kairos moments back when I was in college. I thought I'd done fairly well on a mid-term paper; but instead, I only got a D, and the professor told me I deserved an F! As I sat in his office hearing those words I was in shock. Needless to say I was upset and disappointed. My roommate tried to cheer me up by offering to buy my dinner. (Eating can be a great antidote to frustration!) But even food didn't console me. My wise friend, no doubt weary of listening to me complain, said, "Let's pray about it." Honestly, praying was the last thing I wanted to do. I was too busy feeling sorry for myself. However, because I knew he was trying to help me, I reluctantly went along with his idea.

We went back to the campus, parked our car and walked out to a grassy knoll beside the football field. I assumed we'd do the typical group prayer thing, where he would pray for a few minutes, I would pray, and then we'd say "amen" and leave. But God had other plans for us that night.
Almost instinctively we lay down on our backs. We didn't talk. We didn't look at each other. We just stared up at the sky. To this day, I can vividly recall hearing the wind roar through the pines behind us and watching the huge, purple-tinted clouds rush past us over our heads. The scene was mesmerizing. I can't really put into words what I was experiencing at that moment, and I don't know how long we were there.

I remember us running all the way back to our dorm room. When we plopped down on our beds, my friend looked at me and said, "When we were out there, what were you thinking?" I said, "Jimmy, the only thing that kept going through my mind was, 'Be still and know that I am God.'" I'll never forget the look on his face when he said, "That's exactly what was I thinking the whole time too!" I'm not being overdramatic when I say that experience changed my life. It completely transformed my perspective. I could no longer focus on me and my petty problems. My heart and mind had been utterly and completely captured by the love and greatness of the Lord. In a word, I became in awe of God.

My hope is that you too will be amazed in His presence. There is nothing more vital and formative in our lives than knowing and worshiping our Creator and Savior.

So, let me ask you a question. Have you ever been in awe of God? That's an important question, for worship begins with awe.
The awe of God motivates us to worship…
The people who witnessed Jesus healing a paralyzed man were awe-struck, which led them to praise: "Everyone was amazed and gave praise to God. They were filled with awe and said, 'We have seen remarkable things today'" (Luke 5:26 NIV). Another example of awe leading to worship is when Jesus raised a widow's son from the dead. Luke 7:16 says the people who saw it "were all filled with awe and praised God. 'A great prophet has appeared among us,' they said. 'God has come to help his people'" (NIV). Gill's Exposition of the Entire Bible explains the kind of fear those on-lookers experienced: "There came a fear on all…Not a fear of dread, and terror, and of punishment…but a fear and reverence of the divine majesty."

There can be no true worship without awe…

Hebrews 12:28 urges, "Therefore let us be grateful for receiving a kingdom that cannot be shaken, and thus let us offer to God acceptable worship, with reverence and awe" (ESV). The New Living Translation puts it like this:
"Since we are receiving a Kingdom that is unshakable, let us be thankful and please God by worshiping him with holy fear and awe."
His greatness and great deeds should put us in awe…
The revelation of how God intervened for His people made the prophet Habakkuk tremble. It literally put him in awe. Habakkuk responded, "I have heard all about you, LORD. I am filled with awe by your amazing works. In this time of our deep need, help us again as you did in years gone by. And in your anger, remember your mercy" (Habakkuk 3:2).
God wants us to live in awe…

Psalm 33:8 proclaims, "Let all the earth fear the LORD; let all the inhabitants of the world stand in awe of him!" (ESV). Speaking of the character of a true priest in Malachi 2:5, God said, "My covenant with him was one of life and peace, and I gave them to him. It was a covenant of fear, and he feared me. He stood in awe of my name" (ESV). In both these passages the idea of standing in awe implies something more than a one-time event, but rather a life-style of reverence and worship. God has established a "covenant of fear" with us, and He gives us all the grace we need to live each moment in awe.
When I think of people in the Bible who lived in constant amazement of God's glory and character, I think of David. David grew up tending sheep, which means he probably spent lots of lonely hours out under the stars. Below are some excerpts from psalms David wrote. No doubt those star-gazing nights helped inspire these powerful lyrics. As you read them, highlight any references to God's greatness or His character.
The heavens proclaim the glory of God. The skies display his craftsmanship. Day after day they continue to speak; night after night they make him known. They speak without a sound or word; their voice is never heard. Yet their message has gone throughout the earth, and their words to all the world. —Psalm 19:1-4
O LORD, our Lord, your majestic name fills the earth! Your glory is higher than the heavens. You have taught children and infants to tell of your strength, silencing your enemies and all who oppose you. When I look at the night sky and see the work of your fingers—the moon and the stars you set in place—what are mere mortals that you should think about them, human beings that you should care for them? —Psalm 8:1-4
You faithfully answer our prayers with awesome deeds, O God our savior. You are the hope of everyone on earth, even those who sail on distant seas. You formed the mountains by your power and armed yourself with mighty strength. You quieted the raging oceans with their pounding waves and silenced the shouting of the nations. Those who live at the ends of the earth stand in awe of your wonders. From where the sun rises to where it sets, you inspire shouts of joy. —Psalm 65:5-8
"Let each generation tell its children of your mighty acts; let them proclaim your power. I will meditate on your majestic, glorious splendor and your wonderful miracles. Your awe-inspiring deeds will be on every tongue; I will proclaim your greatness. —Psalm 145:3-6
---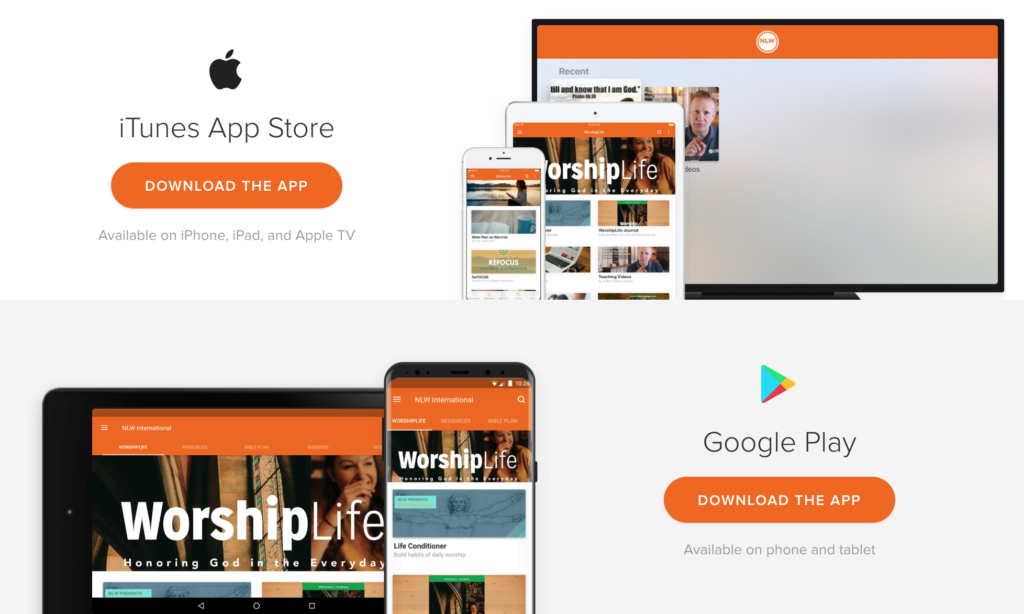 WE'VE GOT A NEW APP!!
This app is packed with powerful content and resources to help you grow and stay connected with our NLW community. Check out via Google Play or the App store!