4 Goals Every Worship Gathering Should Accomplish (Repost)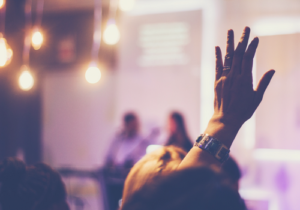 Reprinted from Week 7 of Pure Praise.
Every time we come together to worship our Lord on Sundays (as well as at other times), there are four goals our worship gatherings should meet. While we have quite a bit of freedom in how we go about accomplishing each goal, the goals themselves are not optional and not subject to change. They remain consistent and of utmost importance.
The first goal should describe everything from the opening song to the closing prayer. Every element in our services should exalt the Lord. It was Jesus who was lifted up on the cross. Thus, He earned the right to be lifted up in our praise because He paid the ultimate cost.
Our services should, therefore, be carefully evaluated to assure that the choir, soloists and musicians all seek to point the attention away from themselves and toward the Name above every name. Visual elements like videos and dramatic skits are tremendous tools as long as they add to the theme and the ultimate direction of the service: that of pointing people to Jesus.
The second goal for every worship gathering is to exhort the lambs. The music and the other elements should involve some moments that deliberately encourage and challenge others in God's family. 1 Thessalonians 5:11 says, "Encourage one another and build each other up." After walking through this world during our work or school week, everyone of us as believers could stand some revitalizing and encouraging by being with God's people in God's presence. That's why we should look around every Sunday for someone we can brighten with our smile and our joyful song!
The third goal is to evangelize the lost. That is not to say that every song and testimony and announcement has to be aimed straight at non-believers. No, we've just seen how that every service should include elements specifically designed to exhort and encourage believers. However, we cannot and dare not ignore those who need our Lord so desparately. Afterall, it is for them that we have been left on this earth. We are to "show forth the praise of Him who called us." (1 Peter 2:9) What better time to show forth His praises to them than during our worship and praise gatherings? Our prayer and intention should always be that many will "see our praise and fear and trust in the Lord." (Psalm 40:3)
The final goal of every worship gathering is to engage the listeners. What we do should be interesting to those in the audience. Whatever we do should be done with excellence. God deserves no less than our best and so does the congregation! While it is not our responsibility as worship leaders to entertain them, it is most certainly our responsibility to offer them plenty of reason to want to listen, watch and participate.
When we sit down to plan the elements and flow for each week's services, we should first pray and ask God to help us plan for and reach these goals. Then, before we finalize any worship order we should carefully think through that order in our minds, asking ourselves, "Will this worship set meet all four goals?" We should never be satisfied with what we've scheduled until we can say a resounding yes! to that all-important question.
To learn more about Biblical worship, check out Pure Praise: A Heart-Focused Bible Study on Worship. You can read it as an individual, or you can walk through it with your entire worship team or small group!