How to Be Spirit-led while Time-restrained in Worship (Podcast)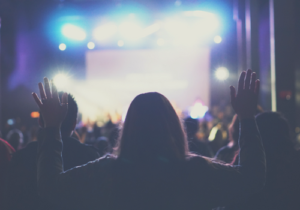 The topic of how much structure we should have in our worship gatherings is often on the mind of worship leaders. A few weeks ago at one of our Worship Leader Lunches, a worship pastor from a large congregation said to me, "Dwayne, how do we maintain being Spirit-led when we are so restrained by time and technology?" Well, I certainly don't have all the answers to that question. However, I do have some thoughts that might help us with this healthy tension of planning vs. spontaneity.
How do we reconcile 1 Corinthians 14:33, "God is not the author of confusion," with 1 Thessalonians 5:19,"Quench not the Spirit"? I believe those two verses can come together quite tastefully, especially when we as God's chosen people come together to praise Him.
[perfectpullquote align="right" cite="" link="" color="" class="" size=""]A well written, pre-planned "Order of Worship" is like one of those popcorn buckets at dollar stores.[/perfectpullquote]
For the past several years, I've had the privilege of putting together the tech schedule for the Strength to Stand Student Conference in Pigeon Forge, TN. It's 15 pages long! I can say with no hesitation that of the thousands of programs and services I've planned over the years, planning this conferences' schedule is by far the most difficult (but also one of the most rewarding)! Scott Dawson and his team lead this amazing student conference that has grown now to close to 10,000 students each January. I actually helped Scott start this conference and led worship at it for several years.
Just imagine 10,000 students spread out in 4 different venues (theatres) across Pigeon Forge. Then try to imagine a total of 8 groups of students, 2 at each venue, meeting back to back. One group of 1500 finishes then another group comes in 15 minutes later! On top of that, our speakers and concert artists move around from venue to venue to minister to all 8 groups! Talk about a logistical nightmare. A person can get dizzy-headed just thinking about it!
Normally everything runs like a well-oiled machine. However, there was that one time when it looked like things were about to go off the rails. Mid-way through the conference I was informed by the conference director of a serious problem. As it turned out, the tech crew of 70+ people had mistakenly been given the wrong schedule, and it didn't coincide with the schedule the students and their leaders had been given. We had Casting Crowns coming in that afternoon for sound checks, but now the times we had scheduled for them to set up was wrong. As the reality of this unwelcome news set in on me, I could just imagine those students arriving before Casting Crowns was even finished sound checking!
The only thing I knew to do was get away by myself and pray. I had to have time to rethink the schedule and see what we might do to salvage this potential fiasco. Well, long story short, the Lord showed me a way to rework the schedule so that it was better than I had originally planned it. In fact, the reworked schedule allowed extra time for the invitation that evening. Over 250 students came forward trusting Christ as Savior, and the students never knew we ever had an issue. Isn't that just like our God?
I share that story to emphasize that both planning and spontaneity are vital. It's necessary to plan and structure the events of the service in advance, so every element – every song, testimony, video, etc. – is carefully prepared and thought through. We should ask questions like, "Will this particular song add to the flow and theme of the service we're planning?" We should also plan out as many distractions as we can possibly foresee. And we need to clearly communicate our plans. Clear communication helps keep down confusion, which we know God doesn't like or want.
Services are ours to plan…
I like to think of a well written, pre-planned "Order of Worship" as one of those popcorn buckets you can buy at dollar stores. They go straight into the microwave. Maybe you've purchased one before. So, what's the purpose of the bucket? People don't buy it so they can enjoy the bucket. No, we only buy the bucket for the popcorn that's inside it. In the same way, we shouldn't be so focused on getting every detail of the order correct that we miss the reason for the order of worship, which is to worship the Lord.
Think about the container itself: The bucket provides the structure that the un-popped popcorn needs. The walls of the bucket give it direction as it pops. However, when things "get popping" inside that tub, the tub doesn't restrict the popcorn. Rather, it allows that wonderful smelling stuff (especially if it's buttered!) to come bubbling right out of its top!
Do you see the parallel? When all the necessary planning and preparation have been done, we're ready for the actual worship event. When God begins to move in people's hearts and lives during that service (i.e., when things "get popping," if you will) our planning and structure should simply act as the sidewalls of a popcorn bucket. In other words, the pre-planned structure of a service should serve to do no more than direct our spontaneous and sweet-smelling praise toward the nostrils of our King!
But they're God's to control…
To state it more briefly, we should put all the necessary ingredients in ahead of time, then turn on the "oven" (of prayer and praise) and get out of the way! No telling what God will do if we will entrust the service, His service, to Him. As one of Scott Dawson's senior staff members said to me recently: "Dwayne, if God wants to bust out of our schedule and lead us in another direction, that's His call. He's in charge of it all anyway."
[perfectpullquote align="right" cite="" link="" color="" class="" size=""]If God wants to bust out of our schedule and lead us in another direction, that's His call.[/perfectpullquote]
I believe that when we approach our worship planning with that kind of humility and surrendered attitude, our awesome God can trust us and help us plan services in advance in just the way He wants them. He can even work within our tight time frames if He needs to! After all, He's God, and it only takes Him a minute to radically change a heart.
So how much structure should we have in our worship gatherings? Here's a simple rule-of-thumb we can apply as we sit down each week to plan services: First, second and third, we should pray. And then, we should only add as much structure to a worship service as is helpful and absolutely needed.
Want to LISTEN to this article? Go to our Podcast page to hear it!
Need help in your development from a leader to a pastor? Check out the upcoming Online Worship Leader Course and don't forget about the ReFOCUS Worship Conference! You can register for both today!
Podcast: Play in new window | Download | Embed