See below image for more information and how to register.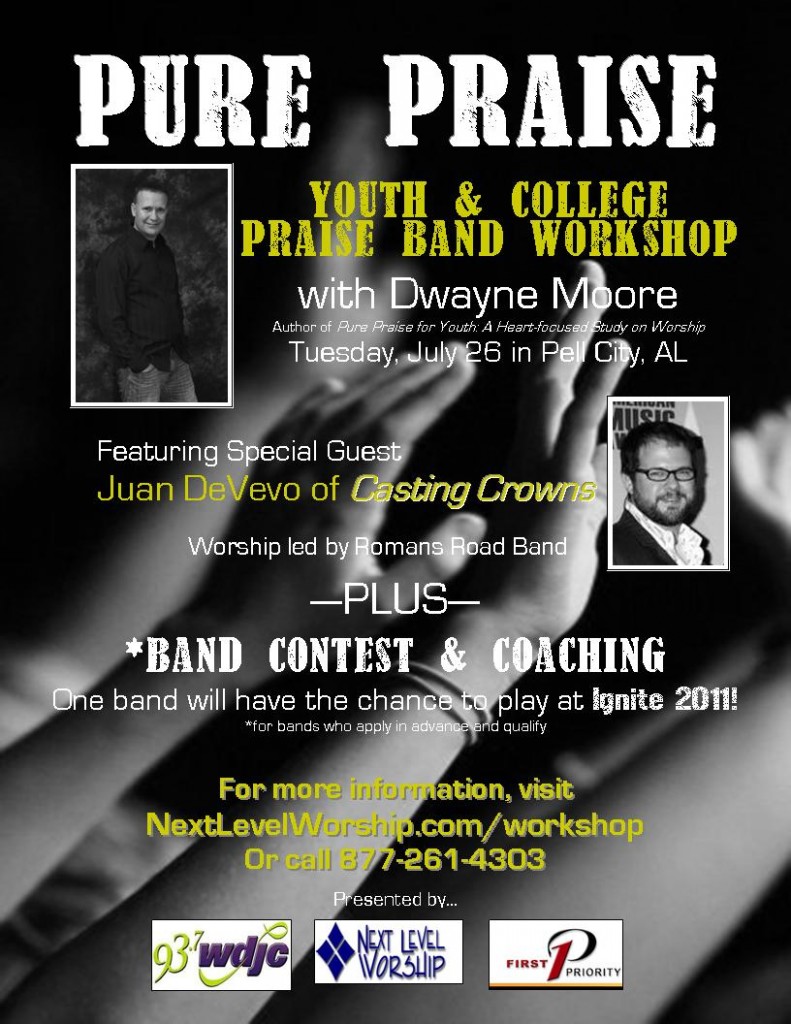 Video Trailor
Overview
Date & Location
Tuesday, July 26, 2011
New Hope Baptist Church, Pell City, AL (Click here to map)
Schedule
9:00–2:30 Workshop with Dwayne & Juan (lunch provided)
NOTE: Leaders will eat lunch with Juan & Dwayne to Q&A about how to form and build a praise band.
3:00–6:30 Band Contest & Coaching
Workshop Topics
Lifestyle Worship and Expressive Praise

Becoming Ministers through Music

Leading Worship Both On and Off Stage

Essentials Qualities and Goals When Leading Worship

Going Deep with God and Staying Faithful Where He Plants You
About
During this fun and interactive workshop, students will have the opportunity to interact with other praise bands and artists. Students will see first hand what a true heart of worship looks like.
After the powerful time of teaching and small group interaction, the day will cap off with a band contest and coaching time. Bands must pre-qualify to get to play. But even if your group doesn't actually play, they will still want to watch and learn as the panel of coaches gives their helpful feedback to each competing band.
This is one day you don't want to miss!
Students will leave fired up, heart-focused and ready to minister!
Register
Cost per church is $250.
Registering as a church or group allows you to bring an unlimited number of students.
Early Bird Special is $225 (if you register by May 31).
Click this button to register your group.
Cost per individual is $49.95.
Register as individuals if you are NOT coming as a large group.
Early Bird Special is $44.95 per person (if you register by May 31).
Click this button to register as individuals.
If you have any questions about registering, please email us at office [at] nextlevelworship.com.
Contest
Up to 10 youth and college-aged praise bands who attend the workshop with Dwayne will also have the chance to receive some great coaching from top experts in worship bands–including Juan DeVevo of Casting Crowns!
And one of the competing bands will have the opportunity to play at Ignite 2011, a large festival in August in Pell City!
Speakers
Dwayne Moore
Students will be taught by Dwayne Moore, a leading author and instructor on worship. Dwayne is the author of Pure Praise for Youth: A Heart-focused Bible Study on Worship. He recently recorded a video teaching series on worship with Mark Hall, Casting Crowns' lead singer.
Of Dwayne, Mark Hall said, "He has a desire to see the body of Christ truly understand what it means to honor God with our worship and let our lifesongs sing to God in spirit and in truth."

Juan DeVevo
Juan is the lead guitarist for the Grammy-award winning group, Casting Crowns. He is also the youth praise teams director at Eagles Landing First Baptist Church in McDonough, GA. Eagles Landing is home to Casting Crowns. Juan has years of experience leading worship and teaching students how to lead worship. He knows how to build and grow strong and effective youth worship bands.
Worship during the workshop will be led by Romans Road from McDonough, GA.
Sponsors
.
.
Special Thanks to Our Host Church…
New Hope Baptist Church of Pell City
Paul Brasher, pastor