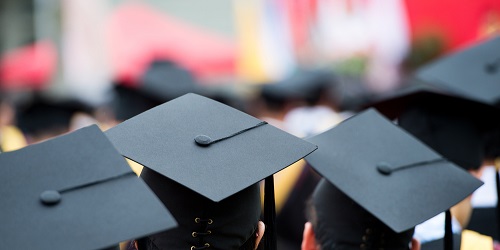 Friendly Advice for Graduating Seniors from the NLW Staff
A huge congratulations to you for staying the course and finishing high school or college! To honor your great accomplishment, here is some hard-earned wisdom for you from our staff at NLW International…
From Dwayne, our Founder and Pres:
1. When I was still a young teenager, I remember a pastor trying to help prepare me for college. He said, "Dwayne, you're going to be introduced to a lot of new ideas and philosophies in the future. Take in whatever you hear and chew on it a while. If it tastes good to you, swallow it. If not, spit it out." As simplistic as that may sound, its wisdom has been a profound help to me in school and beyond.
2. Growing up I always admired my sister and her success and drive in business. Riding down the road one day she said to me, "If you want to be successful, find a need and fill it. That's the secret." I'll never forget that lesson. It has proven to be true in many areas of life.
3. My bags were packed and loaded into the car. In less than an hour I would leave for my first day as a freshman in college. Walking around my front yard I prayed and asked God what was the most important thing He wanted me to do at school. I'll never forget His response: "Make time for me every day. Prioritize time with me every morning, no matter how busy you become." By His grace, I did just that, and it made all the difference in my attitude and growth in school (and in life).
4. I'd always seen my parents work hard, and they insisted on that same work ethic in their children. But as I got older a new saying starting making its rounds. "Work smart" began to compete with and take the place of working hard. This upgraded philosophy made sense and was certainly more appealing. Nonetheless, it didn't take me long to realize there's no such thing as an easy ride. We must work smart AND work hard. There are no short-cuts to true success.
5. Winston Churchill is famous for saying, "Never give in, never give in…" I would tweak that a bit and say, "Never give up." My model for such tenacity of spirit is Christ Himself. Hebrews 12:2 says He "endured the cross, despising the shame." Paul's advice should ring loudly in our ears: "Let us not grow weary of doing good, for in due season we will reap, if we do not give up" (Galatians 6:9). Toward the end of his life Paul wrote, "I have fought the good fight, I have finished the race, and I have remained faithful." May that be the goal of every follower of Jesus.
From Dawn, our Director of Community Development:
When I graduated from high school, I was confident I had a bright future in ministry. Over a decade and two kids later, I found myself trying to revive my ancient dreams from where I left them after high school. Back then, I remember being disappointed in myself because I didn't quite conquer the world like I had envisioned. But I didn't let the shame of my unachieved goals stop me from going back to school to earn my undergraduate degree in music ministry at 29 years old. Why? Because after I graduated from high school, I received some of the best advice anyone has ever received: Never run from God; always run to Him.
While that statement may seem too common to store like a cherished treasure for 20 years, those words have guided me through unanticipated twists and turns in my journey of faith and given me hope that God had a purpose for me even when I was incapable of completing short-term tasks. With time, experience, triumphs, disappointments… but solely God's guidance, I realized my purpose was never to accomplish my plans, no matter how Christ-like they seemed. My purpose is to become more like Christ which only happens slowly and gradually with each step I take towards Him. So, I will give you the best advice anyone has ever given me: Never run from God; always run to Him. It seems simple; living it out is much more difficult and worth every complicated step of faith.
From John, our Director of Ministries:
At this time of year our attention turns to graduation ceremonies and we honor those graduates in our lives and hopefully offer them a few pearls of wisdom as they launch out into life. This morning I am thinking about a quote from a commencement speech given by Dr. Seuss: "You have brains in your head. You have feet in your shoes. You can steer yourself in any direction you choose. You're on your own. And you know what you know. You are the guy who'll decide where to go." While I will say that the gist of what this great philosopher said is true (we do have brains, we are able to plot our course and we do decide where it is we go), in my humble opinion it is not the best words of advice and definitely not what I would consider "pearls of wisdom". Trust me, I have been that guy.
In my life (oh wow! I just realized it has been 32 years since my high school graduation) I have tried to rely on my brains as my understanding of things as I plot my course and choose for myself where I will go and what I will do. Sometimes I have decided where to go with disastrous results. So, if I could offer any advice to the current graduating class, then I will quote another great author and philosopher:Trust in the Lord with all your heart; do not depend on your own understanding. Seek his will in all you do, and he will show you which path to take. Don't be impressed with your own wisdom. Instead, fear the Lord and turn away from evil (Proverbs 3:5-7, NLT).
The author of this proverb seems to be at odds with Dr. Seuss. Instead of relying on our own brain power and choosing our own direction, the proverb teaches us to trust God and let Him direct us in the path we take and the choices we make. Having lived a life where I have at various times followed both of these advisors, I must say without hesitation that in the times when I allowed the brain in my head and the feet in my shoes to steer me in the direction I would choose, it has typically led me in the wrong direction and with less than stellar results. But when I have simply trusted God and followed the path He has shown me, then I have been blessed and much more content with where I am in life.
Whether you are graduating from high school or college, you stand at the start of a new journey in your life filled with many paths of opportunities and adventures. God has blessed you with a brain in your head and feet in your shoes. He has given you the gift of freewill so that you can go in any direction that you may choose. With the education you've received, you know what you know and as Dr. Seuss said you are the person who will decide where to go. But I encourage you and pray that you will heed the wisdom of the proverb and simply trust God with all your heart. Realize that you don't know everything, and you can't always see the big picture. But know that even in the times when you can't understand all that is going on around you, if you trust God then He will always show you the best and right path to take.
---