Family Devotion on Meaning of Whole-life Worship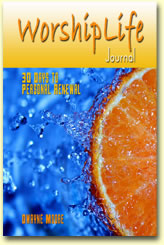 This devotion works great with your family! Do it tonight! This devotion is excerpted from the WorshipLife Journal by Dwayne Moore. The WorshipLife Journal contains 5 weekly family devotions along with 30 personal devotions!
.
.
.
.
.
What Is Worship?
Family Worship Time
Say this week's memory verse together: You shall love the Lord your God with all your heart, with all your soul, and with all your strength.–Deuteronomy 6:5 (NKJ)
Have everyone say this together: Worshiping God means loving God.
Say: We worship God when we show him we love him by what we think (point at your head), by what we say (point at your mouth), and by what we do (extend your hands).
Ask: How can we worship God–from a heart that loves him and wants to obey him or from a heart that doesn't love God and is full of sin?