An Asaph Generation of Worship Leaders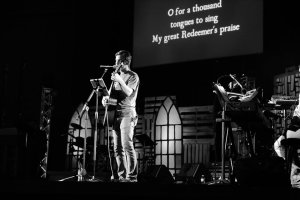 We recently started a unique and needed community for worship leaders. We call it the Asaph Generation (AsaphGeneration.com). Why the name "Asaph Generation," you might ask? Simply put, we want to be part of a generation of worship leaders who leave a godly legacy in worship ministry–like Asaph did!
The Asaph Generation is an exclusive community committed to 1) whole-life worship of God, 2) musical excellence, and 3) investing our lives in others. These three qualities really define Asaph's life…
1. Asaph was a worshiper. Read any of the twelve psalms he was credited for writing (Psalm 50 and 73-83), and you'll immediately know that Asaph (pronounced "aw-sawf') was a passionate worshiper of God, who was growing in his relationship with God. He wasn't perfect, but he really wanted to please the Lord.
Passages like the following help us see how well Asaph "got" worship:
"But giving thanks is a sacrifice that truly honors me. If you keep to my path, I will reveal to you the salvation of God" (Psalm 50:23. NLT).
"But as for me, how good it is to be near God! I have made the Sovereign LORD my shelter, and I will tell everyone about the wonderful things you do" (Psalm 73:28, NLT).
"Make vows to the LORD your God, and keep them. Let everyone bring tribute to the Awesome One" (Psalm 76:11, NLT).
2. Asaph was a musician. Gill's Exposition of the Entire Bible describes him as "a famous singer." He was, in fact, one of the most skilled and well-respected songwriters and worship leaders in the Old Testament. His songs were celebrated and recognized right along side of David's.
King Hezekiah and the officials ordered the Levites to praise the LORD with the psalms written by David and by Asaph the seer. So they offered joyous praise and bowed down in worship" (2 Chronicles 29:30, NLT).
"Asaph, Jeduthun, and Heman reported directly to the king. They and their families were all trained in making music before the Lord, and each of them…was an accomplished musician" (1 Chronicles 25:7, NLT).
3. Asaph was a mentor. He invested his life into others and left a legacy for others to follow. He passed his knowledge and skills down to his children and grandchildren, who in turn taught their children about ministry through music. Because of his heart to intentionally train and mentor, Asaph helped start customs, which lasted for many generations.
"David and the army commanders then appointed men from the families of Asaph, Heman, and Jeduthun to proclaim God's messages to the accompaniment of lyres, harps, and cymbals…From the sons of Asaph, there were Zaccur, Joseph, Nethaniah, and Asarelah. They worked under the direction of their father, Asaph, who proclaimed God's messages by the king's orders…All these men were under the direction of their fathers as they made music at the house of the LORD…" (1 Chronicles 25:1-2, 6-9a, NLT).
The chief officer of the Levites in Jerusalem was Uzzi son of Bani, son of Hashabiah, son of Mattaniah, son of Mica, a descendant of Asaph, whose family served as singers at God's Temple (Nehemiah 11:22, NLT).
The custom of having choir directors to lead the choirs in hymns of praise and thanksgiving to God began long ago in the days of David and Asaph (Nehemiah 12:46, NLT).
If you're serious about growing as a worshiper, musician and mentor—as Asaph was— then join the Asaph Generation community and sign our covenant at AsaphGeneration.com. Our community exists to encourage, advise and hold each other accountable. We invite you to come grow with us!