What Is the Prayer Model?
The Model Prayer that Jesus taught in Matthew 6 and Luke 11 is a proven tool to help us become true worshipers of God. This famous prayer can help shape our minds and hearts to honor God with everything we are. The Prayer Model is summed up in three simple but profound words: HE. WE. THEY.
HE. WE. THEY. The Life-Altering Formula of the Model Prayer is a personal daily Bible study on the Prayer Model.
The HE. WE. THEY. Prayer Campaign Kit contains what you need to help your entire church pray & live the Prayer Model.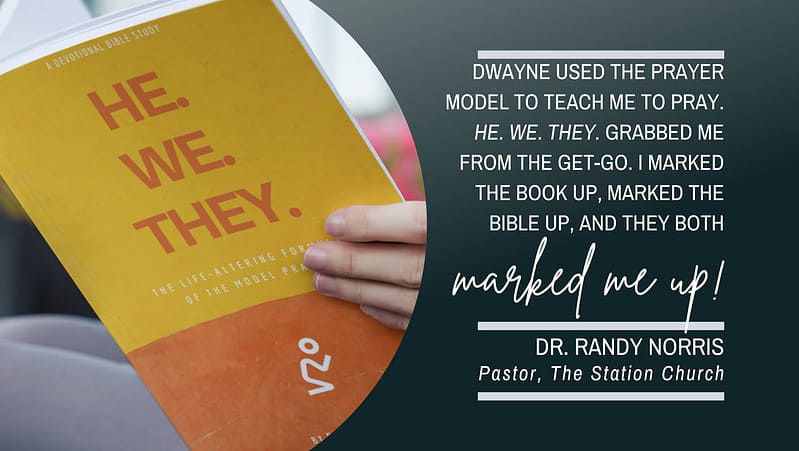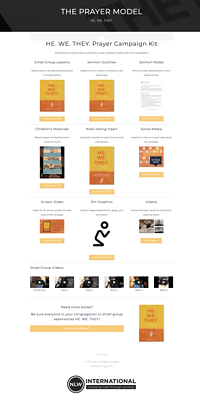 "Best thing we've ever done"
"This is good stuff! HE. WE. THEY. demonstrates the necessary link between our prayer life and our worship. My friend, Dwayne Moore, powerfully illustrates how our corporate worship is tied to our private worship. Using the model prayer as a guide, he helps all of us enter into the presence of our Lord. Highly recommend it!"

Phil Waldrep, evangelist and author
"Living a life of worship cannot be separated from one's life of prayer. They are two tributaries that become one river, merging into a powerful current for the glory of God and the benefit of the body of Christ. Dwayne Moore's fine

book

provides a thoughtful approach for deepening the river."

Dr. Constance Cherry, author and professor
"Our church just went through Dwayne Moore's new book, 'HE. WE. THEY. The Life-Altering Formula of the Lord's Prayer.' It was a rich and rewarding study as he led us, phrase by phrase, through that well known prayer…and brought in several other Scriptures along with numerous illustrations. I looked forward to my daily time of study (and prayer!) and learned much. And I heard many great comments from the people in my congregation. Thanks, Dwayne!"

Pastor Don Francis, First Baptist Church, Bellevue, MI
"Dwayne's book, HE. WE. THEY., is timely, well-written, and needed for this time in the life of our culture and of the church. "

Dr. Michael Catt, longtime pastor of Sherwood Baptist Church and Executive Producer of Facing Your Giants and Fireproof
"Jesus modeled the necessity of prayer for effective ministry so well that when the disciples sought out his 'secret to success,' they went straight to the point – 'Teach us to pray.' Why would leaders of today trust any other path to effective ministry than the one Jesus gave them that day? And yet, far too often we look everywhere else. In 'HE. WE. THEY. The Life-Altering Formula of the Model Prayer,' Dwayne Moore takes us back to the feet of the Master, and hopefully back to the only source of our strength – the Father Himself discovered only in prayer."

Mike Harland, worship pastor and author
"Captivating. Compelling. Brilliant. Moving. Worshipful. Deep. Model. Meaningful. Life-changing. – These are just a few of the words that come to mind when I think of my friend Dwayne, his ministry, and this book. I highly recommend you incorporate this new work into your devotional life."

Greg Atkinson, Founder Worship Impressions & the First Impressions Conference
HE. WE. THEY. is the best book Dwayne has written. It is theologically sound. It is theologically deep. Yet, it is written in such a way that the average church member interacts with it very easily. Dwayne has taken hard concepts and made them easy for the average person to understand, even someone who's not a believer who picks up the book. Unbelievers also understand the need to pray, and I think it can draw them evangelistically. We used HE. WE. THEY. church-wide at First Baptist Lexington. It is tailor-made for a church-wide emphasis. It wasn't a theological treatise on prayer. It actually draws you to communicate with God and for God to communicate with you. And here is the genius of the writing: When you get to the end of the daily lessons, it includes practical actions to take. Those actions become habits that are formed in your prayer life that you carry with you going forward.

Dr. Clay Hallmark, pastor of First Baptist Church Lexington, TN & 2022 President of the Tennessee Baptist State Convention
"We all know we should pray. In HE.WE.THEY. Dwayne shows us how to pray. Birthed out of his own prayer life, Dwayne shares a practical framework in order to connect us to the Father. You will come away with a new understanding, stronger motivation, and deeper connection to Jesus."

Scot Longyear, pastor and author
HE. WE. THEY. is just so rich. When the disciples said, "Lord, teach us to pray," Jesus used the Model Prayer to teach the disciples to pray. And in a real sense, Dwayne used the Prayer Model to teach me to pray. Things I'd never even thought of before. Dwayne brings out that this is the first prayer in the Bible to address God as Father. What a mind-blowing shift that is! I'd never thought of that. For 5 weeks HE. WE. THEY. was what I used for my quiet time. I've done Bible studies from time to time. But if they don't engage me, then I move on to something else. HE. WE. THEY. grabbed me from the get-go. I marked the book up, marked the Bible up, and they both marked me up! I can't wait to take my whole congregation through HE. WE. THEY!

Dr. Randy Norris, founding pastor of The Station Church
"This book is among the very best stuff Dwayne has written. HE. WE. THEY. is sure to impact many churches and transform many believers into powerful, life-long prayer warriors. What a gift this is to the Body of Christ!"

Dr. Scott Dawson, evangelist & author
"Our church is loving it. Good spirit in the worship services. Lots of buzz. Incredible numbers. This campaign was a growth engine for our Bible study groups. Our Bible study groups have exploded. This clearly was a growth engine. Our Bible study numbers went up by over 20%–from 300 to 380. Deep teaching throughout, especially on the kingdom and on trespasses vs. debts. Our older men's class was reluctant to do it, thinking it might be shallow. But they have been challenged by it and said they have never seen some of this teaching on prayer before. One older ladies' class jumped from 13 and stayed at 17-18 consistently throughout the study."

Matt Culbertson, pastor of Faith Baptist Church, Festus, MO
"As a Christian, I thought, "I know the Model Prayer. I've done plenty of studies on that. I've got that down." But the great thing about HE. WE. THEY is it breaks down every single word to help you think deeply about the rich and meaningful words within the Model Prayer. It's overwhelming. This absolutely made a difference in my prayer life."

Krystal Barker, church member & Sunday School teacher
"The most interesting part about this book is the elements of he-we-they as a "prayer model." I'd never heard it approached like that. I've done wonderful studies on prayer by [renowned authors]. Yet, none have been nearly as good as HE. WE. THEY."

Glenn Sorensen, deacon & small group leader
"If you find a study on prayer that helps you adore God and love him more, read it. If you discover one that leads you to abide in Christ for your needs, enjoy it. But if you happen to come across a book on prayer that also prompts you to love others and attend to their needs, then cherish it, for you have discovered a rare jewel. HE. WE. THEY. The Life-Altering Formula of the Lord's Prayer is a rare find that can help transform how you approach prayer and forever deepen how you relate to God and others."

Charles Billingsley, worship artist and author