UPCOMING FREE ONLINE COACHING MEETING:
>>How to Grow Your Worship Ministry in 2016
Thursday, January 7th from 8:00-9:00PM (20:00 hours) Eastern or New York Time.
In this powerful webinar, Dwayne Moore will walk you through a step-by-step guide to help your ministry to be more effective and impactful in 2016. He will help you set goals and strategies for each key area where you MUST see results.
Dwayne's books are used in universities to train worship leaders. Dwayne Moore has coached hundreds of worship leaders and pastors to help them grow their ministries by helping them develop a strategy to reach specific and needed goals. Worship Leader Magazine called Dwayne's coaching and resources a "Best of the Best."
Don't miss this FREE webinar led by Dwayne to help YOU grow and succeed. Fill out the Registration Form below to reserve your spot!
"Navigating the Worship Ministry Manual"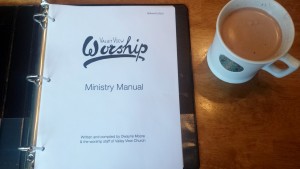 Coming soon! Date and time TBA.
If you've downloaded our FREE Worship Ministry Manual, then you know there are so many pages and so much material in the manual. We know it may seem a bit overwhelming to plow through! Dwayne Moore, worship pastor at Valley View Church, wrote the manual and would love to help you customize the manual to work for YOUR ministry. Dwayne will explain each section of the manual and help you decide what you really need to keep and what you don't need.
NOTE: Those who attend the Webinar will also have the opportunity to do a one-on-one follow-up conference call with Dwayne to ask specific questions and get personalized advice and help.
REGISTRATION FORM
Once you submit the form, we will send you the login information for the webinar(s).
[cforms name="Free Webinar COACHING"]