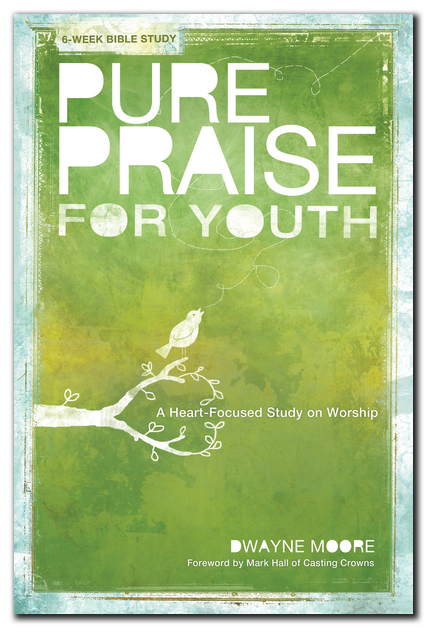 .
.
"This study will take you deep into the well of God's Word where you can get to know him better and worship him more freely and intimately."
— Mark Hall, lead singer of Casting Crowns
"Dwayne has 'lowered the cookies' on a language shelf that's attainable for students while still 'raising the bar' in spiritual content to stretch them in their faith."
— David Nasser, author, pastor, and evangelist
.
"Youth pastor, parent or friend: Pick up this book today if you know a young Christ-follower who wants to know and understand worship, and ultimately Jesus, on a deeper level."
— Kevin Huguley of Rush of Fools
.
 ..
.
Overview
Pure Praise for Youth: A Heart-focused Study on Worship
by Dwayne Moore
This study answers the questions students are asking about worship!
Foreword by Mark Hall of Casting Crowns
A 6-week Bible study with 5 devotional lessons per week
Includes small group sessions for each week
128 pages, paperback
Published by Group Publishing (June, 2011)
Based on Dwayne's original award-winning and best-selling study, Pure Praise: A Heart-focused Bible Study on Worship.

How is Pure Praise for Youth different from the original Pure Praise?

The youth version of Pure Praise has much of the same powerful, in-depth content as the original Pure Praise book. However it's very different and unique in these ways: 1. Pure Praise for Youth (PPY) is a 6-week study rather than a 9-week study. 2. PPY has updated and more relevant illustrations for students, and 3. since all the material applies to Christians in general, PPY works great with your ENTIRE youth group. (The original Pure Praise was written primarily for worship teams.)
Weekly Chapter Titles
Week 1: What Is Worship?
Week 2: What Is Praise?
Week 3: How Can I Know God More?
Week 4: How Can I Hear God Speak to Me?
Week 5: How Should I Worship God at Church?
Week 6: How Should I Worship God at Home and School?
How To Order

.
Please

go to our eStore

to order the books and the videos.
.
Go here

for the special FREE Pure Praise for Youth DVD offer (as promoted on the Casting Crowns tour)!
Sample Lessons
Weekly Teaching Videos
Order

the 6-week video small group series with Mark Hall and Dwayne Moore!
Use it as a perfect companion with the book, or as a stand-alone video series with your students!
(Leader's guide, student handouts, promo posters and more are included with the DVD/CD-ROM packet.)
>Watch the trailer promo video

here
>Download a FREE sample small group lesson

here
>>

Go here to order

the videos & lesson plans on a DVD/CD-ROM.