Walkathon Spotlight – Team Jon Tyner
Minister of Music at Olive Baptist Church in Pensacola, Florida
24 Hour Walk-Party Host
By Savannah Cone
"Let's do something crazy," says Jon Tyner. Jon and his team of three other men will be walking 24 hours non-stop to help Next Level Worship International raise money in support of our missionary efforts. Jon will be accompanied by his Associate Pastor, Shaun Pillay, an experienced hiker in his choir, Jack Siler, and another choir member, Josh DeWitt. "We are go-getters, willing to take on the challenge ahead of us."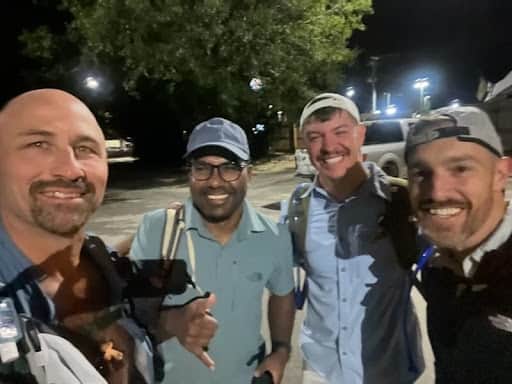 The story behind the 24 hour walk
Endurance sports are a hobby for Jon and his friends. Back in 1908 Theodore Roosevelt (a United States  President)  issued a physical fitness order for all marine captains and lieutenants to walk 50 miles (80.5 km) in 20 hours. Then many years later, under a different president named John Kennedy brought back this executive order and it sparked an interest for all Americans to take part in this 50 mile (80.5 km) fitness test walking challenge. Because of this, Jon and his friends said "we want to try something crazy." 
The preparation
"When I found out NLWI was having a Walkathon to raise money I thought, this would be the perfect time to push myself to do something crazy difficult but for a good cause!" In 2021 Jon Tyner and his team walked 50 miles (80.5 km) in 18.5  hours and raised thousands of dollars. But afterward they felt physically exhausted and struggled to get back into their daily routine. This year, they are strategically training and preparing to keep their bodies healthy and safe during their walk. 
Jon is regularly trying to walk about 4-8 miles (6-12 km) a day. On Fridays, Shaun, Jack, and Josh come together and walk about 30-35 miles (48-56 km). This is helping to build their stamina for the big 24 hour walk on October 27-28th. In order to stay physically and mentally alert and cared for, they will have teams of people meeting them at certain points to refill their food and water supplies. "Some have even said they will join us for a portion of the walk to keep us company!" Jon is excited to see his church family and community support him and his team on this day. 
Why NLWI?
Jon was introduced to NLWI first by reading Dwayne Moore's book, Pure Praise. He led his music staff, praise team and choir through this material and it was "life-changing." Not long after this, Jon was able to build a friendship with Dwayne Moore. He served as a sponsor through NLWI's sponsorship program, traveled with a team to Ethiopia and led during the Ethiopian Intensive School, and fell in love connecting to a global community via our community gatherings.  "Serving with NLWI has been the most life-giving thing I have ever done." 
How can you get involved?
Jon Tyner will be keeping our NLWI community updated regularly on Facebook and Instagram via Livestream and videos. You can Support Jon Tyner's team by giving a financial gift at this link here. 
We are walking the entire month of October, (Jon is an over-achiever) and every mile counts! We would love to have you walk for worship. If you are interested in being a team leader, there is still time, contact msooy@nlwinternational.com. Or, if you would like to give a financial gift to our main page please go to walkforworship.com. 
Jon Tyner has served Olive Baptist Church as their Minister of Music since 2013. He has been in various full-time worship roles for 20 plus years. Jon earned a Bachelor of Arts in music and education and a Master of Music with an emphasis on choral conducting from The University of Southern Mississippi. Jon enjoys spending time with his beautiful wife, and three children.