Mentoring opportunities
NLW International connects worship leaders in Africa with worship leaders in the US and other countries. With a one-time gift of only $60, you can help provide a worship leader in Africa with vital worship resources and help they need. These leaders have passion and talent, but they have little or no training and materials. Our next round of sponsorships starts in January of 2023. If you are interested in being a sponsor, please contact us and we will get you on the list!
We assign one worship leader with one African leader (male with male and female with female). Sponsors work with that person the entire time.
If they want, sponsors can request who they would like to sponsor. However, please note that our selection team will make the final decision on who is paired with who.
Both the US sponsor and the African worship leader must complete a 6-month sponsorship agreement (renewable if all parties desire).
Sponsors agree to connect online via email, Facebook or WhatsApp two times each month on average and occasionally via Skype (if possible). We suggest they go together through a bible or book study that's provided in the Sponsored Leaders' Care Package.
Sponsors don't need to be "expert" teachers or leaders. They just need to be encouragers and "sounding boards" for advice to the ones they are sponsoring.
Sponsors must be 21 or older.
Sponsors must have experience working and leading in a church.
Sponsors must have a heart to help and encourage others.
Sponsors must sign our Sponsor Covenant.
Sponsors must align with our Beliefs and Common C.O.R.E.
Sponsors must pay the $60 sponsoring fee.
Sponsors may be asked to provide a reference from his or her pastor.
"I do not think I have time."
Previous sponsors spent, on average, 3 hours a month communicating with their SWL (Sponsored Worship Leader). In addition, US sponsors spent more time in daily devotionals/readings; which they found, not only spiritually rewarding, but beneficial to their US based ministries.
"Who do I contact if I need support?"
You will not be alone in this effort. Our US team leaders have been through the sponsorship process themselves. In addition, our US team leaders have physically met their SWLs and personally seen the transformation in their lives via the sponsorship process. These US team leaders – who are passionate about this program – will be training you beforehand and guiding you during your sponsorship to ensure the sponsorship is valuable for you and your sponsored worship leader.
"Are there any resources offered to help me prepare?"
Yes! To become a sponsor you will complete an online training that helps you prepare for your sponsorship and feel ready to go!
"Sounds like a lot of reading."
Previous sponsors simply used the reading material to fuel their private devotions. US sponsors usually find the partnered commitment for personal devotional time to be extremely beneficial in their personal walk with Christ. As a bonus, the US sponsors witness God working in the lives of their SWLs through the provided materials.
"I am not qualified to teach them."
We are not asking sponsors to teach the material provided; but, rather, guide their SWL through the material. Worship ministry, regardless of the country the ministry is done in, is challenging. The materials provided are great conversational tools useful for encouragement. Typically, the sponsored WL is joyful and humbled just to know there is another WL praying for them and encouraging them along the way.
"Is there really a need to teach them about worship?"
Experiencing other worship cultures is truly amazing! But, theological teachings on worship ministry and Biblical worship are not as readily available in other countries as it is in the US. Therefore, our goal at NLWI is to provide Biblical resources and practical leadership tools to help our SWLs engage their worship teams and congregations in glorifying the one, true God in their own style of worship.
"I do not want to westernize their worship."
NLWI is dedicated to maintaining the cultural identities of the worship leaders we sponsor. Our goal is to provide resources and training for Christ-centered worship that is, also, culturally relevant.
"How would we communicate?"
Typically, there are not any significant, language barriers and through the means of technology, communicating with your SWL is doable!
"I've never been full-time in a church. Does that matter?"
No! In fact, the majority of SWLs have full-time jobs outside of ministry. We do ask, since this program is focused on worship ministry, that you have some experience leading corporate worship and a praise team.
"Can I sponsor more than one person at one time?"
Yes, you can sponsor as many as 3 people at one time. However, please understand that will double or triple the amount of time you must give each month to them. Each person you sponsor must have your individual time, attention and care.
"I would like someone to sponsor me."
We only sponsor worship leaders who have been through one of our training courses such as the Intensive School or an online course. If you are interested in being trained in some way, contact us at office [at] nextlevelworship.com.
"I do not live in the US. Can I still be a sponsor?"
Yes! Sponsors can be from any country and live in any location. As long as you meet the criteria (see Who Can Sponsor tab) and complete the application and fee, then you can sponsor a worship leader!
"Can I just donate money and not be a sponsor?"
Yes, you can donate money to help support our sponsorship program without actually being a sponsor to someone. The sponsorship program is very costly, and we need financial support as well as prayer support. Please go here to donate. Thank you!
"Will I have anything in common with my Sponsored Worship Leader?"
Both of you will have a common love for God, His people, and for drawing them into meaningful worship! In addition, we try our best to partner US worship leaders with SWLs who are at similar stages in life, have common goals, and comparable years of experience serving God. But most importantly, we pray over these partnerships and ask God to give us wisdom during the process so that all may be encouraged and trained for His good work!
"Can I request a specific worship leader by name?"
Yes! You will have that opportunity when you fill out the Application/Covenant form. We can't promise you will be assigned any certain person, but we will do our best to pair you if we can. Keep in mind that we try as much as possible to pair people who have life experiences and interests in common.
To Sponsor a Worship Leader:
1. Go here to complete the Sponsor Application.
2. Go here to pay the Sponsor Fee.
Got questions or concerns? Want to talk with someone? Complete the form below, and we'll get back with you ASAP to help answer your questions. Even if you can't be a sponsor you can still donate to help our sponsorship program. Go here for more information on donating.
NEXT SPONSORSHIPS START JANUARY OF 2023
Give so we can go
HELP US MAKE DISCIPLES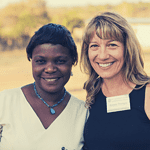 "Sponsoring Lucy, a talented Zambian Worship Leader, has had a profound effect on me…we've formed a friendship. Our lives have changed through knowing each other."
—Suzanne Provagna, US Sponsor