Mentoring opportunities
NLW International connects worship leaders in Africa with worship leaders in the US and other countries. With a one-time gift of only $60, you can help provide a worship leader in Africa with vital worship resources and help they need. These leaders have passion and talent, but they have little or no training and materials. Our next round of sponsorships starts in January of 2023. If you are interested in being a sponsor, please contact us and we will get you on the list!
NEXT SPONSORSHIPS START JANUARY OF 2023
Give so we can go
HELP US MAKE DISCIPLES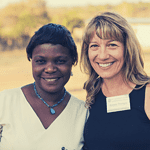 "Sponsoring Lucy, a talented Zambian Worship Leader, has had a profound effect on me…we've formed a friendship. Our lives have changed through knowing each other."
—Suzanne Provagna, US Sponsor
CHANGE A LIFE TODAY
Has worship impacted your life and family? Do you want to help others get to know God and worship Him? JOIN OUR CAUSE. Sign up today.