"An immersive global worship experience" ~Dwayne Moore, founder of ReFOCUS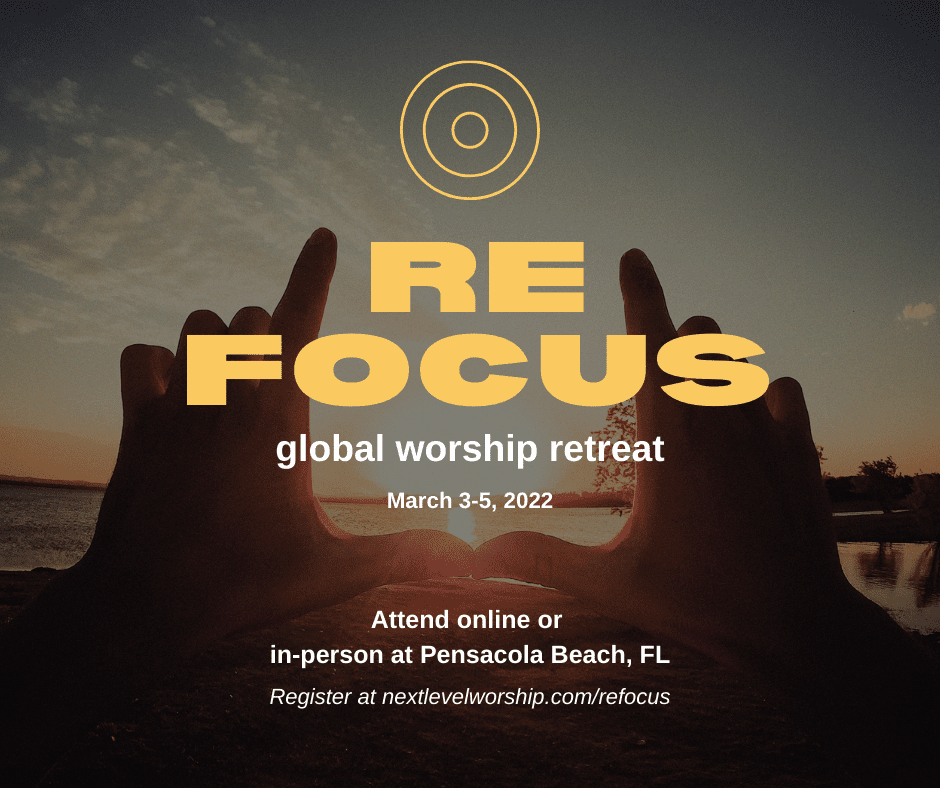 ReFOCUS Retreat is coming March 3-5, 2022!
Live & in-person at Olive Baptist Church in Pensacola, Florida
10 minutes from the beautiful sands of Pensacola Beach
Also

online

for access from around the globe
Speakers include Dwayne Moore, Constance Cherry, Scot Longyear & more!
Musical artists include recording artists Tasha Layton and Charles Billingsley!
Interact with worshipers and worship teams around the world
An immersive, interactive, refreshing time of worship with 1000+ worshipers around the globe!
ONLY $44 for an Individual Pass and $349 for a Group Host Pass!
Buy a Personal Pass, OR purchase the Group Pass and have a retreat of your own! Custom pick. You can choose which messages and praise sets you want to watch alone or with your team. Both the Personal and the Group Pass come with a Retreat booklet–for daily devotionals, small group questions and session notes! The Group Pass has EVERYTHING you need to have your very own spiritually renewing retreat experience!
ReFOCUS 22′ Personalities include…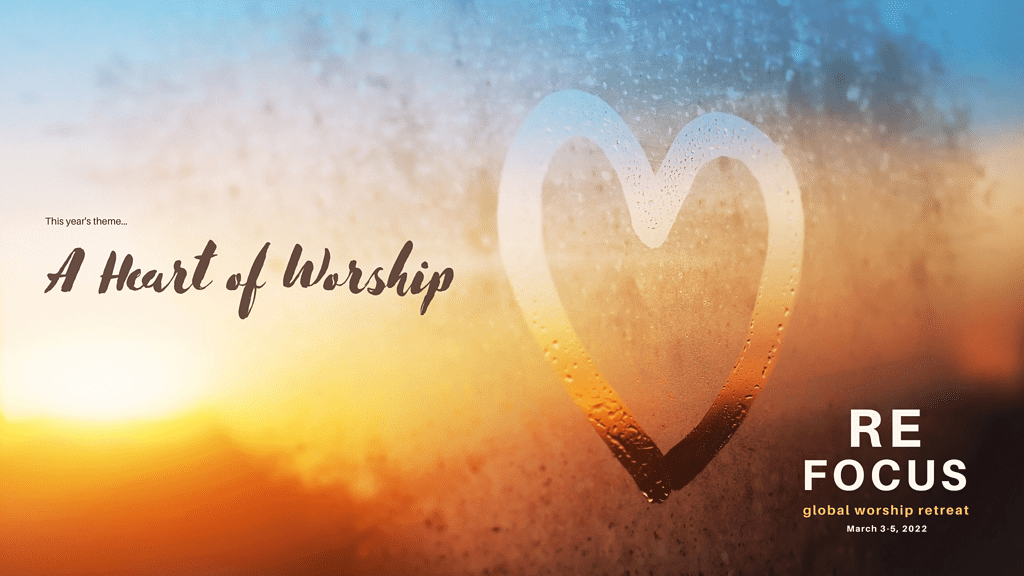 4 powerful sessions of teaching & worship with Dwayne Moore and many others!
Theme for ReFOCUS '22: "A Heart of Worship"
We will address what true worship is, how we can develop a worshiping heart in our daily lives, and why heart-full worship is imperative for a worship team. We will also look at practical ways to demonstrate as leaders a heart of worship in how we prepare, practice and interact with our fellow team members and congregation.
Churches and universities on multiple continents will come together online and in-person for a powerful and unique experience of worship and teaching.
Don't miss out. Register HERE TODAY!
What are the topics by the speakers?
Next Level Worship
2022-02-02T16:28:09-05:00
March 2 7:30-8:30pm US (Chicago) Central time PRE-Retreat Choir Workshop
Jon Tyner, music minister at Olive Baptist Church, will lead a unique choir workshop on Wednesday, March 2nd for those who register for ReFOCUS. You will get to watch Jon in action live as he rehearses his large and amazing worship choir at Olive!
---
March 3 8:00pm – 10:30pm US (Chicago) Central time Session 1
Feat. Dwayne Moore and Scot Longyear
>Dwayne will teach on how a lifestyle of prayer affects our personal worship and worship leading from his new book, HE. WE. THEY. He will also teach a simple but profound approach we can take to daily personal prayer and praise.
>Scot will teach on the topic of hope–why hope matters when we worship God and how we can always have hope no matter what our circumstances may be
---
March 4 10:00am – 12:30pm US (Chicago) Central time Session 2
Feat. Constance Cherry , Charles Billingsley & Vernon Whaley
>Constance's exact topic is TBA.
>Charles will share about challenges & joys he's experienced in ministry and in leading others in worship. He will also sing and lead us in moments of praise.
>Dr. Whaley will talk about what true worship is, why worship leaders must have a heart of worship, and practical ways we can develop it.
---
March 4 4:00-5:30pm US (Chicago) Central time Songwriting Workshop
Led by Stephen Moore, this workshop will be filled with practical, hands-on tips. Stephen was the lead vocalist for Carrollton, writing & co-writing several of the popular songs the group recorded. You will get to experience actually working on a song idea together during this workshop. It will be available live online via Zoom for those who registered for ReFOCUS.
---
March 4 8:00pm – 10:30pm US (Chicago) Central time Session 3
Feat. David Edwards and Shuan Pillay
>David will, in part, speak on performance-focused bands vs. authentic platform leadership
>Shaun Pillay will speak about the relationship of missions and music and why worship leaders should think beyond just ourselves and our concerns
---
March 5 10:00am – 12:30pm US (Chicago) Central time Session 4
Feat. Dwayne Moore and Tasha Layton (live concert)
>Dwayne will speak on the importance of accuracy in the lyrics we sing and in our understanding of who God is–especially if we lead others in worship.
>Tasha Layton will climax the retreat with a concert of praise. We plan to have a mass choir (some live, in-person and some pre-recorded) that will join her for her most popular song, Look What You've Done. (We hope your choir can participate in the pre-recording that we will play when she does that song! It's gonna be awesome to see choirs from around the world singing together!)