.
..
Schedule Dwayne to lead this powerful and unique one-day conference in your church!
See below poster for more information.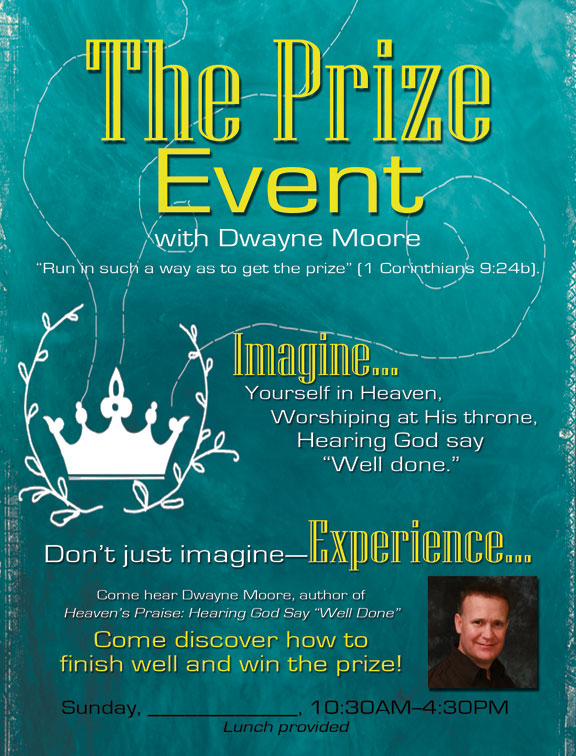 [tab: OVERVIEW]
Want to show your pastor or staff this material? Download the poster and overview sheet here.
The Prize Event kicks off with a "Tour of Heaven" worship service that's designed to "whet" people's appetites and focus them on eternal things. It is a

multi-sensory, interactive, and powerfully dramatic service.

It involves your choir and worship teams, as well as some of your students & your entire congregation in scripture reading and drama.

It is a unique and powerful service your people will never forget!
After your people have imagined what it can be like to hear God say well done, then we say to them, "OK, stay this afternoon and learn how you can experience it. We'll learn the

6 life-goals

needed for us to receive praise from heaven." Then after lunch at the church, we would do 3 teaching sessions, and end around 4:30PM with a time of praise and response.
Dwayne's teaching at The Prize Event is explained in his new Bible study called Heaven's Praise: Hearing God Say Well Done.
There are three formats to choose from. You can choose whichever you think would work best with your church or community.
OPTION 1: Sunday One-day
10:30AM (or whenever your services normally begin)— "Tour of Heaven" Worship Experience
This  service is a multi-sensory, interactive, and powerfully dramatic event.
Lunch — at the church
1:00PM — Life-goals 1 & 2 (Think Right & Aim Right)
2:00PM — Life-goals 3 & 4 (Act Right & Stay Right)
3:00PM — Life-goals 5 & 6 (End Right & Win Right)
4:00PM — Corporate Worship & response
The afternoon sessions include music and interactive teaching with Dwayne Moore.
OPTION 2: Friday Evening (6PM-midnight)
6PM — Dinner at the church
7PM — "Tour of Heaven" Worship Experience
8:30PM — Life-goals 1 & 2 (Think Right & Aim Right)
9:30PM — Life-goals 3 & 4 (Act Right & Stay Right)
10:30PM — Life-goals 5 & 6 (End Right & Win Right)
11:30PM — Corporate Worship & response
OPTION 3: Weekend (Friday PM — Sunday AM)
Friday

7-8:30PM — Life-goals 1 & 2 (Think Right & Aim Right)

Saturday afternoon

4:30 – 5:30 Life-goals 3 & 4 (Act Right & Stay Right)

Dinner at the church Saturday afternoon.

7:00 – 8:00 Life-goals 5 & 6 (End Right & Win Right)

Sunday morning (during your regular worship services)

"Tour of Heaven" Worship Experience

[tab: SCHEDULING]

Dwayne is now scheduling for 2012. To come to your church, Dwayne only asks for all  expenses to be covered and a love offering to be taken.

To schedule Dwayne and "The Prize Event", please click here.

[tab: ABOUT]

Dwayne Moore is a gifted Bible teacher and worship leader. He has traveled for over 35 years to more than 1000 churches and conferences. He is a best-selling author of numerous books, including the award-winning book, Pure Praise: A Heart-focused Bible Study on Worship.

Dwayne brings a fresh and vibrant joy for God and His Word. Your people will love his enthusiasm and sincerity. His humorous and simple teaching style helps convey the deep truths he shares.

>>For more information on Dwayne, please go here.

>>For Dwayne's Statement of Beliefs, please go here.

The 6 Bible-based life-goals Dwayne teaches during The Prize Event are:

1. Think Right

2. Aim Right

3. Act Right

4. Stay Right

5. End Right

6. Win Right

[tab:END]